Temecula Valley Wine Trails
---
Temecula Valley is the Southern California wine community's secret spot; the place all the locals know and love.
With more than 40 wineries blanketing the softly rolling hills northeast of Old Town Temecula, framed in the distance by the gray-blue silhouette of the Santa Ana and San Jacinto Mountains, Temecula Valley is an oasis of premium vintages, including dark, full-bodied Syrahs and Cabernet Sauvignons, juicy Sangiovese, luscious Zinfandels and crisp Sauvignon Blancs.
But with so many wineries to choose from, where do you start?
For those looking to lose themselves among the gnarled vines and rich, oak-scented tasting rooms, Temecula Valley offers three self-guided wine trails
Rancho California Trail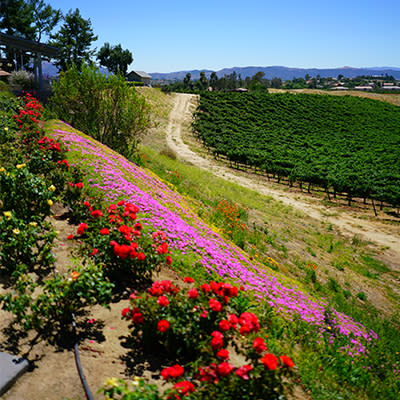 Location: Rancho California Road. Where the wine tasting begins.
Number of wineries: 19
The first trail you'll encounter as you drive along Rancho California Road from Old Town Temecula is Rancho California Trail West. It offers a delightful mix of small and large wineries, with quaint Old World style or contemporary vibes.
Start at family-owned-and-operated Hart Winery, boasting some of the oldest vines in the valley, before meandering over to the sprawling estate of Callaway Vineyard & Winery, whose wines have even been sipped by Queen Elizabeth II of England herself. Enjoy the Old World traditions of Thornton Winery, with its elegant French-style chateau, and Europa Village Wineries, Resort & Spa—which offers a selection of French, Spanish and Italian-style wines under a single roof.
Experience Southern California wine pioneers such as Mount Palomar Winery, which has specially developed its own crop management techniques to produce an incredible number of varieties, or Baily Vineyard & Winery, which keeps their wines in barrel for more than a year beyond industry standard. Or compare the rustic, old-fashioned appeal of boutique-style Bel Vino Winery, before jetting over to hip, contemporary-style Miramonte Winery. This trail is perfect for those who like to experience the diversity of winemaking styles and operations.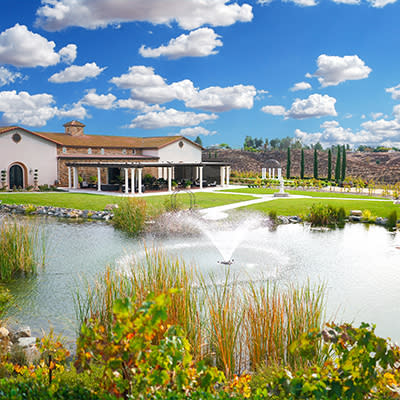 The deeper into Temecula Valley you go, the more you might be tempted to stay. Just past Calle Contento, wineries along this stretch of Rancho California Trail invite you to slow down and enjoy. Unplug at resort-like Avensole Vineyard & Winery, one of the oldest vineyards in the area, which also offers craft cocktails, as well as live music on the weekends. Enjoy the legendary sourdough baked Brie bread with your wine, while you browse the weekend arts and crafts fair at Maurice Car'rie Vineyard.
Can't decide between a wine day or a spa day? Have both at South Coast Winery Resort & Spa. If you're a red wine aficionado, Wiens Family Cellars' passion for the "Big Reds" will occupy you for hours. Or lounge in the comfort of Monte De Oro Winery, which features flat-screen TVs, glass-floor views into their cellars, and big open windows overlooking the vineyards. Expand your oenological knowledge with a behind-the-scenes tour of winemaking at Wilson Creek Winery & Vineyard. Tease your palate with Chapin Family Vineyards' small lots of handcrafted vintages. Or browse the vintage motorcycle collection at Doffo Vineyard & Winery. Don't be surprised if your planned day trip extends into a weekend getaway on this trail.
---
Calle Contento Trail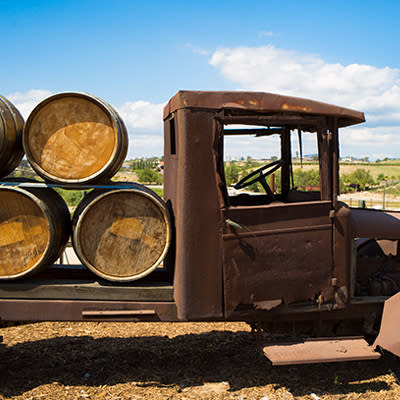 Location: Calle Contento. Runs north/south between east and west Rancho California trails.
Number of wineries: 9
Not a fan of crowds? Then take the road less traveled with the Calle Contento Trail. This trail has a decidedly family feel, with family-owned-and-operated vineyards: Vindemia Vineyard & Estate Winery, Lumiere Winery, Akash Winery, Longshadow Ranch Vineyard & Winery, Peltzer Family Cellars, Alex's Red Barn Winery, Falkner Winery, Bella Vista Winery and Briar Rose Winery.
Feast your eyes while you reward your palate with a hilltop view of the Temecula Valley at Lumiere Winery, or from The Pinnacle, Falkner Winery's 360-degree-view restaurant. Bring grandparents and the kids to family-friendly Longshadow Ranch Vineyard & Winery. You might feel like you're miles (and years) away from the city bustle at Peltzer Family Cellars, featuring a 100-year-old tractor collection, vegetable garden, farm animals and "micro winery." Enjoy handcrafted European and California blends, sustainably grown at Vindemia Vineyard & Estate Winery, which also offers complimentary bread and olive oil from the estate's own olive trees. If you really want to get away, head back south to Briar Rose, which looks like it came straight out of a Brothers Grimm fairytale; but call ahead for reservations.
---
De Portola Trail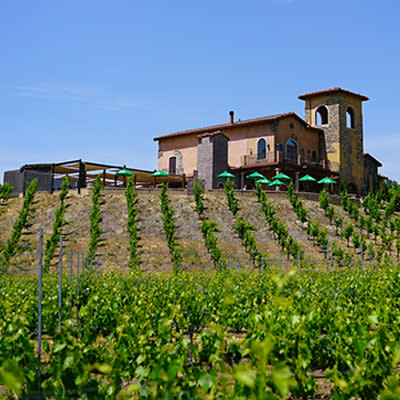 Location: De Portola Road. East side of Temecula's wine country.
Number of wineries: 10
If your weekdays have you stuck in a windowless office, the more rural De Portola Trail may be exactly what you need to push the reset button. Estates in this part of the valley have a relaxed feel, and a passion for Old World-style vintages.
Lounge in comfort with Leoness Cellars' indoor and outdoor fireplace seating, or saunter among the vines with their self-guided vineyard tours. Take an Italy-inspired tour with Cougar Vineyard & Winery, which boasts a wide selection of varietals originating from all parts of the Italian countryside. Feel like you're strolling through the European countryside vineyards, at Spanish-influenced Masia de la Vinya. Experience a taste of authenticity at Robert Renzoni Vineyards & Winery, whose history of wine goes back to 1880s Italy. Step back in time at Fazeli Cellars, where the Moorish architecture and Mediterranean fusion restaurant pays homage to the wine traditions of ancient Persia. Enjoy the unique marriage of French and Italian varietals, featuring an award-winning selection of reds, at family-owned Frangipani Estate Winery. Escape from the warm afternoon heat in Oak Mountain Winery's subterranean wine cave. Or enjoy the company of your favorite furry companion while you wine and dine, at dog- and horse-friendly Danza del Sol Winery.
---