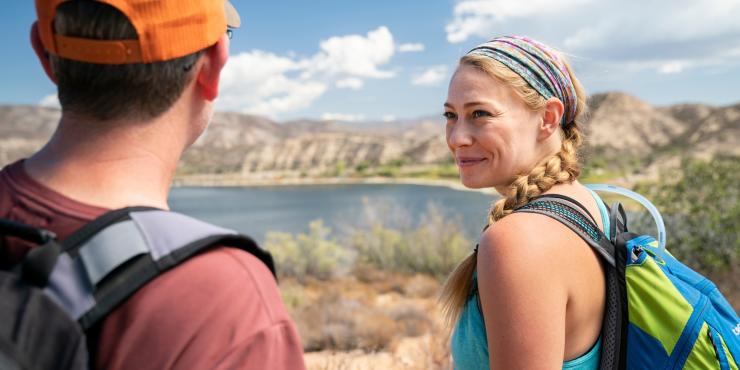 Hiking is not only a must-do in Southern California, but also an excellent outdoor activity that offers a wealth of benefits to one's overall health, and what better place to enjoy the great outdoors than throughout Temecula Valley's Wine Country.  
A mild Mediterranean climate, stunning rolling hills draped in vineyards, and picture-perfect views make for ideal conditions nearly year-round.  Whether you're a local resident or enjoying a Temecula vacation, outdoor aficionados can enjoy an easy stroll, medium effort, or a more intense outing. There is something for everyone to delight in the region's gorgeous and diverse trails.  
Here are some notable local trails that offer opportunities for fresh air adventures along with the spectacular natural beauty the region is famous for.   
Lake Skinner – This slice of paradise tucked into rolling foothills is located on the eastern edge of Temecula Valley Wine Country. The scenic trails circle the spacious reservoir and are considered easy. There are picnic spots, camping, and boating that hikers can also enjoy. There is also plenty of wildlife to see and Lake Skinner is a beloved location to go birdwatching. For many years, Lake Skinner has been on the list of the top things to do in Temecula. 
During the off-season, the trails are an excellent location to enjoy quiet and solitude. Hikers are welcome to bring their canine friends, just be sure all dogs are leashed. 
951-926-1541 -- 37701 Warren Road, Winchester, CA 92596.  
Santa Rosa Plateau Ecological Reserve – Located a short drive from Temecula sits the approximately 9,000-acre sprawling Santa Rosa Plateau Ecological Reserve.  The area is teeming with Engelmann oak woodlands, riparian wetlands, coastal sage scrub, vernal pools, and grassland habitats with miles of scenic trails. There is an abundance of wildlife such as mule deer, badgers, coyotes, and a wide variety of birds. Hikers may even spot a bobcat or an elusive mountain lion. Horseback riding, mountain bikes and leashed dogs are allowed on Sylvan Meadows trails only. 
Make sure to visit RivCoParks.org for trail openings and closures.  
951-677-6951 -- 39400 Clinton Keith Road, Murrieta, CA 92562 
 
Santa Margarita River Trail – From Temecula, take a short drive down Interstate 15 for a more scenic jaunt through the hills of De Luz to the Santa Margarita River Trail, where incredible hiking awaits. The 221-acre lush river corridor contains riparian and upland habitats. The trail meanders alongside the Santa Margarita River making for a picturesque outing with the sounds of babbling and sometimes rushing water. Verdant, towering trees provide abundant shade along the easy-to-moderate, kid-friendly trail. Large granite outcroppings, side trails, and plenty of flora and fauna create ideal photo opportunities. Leashed dogs and horses are welcome.  
760-728-2303 -- 4251 River Edge Road, Fallbrook, CA 92028 
 
The scenic hiking trails at Vail Lake at the base of Oak Mountain just east of Temecula are perfect for leisurely strolls, harder hikes, mountain biking, leashed dog walking, and horseback riding. There are over 15 miles of fantastic trails dotted with native plants, wildflowers, trees, and an abundance of wildlife.  Sunset hikes are especially beautiful at Vail Lake. The reservoir also features a popular KOA campground where guests can tent camp, pull up an RV or go glamping for the perfect outdoorsy Temecula getaway 
951-303-0173 -- 38000 CA-79, Temecula, CA 9259 
 
Dripping Springs – Southeast of Temecula Valley Wine Country in the Agua Tibia Wilderness, the Dripping Springs Trail offers great exercise and is considered a moderate to hard hike. There are campgrounds and outdoor enthusiasts can hike to their comfort level and turn around without having to complete the entire 15.8 miles of trails. Hikers will be treated to vistas that include views of rolling vineyards in the distance along with nearby Vail Lake. Shade is in short supply on these trails, so summer is not an ideal time to hike.  Dogs on leashes are welcome. Adventure Pass required. 
760-788-6130 -- 38814 CA-79, Temecula, CA 92592