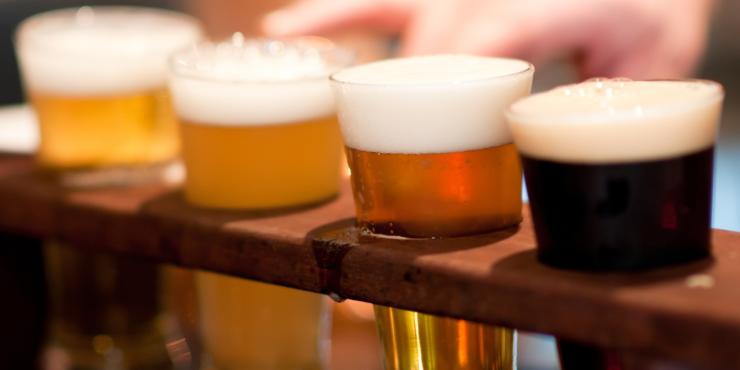 A Great Time To Discover Temecula On Tap 
Cheers! Salud! Prost! National Beer Day is celebrated every year on April 7, commemorating that wonderful day in 1933 when the Cullen-Harrison Act went into effect and low-alcohol beer and wines could be manufactured and sold. By the end of that year, Prohibition ended altogether.  
National Beer Day is a great time to sample one or more of the 18 breweries that create Temecula Valley's Ale Trail. Now known as the "it" destination for beer lovers, many of our award-winning brews can be found on beer menus throughout Southern California and across the country. 

Of course, the best place to taste our delicious and unique beer is right here in Temecula, at the source. You do not have to be a beer aficionado, but you may become one! Sample local IPAs, stouts, lagers, pilsners, and limited seasonal releases in our brewery-based tasting rooms, where you just might rub elbows with a brew master. Many also offer delicious pub food, live music, game nights, and guided tours to help visitors dig deeper into the beer-making process.  
Give yourself a few days to become a connoisseur of the region's top draughts, whether you plot your own DIY tasting trek or embark upon a guided tour with a knowledgeable driver and guide leading the way. If you only have time for a few, must-stops include Refuge Brewery, Garage Brewing Co., and Stone Church Brewing. And if you'd like to dabble in beer while wine tasting, Akash and Doffo wineries both make their own selection of smooth brews. 

For the ultimate beer experience, don't miss Temecula Valley Craft Beer Month in May, when the spotlight shines on our beer-making mavericks. The calendar overflows with unique events and festivals, with breweries offering exceptional deals and exclusive pours. Another event curated for beer lovers, Craft Hop takes place Veteran's Day weekend in November. Meaderies and distilleries join the local brewery line-up to offer pairings, special releases, and collectable glasses for each location.  
Temecula's "makers movement" extends to spirits, meads, and ciders. 36522 The Distillery at Oak Mountain Winery produces a full range of hand-crafted artisan spirits open to the public for tours, tastings, and custom craft cocktails. Batch Mead is Temecula's award-winning purveyor of gluten-free hard ciders and fermented meads made with local fruit and honey. Stop by for a tasting flight or glass. 
Other activities to pair with your beer-tasting adventure include fine dining, a hot air balloon flight at sunrise, horseback riding, golf, and live entertainment. Start planning your trip at VisitTemeculaValley.com.