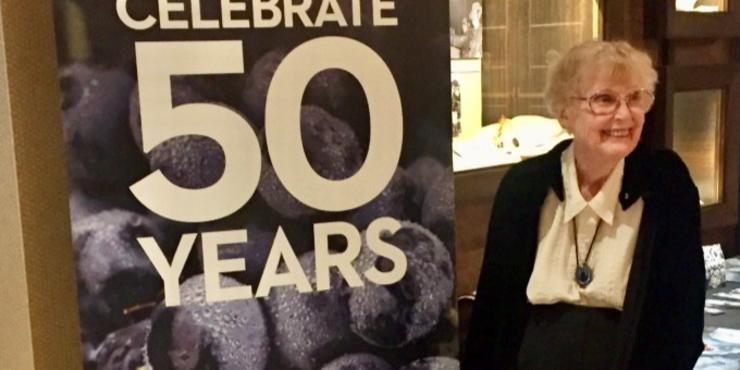 Audrey Cilurzo celebrating Temecula Valley Wine Country's 50th anniversary in 2018.

Temecula Valley Southern California Wine Country Mourns the Death of Audrey Cilurzo, Visionary and Pioneering Founder of Southern California Wine
The Temecula Valley Winegrowers Association (TVWA) announces the passing of Audrey Cilurzo, Wine Country pioneer and beloved member of the Temecula Valley community.
TEMECULA, CA / ACCESSWIRE / July 21, 2023 / Audrey passed away on July 15, 2023, just a few days shy of her 94th birthday. Her immeasurable contributions to Southern California winemaking will forever be remembered and celebrated.
"It's hard to think of Temecula Valley Wine Country without also thinking of Audrey Cilurzo," said TVWA executive director Krista Chaich. "I know I speak for our entire community when I say we will continue to carry forth her vision for a vibrant, inclusive, and welcoming wine destination."
Audrey was the wife of the late Vincent Cilurzo, an Emmy-Award-winning Hollywood lighting director turned Wine Country visionary. Together, the couple helped put Temecula Valley on the map, establishing the first commercial vineyard in the region in 1968 with plantings of Petite Sirah and Chenin Blanc.
Over the next 10 years, Vincent and Audrey approached grape growing and winemaking with passion, reading books, taking classes at UC Davis, and learning from agricultural consultant Dick Break who, years before, had determined that the soil and climate of the area was suitable for viticulture. In 1978, they opened one of the earliest wineries in the area - Cilurzo Winery - where Bella Vista Winery sits today.
Audrey's influence extended beyond her own winery, as she actively supported the growth and success of other local wineries, always embodying the spirit of collaboration - especially in those early years. As Temecula Valley began to emerge as a promising wine destination, she spent countless hours mentoring and providing support and encouragement to those who came in search of their own Wine Country dream.
Many also credit Temecula Valley's personality as an amenities-rich wine destination to the hospitality Audrey showed early visitors to the region. When hot air ballooning caught on and there was no place for a hungry balloonist to grab a quick bite, Audrey would often welcome them in with a home-cooked meal. They were "treated to tales of Hollywood and winemaking and meals from Audrey's kitchen," Vincent Cilurzo's 2016 obituary in the Press Enterprise reads. Many wineries have followed suit over the years, offering dining and lodging options among the vines.
"For almost 30 years, Audrey was the welcoming face of Temecula Valley not only to visitors, but to residents, county, state, and federal officials, and vendors alike," said Phil Baily of Baily Winery and president of the TVWA board of directors. "The coffee pot was always on in the Cilurzo house. Of all the people in the nascent wine industry here in the 80s, no one encouraged us more to start Baily Winery, and no one helped us more to get it going, from giving advice to loaning equipment. She will always be remembered fondly."
Audrey was a founding member of the South Coast Vintners Association, which later became the Temecula Valley Winegrowers Association, serving on its board of directors for several years. The contributions she and Vince made to the TVWA's growth and mission to promote Temecula Valley grapes and wines will be celebrated for generations to come.
"Audrey was a stalwart advocate and forthright first lady of the valley," said Jon McPherson, master winemaker at South Coast Winery and Carter Estate Winery. "I am truly saddened that one of the last pioneers of our appellation has passed. We all are blessed to be still carrying the torch that she and Vince, and numerous others with them, set afire and started way back when. Let's all dedicate this vintage to Audrey's memory. Cheers to you, Audrey."
ABOUT TEMECULA VALLEY WINE COUNTRY
Located within a 60-minute drive from San Diego, Orange County, and Palm Springs, and within 90 minutes of Los Angeles, Temecula Valley is widely recognized as Temecula Valley Southern California Wine Country. The popular wine destination is Southern California's largest wine-producing region by volume.
The Temecula Valley Winegrowers Association (TVWA) is a 501 (c) 6 nonprofit regional organization. The TVWA (TemeculaWines.org) is dedicated to promoting the making and growing of quality wine and wine grapes in the Temecula Valley A.V.A. (American Viticulture Area).
Contact Information
Devin Parr
Brand Marketing Partner
prmarketing@temeculawines.org
818-731-1082
SOURCE: Temecula Valley Winegrowers Association