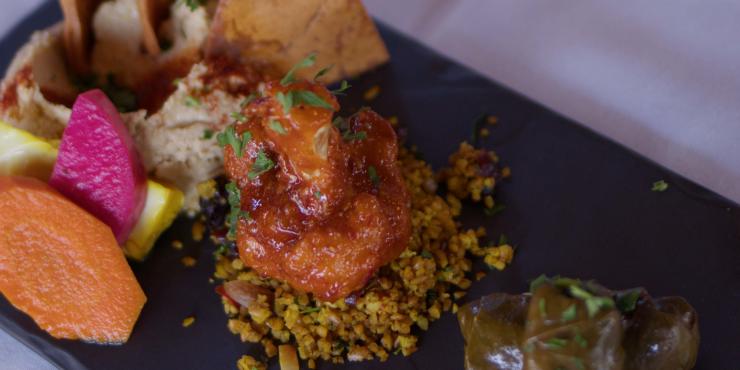 Go on an international culinary adventure in Temecula Valley Southern California Wine Country where foodies can enjoy flavors from around the world while enjoying all of the beauty and adventures the picturesque wine region has to offer.
There's no need for an airline ticket to partake in a delicious dining journey and enjoy the diverse food-scape in the award-winning Temecula Valley.
First stop, Trattoria Toscana, owned by Chef Pietro Cinus who hails from the island of Sardinia off the coast of Italy. His menu is inspired by the bright green vegetables growing on the countryside of his homeland, in addition to an abundance of fresh seafood that comes from the Mediterranean Sea.  All of the pasta served at Trattoria Toscana is made in-house and Chef Cinus grows many of the vegetables, herbs and spices served at the warm and inviting restaurant. Stand out dishes include Cozze Alla Toscana – steamed mussels with choice of white wine or red sauce, olive oil, garlic and parsley.  Gnocchetti Sardi Alla Pietro – house-made Sardinian pasta served in a freshly prepared saffron tomato basil sauce with Italian sausage and topped with aged Pecorino and the cooked-to-order Rack of Lamb. House-made Taramisu Di Café is a dessert favorite.
For Thai specialties Aiyara Thai Cuisine has become a local favorite thanks to fresh ingredients and aromatic dishes served in a relaxing ambiance complete with an elephant fountain. The owner was born in Thailand and his Grandmother still runs a restaurant in Thailand.  Favorite starters include Chicken Satay served with peanut sauce, Tom Yum or Tom Kha soup – comes in a bowl or a pot. Other stars of the menu include Aiyara Duck Curry – boneless duck breast in Thai red curry sauce, pineapple, cherry tomatoes, basil and bell pepper and Northern Thai Sausage with green and red onion, lime leaf and lemongrass. Standout dessert is the Mango and Sweet Sticky Rice  - fresh cut mango with sweet sticky rice and coconut milk sauce for dessert.
Baba Joon's Kitchen is located at Fazeli Cellars and features the flavors of ancient Persia blended with contemporary California cuisine. Owner BJ Fazeli grew up eating Persian dishes that his mother prepared and as a young, single adult living in England, he learned to cook which ignited a passion for creating magic in the kitchen.  One of the eatery's most popular dishes was created by BJ Fazeli, Walnut Panar – walnut and cream cheese spread with pomegranate reduction served with toast and pita bread.  Another favorite is Gyro Tacos – lamb and beef gyro meat served inside lavash bread with pickled onions, Shirazi salad is drizzled with must o musir.  Cap of the meal with Baghlava – honey soaked filo dough layered with chopped walnuts and finished with honey drizzle, powdered sugar and mint.
At Soro's Mediterranean Grill in Old Town Temecula, diners can feast on Middle Eastern fare thanks to original owner Papa Soro's roots in Baghdad, Iraq where his love of Mediterranean spices, flavors and cooking styles was rooted in his soul. Growing up his family hosted lavish parties where endless amounts of delicious food flowed from the kitchen. He passed down his years of experience spent working in fine dining establishments across the nation to his son Dylan, who began helping his dad in the kitchen when he was 9-years old. Dylan now runs Soro's Mediterranean Grill with the same passion for delicious dishes, presentation and hospitality that his father did. Signature dishes include The Grill – chicken and beef kabobs, Shish Kafta, rice, grilled vegetables and garlic sauce along with Branzino – wild caught Mediterranean sea bass, rainbow cauliflower, confit potato, gremolata, pomegranate, pine nuts, tahini and lemon.
Other notable international offerings
1882 at Pechanga – Serves traditional dishes from various regions including Oaxaca, Baja California and Estado de Mexico as well as tequilas and mezcals. Popular dishes include Seafood Enchiladas Suizas and Surf and Turf Burrito.
Espadín – The eclectic menu features traditional dishes from several regions throughout Mexico.  Food is made from scratch with fresh, bright and vibrant ingredients true to the Mexican culture. Esapadin Super Nachos, Chicken Mole and Chorizo Mussels are among menu favorites.
Bolero – This restaurant at Europa Village winery celebrates the centuries-old tradition of dining and drinking together in Tapas style. Dishes from locales such as Barcelona, Asturia and San Sebastian fill out the exciting menu. Enjoy Grilled Octopus Salad, Mixed Seafood and Chorizo Paella or Smoked Iberico Spare Ribs.
Bottega Italia – A true Italian experience featuring elements of Italian traditions such as caffetteria, pizzeria, gelateria, ristorante, pinsa Romana and wine bar await guests at this local favorite. Hand tossed pizzas, seafood pasta and Italian cocktails are menu highlights.
Gourmet Italia –  A taste of Sicily awaits at this beloved Temecula eatery. Gourmet Italia uses seasonal fresh organic produce cultivated from its own 6-acre garden along with the highest quality of imported Italian goods in the wide range dishes. Manicotti, Lasagna and Chicken Marsala are menu standouts.
Siam Kitchen – Traditional Thai food is the star of the dining show at Siam Kitchen where Northern regional Thai dishes are featured.  Papaya salad, barbecue chicken and sticky rice remain popular menu items.
Blazing Noodles at Pechanga – Authentic Chinese and Thai cuisine and Western dining favorites fill the menu at Blazing Noodles. From Singapore noodles, Mongolian beef, and Chilean sea bass in a clay pot, there is something for everyone to enjoy.
Bamboo at Pechanga - Enjoy dishes prepared in the national style of Korea, Vietnam and China amid a fast-paced noodle bar featuring native drinks. Oxtail Pho, Crispy Lemongrass Fried Chicken and a wide variety of rice dishes round out the extensive menu.
About Temecula Valley & Visit Temecula Valley 
Temecula Valley Southern California Wine Country is a year-round vacation destination pouring award-winning wines as well as craft beers and spirits. It's where people live glass full behind the scenes and under the spotlight. Temecula Valley is made up of a community of Mavericks and Makers that are telling their stories, their way.
 The emerging and evolving culinary scene, small town atmosphere, and outdoor recreation and entertainment in Temecula Valley Wine Country, Old Town Temecula, and Pechanga Resort Casino culminate to create a spirited destination inspired by the vine.  
 Temecula Valley is located in the center of Southern California just 60 minutes from San Diego, Orange County, and Palm Springs; 90 minutes from Los Angeles. 
 Visit Temecula Valley is the region's official tourism marketing organization and resource for visitors. The Visitor Center is located in Old Town Temecula. For visitor information and assistance, please call (888) 363-2852 or go to VisitTemeculaValley.com.