Filet mignon with fresh asparagus and a glass of red wine at the Great Oak Steakhouse inside Pechanga Resort Casino.

Pechanga Resort Casino's Great Oak Steakhouse and Temecula Creek Inn's Cork Fire Kitchen Impress with National Recognition
TEMECULA, Calif. -- (July 12, 2023) – Two of the Temecula area's best restaurants can claim the distinction of being awarded Wine Spectator's Award of Excellence for 2023. The Great Oak Steakhouse inside Pechanga Resort Casino and Cork | Fire Kitchen at Temecula Creek Inn have both earned the 2023 Wine Spectator Award of Excellence distinction for the fourth year in a row. This places the resorts' signature restaurants among the top 0.3% of all dining establishments in the United States, according to statistics.
The Award of Excellence recognizes restaurants with a true dedication to wine. Their wine lists must offer at least 90 selections, feature a well-chosen assortment of quality wine producers that would be difficult for diners to find at local stores and drink at home. The wine selections must also match the restaurant's cuisine in style and pricing, and provide a well-rounded experience to guests. Whether concise or extensive, focused on only a few wine regions or diverse, the winning lists deliver ample choice to satisfy discerning wine lovers. This year, 2,001 restaurants around the world received Wine Spectator's Award of Excellence.
"Receiving this award speaks volumes about how guests feel about the Great Oak Steakhouse," said Pamela Pinto, Vice President of Food and Beverage at Pechanga Resort Casino. "Our teams work so hard to deliver the very best in guest experience. And providing the right selections to match our menu at the Great Oak Steakhouse illustrates the attention to detail and care our chefs, restaurant staff and overall food and beverage management take with each aspect of guest service."
"Our culinary and our front-of-house restaurant teams put their hearts and souls into the food served at Cork | Fire Kitchen, ensuring the dishes pair perfectly with the exquisite wines on our list," said Diana McMann, Temecula Creek Inn General Manager. "Our guests say Cork | Fire Kitchen is a "must-dine" every time they visit Temecula. From the care we take to plant and harvest fresh ingredients on site, to the decision made to serve a wide selection of local wines to help our area remain sustainable, this award goes back to the thoughtfulness we give to each item on our menu."
Pechanga Resort Casino's Great Oak Steakhouse is currently in the midst of a big refresh. Before the temporary closure, the restaurant's wine list featured 203 distinctive wines from well-known regions around the world. Many hail from California, including several from the local Temecula Valley. Other selections include well known, as well as hard to find, labels from the Pacific Northwest, Europe, Argentina, and New Zealand. When the restaurant reopens later this summer, guests will enjoy an expanded wine and craft cocktail list, as well as elevated cuisine in a modern and inviting setting.
Rich and warm earth tones, muted golds and modern chandeliers make the remodeled space inviting and fun simultaneously. A semi-private chef's room will be available for small groups and special occasions. The room is flanked on two sides by temperature-controlled glass walls housing award winning wine selections. The room also allows guests a front row seat to look into the restaurant's new exhibition kitchen. A new bar to the right of the restaurant's main entry allows guests spacious ambiance to enjoy crafted cocktails, appetizers and good company before or after their meal in the main dining room. Check Pechanga's social media channels or the website at Pechanga.com/eat for information on the Great Oak Steakhouse's remodel reopening.
Cork | Fire Kitchen features 119 wines on their extensive list that offers nearly 20 labels from as nearby as the Temecula Valley, and many more from as far away as Australia, France, Argentina, and Austria. Guests may choose to sit inside or outside on one of two patios overlooking the resort's 27-hole golf course. Reservations are encouraged when dining at Temecula Creek Inn's Cork | Fire Kitchen. Reservations may be made by visiting corkfirekitchen.com or by calling (888) 976-3404.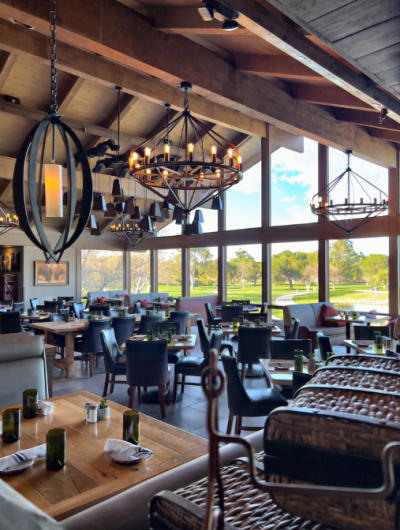 Inside Cork Fire Kitchen restaurant & a look at its floor to ceiling windows at Temecula Creek Inn.
About Pechanga Resort Casino
Pechanga Resort Casino offers one of the largest and most expansive resort/casino experiences anywhere in the United States. Voted the best in the west casino by USA Today and rated a Four Diamond property by AAA since 2002, Pechanga Resort Casino provides an unparalleled getaway, whether for the day or for an extended luxury stay. Offering the hottest slots, table games, world-class entertainment, hotel rooms and suites, dining, and golf at Journey at Pechanga, Pechanga Resort Casino features a destination unmatched in California. Pechanga Resort Casino is owned and operated by the Pechanga Band of Indians. For more information, call toll free (877) 711-2946 or visit www.Pechanga.com. Follow Pechanga Resort Casino on Facebook, Instagram and on Twitter @PechangaCasino.
About Temecula Creek Inn
A historic, boutique, and charming resort located in Temecula, California, Temecula Creek Inn offers a hideaway from the bustle and bristling pace of everyday SoCal life. Located two minutes from Interstate 15 and an easy hour drive from San Diego and Los Angeles, the resort, opened in 1969, features 27 holes of championship golf and a practice facility for players of every skill level. On-site restaurant, Cork | Fire Kitchen serves innovative contemporary Californian garden-to-table cuisine in an approachable setting looking out onto the Temecula Creek Golf Club waterfall, Chef's Garden, and Butterfly Habitat. 125 rooms and suites, plus one guest house, and two premier wedding venues rated best in the region by California Wedding Day Magazine. For more information, call toll-free (855) 494-5627 or visit www.TemeculaCreekInn.com. Follow Temecula Creek Inn on Facebook at @TemeculaCreekInn and on Twitter and Instagram at @TCreekInn.