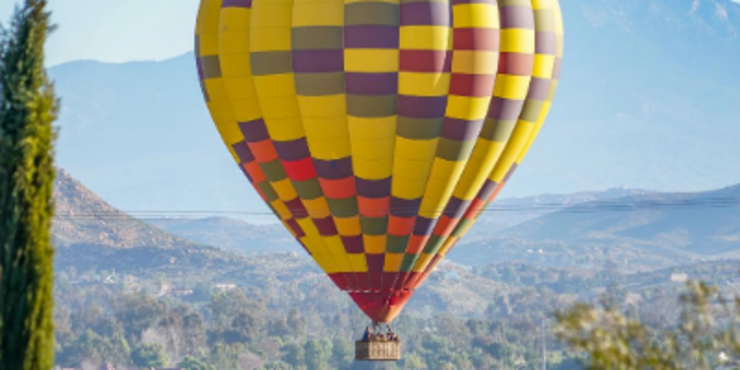 22 Best Things To Do in Temecula
Named one of Wine Enthusiast magazine's "10 Best Wine Travel Destinations" in 2019, Temecula Valley is quickly becoming a trendy Southern California winery destination. In addition to its status as Temecula Valley Wine Country, Old Town Temecula and Pechanga Resort Casino are also located here, offering tons of attractions and fun things to do. This West Coast destination makes for a great family-friendly getaway, wine tasting adventure with your closest friends, or solo-day trip from Los Angeles.
Since 1867, Vail Headquarters, a living historic park, has been the heart of Temecula for decades. Specialty restaurants, boutique stores, and special events, like Sunday Fundays, serve as ways to bring the community and outside visitors together to celebrate the vibrant heritage of Temecula.
Explore wine tastings, authentic local food, museums, festivals, and even air balloon rides in this culturally rich and lively West Coast city.
A SMORGASBORD OF DINING OPTIONS
Located on more than 45 acres of rolling hills in the Temecula Valley, Bolero at Europa Village is the first of three distinct stops within Europa Village. Complete with a boutique to peruse and purchase treasures, a Spanish-inspired restaurant, and a beautiful wine cave and tasting room for wine and olives, it's the perfect place to engulf yourself in local culture. Radiating Spanish ambiance, Bolero Restaurante serves breakfast, lunch, and dinner with menus to celebrate the centuries-old tradition of tapas. Shareable plates include seafood, steak, roasted vegetables, olives, and European cheeses and charcuterie.
On the more casual side, The Cantina at Bolero is a rustic bar offering tapas, house wines, private label beer, and cocktails. Best of all are the options, totaling 13 indoor and outdoor venues within the resort's 15,315 square feet.
FUN THINGS TO DO
Temecula Wine Country E-Bike Rentals takes the burden off full-on pedal exertion and allows you to pedal at your own pace to enjoy the trails and explore the region. These state-of-the-art electric bikes are designed for a smooth and easy biking experience along paved and dirt roads. Bring a water bottle and your cell phone to place in the bike's appointed cage storage. You'll get your own bike lock, helmet, and maps with your rental, and you have the option to rent a picnic bag. The best part of all is that delivery is part of the rental package when you're onsite in wine country.
Starlight Bazaar at the Vail Headquarters is held the last Friday of every month from 6-10 pm. This nighttime festival showcases local music, art, food, and culture.
Saddle up and channel your inner equestrian at one of these spots to take a horseback ride tour or attend a spectator's event:
-         Green Acres Ranch Inc. offers riding lessons and therapeutic riding appointments.
-         Temecula Carriage Co. is the place to reserve a horse-drawn carriage ride or private dining carriage for dinner.
-         Galway Downs, a race-horse training facility, is also where you'll want to take in a dressage show. Be sure to check out the upcoming events.
-         Wine Country Trails by Horseback offers riding experiences through the beautiful vineyards of the Temecula Wine Country. Take a 90-minute guided tour along with breathtaking views of the Maurice Car'rie Winery vineyards on docile and gentle horses led by seasoned tour guides. You'll take the reins of romance in wine country.
-          Book your Fine Wine and Horses adventure at Vin Hesten Trail Rides to take a professional horseback riding lesson before an hour-long trail ride with a stop for wine tasting at a partner winery.
Feeling lucky? The Pechanga Resort and Casino has the largest casino floor in California and features over 5,000 slot machines, 158 table games, a non-smoking poker room with 38 tables, and an ultra-modern, 700-seat bingo facility. You can also purchase tickets to entertaining concerts with famed notables such as "The Go Go's" or grab a seat inside the Comedy Club on the property for a few giggles. Treat your friends to dinner with your big win and enjoy Italian-inspired culinary plates at Paisano's or slurp a dozen oysters at Umi Sushi & Oyster Bar. Meat eaters will want to book a reservation at The Great Oak Steakhouse before heading back to the roulette table.
Step back in time at the Temecula Valley Museum and experience the rich history of Temecula Valley's old town from its discovery to today.
Golf is always an option in Temecula, and Temecula Creek Golf Club is the place to strut your put. Awarded a Four-Star rating from Golf Digest, these three Temecula golf courses offer challenging play in a one-of-a-kind, scenic setting.
Be sure to rise up, up, and away in a hot air balloon ride for a mix of peace and adventure. A gentle sunrise float above the picturesque rolling hills and vineyards is available year-round.
-         California Dreamin' offers a post-landing light European breakfast served in a private rose garden, complete with mimosas and local fare.
-         Magical Adventure balloon rides include a flute of premium champagne, juice, or mimosa to make a toast to the start of a glorious day. Continental breakfast is also part of the package. Nobody leaves without their commemorative flight certificate, complimentary souvenir photo taken by a professional photographer, and two-for-one wine tasting tickets, and more discounts to six local wineries.
-         A Grape Escape adventure begins at sunrise. You'll be invited to help inflate your beautiful hot air balloon or simply observe others. Once in-basket and in-air, your pilot, a.k.a. "tour guide," will point out areas of interest and take questions about the region. Once grounded, toast to a successful flight with a mimosa and light breakfast served picnic style in the gardens at Europa Village Winery and leave with a souvenir certificate of flight.
Hit the Calle Contento Wine Trail for vino tastings "off the beaten road," or at least located along a less busy trail off Rancho California Road. Wineries worth the turn off the road include:
-          The Patel family's Akash Winery, if only for a taste of Dreamville Brosé.
-         Briar Rose Winery, a land of enchantment said to be the first cult winery of Temecula,
-          Turn into Falkner Winery for a taste sure to please your palate, especially considering 80 percent of the wines on their tasting menu are award winning.
-         Lumiere Winery is where you can taste a 2017 white merlot, a rare offering in the wine world.
-         Peltzer Family Cellars offers more than a winery, but its wine options are worthy of a stop alone. From Prosecco to Malvasia Bianca, Barbera, and more, the wines aren't all you'll find here. This property is land to a pumpkin farm, and there are train rides and live music events to enjoy. Oh, and they also have an ice skating rink open during the winter months, featuring 8,400 square feet of skating space, complimentary gliders, picnic benches, hot cocoa, snacks, local food truck eats, and a bar serving Peltzer wines, of course.
-         Vindemia Vineyard & Estate Winery offers varieties that include a popular "More Cowbell" label with a blend of zinfandel, cabernet, viognier, and syrah. The backdrop to this winery is its 100 olive trees, which they harvest and press for fresh, delicious olive oil, available at certain times of the year.
SHOP 'TIL YOU DROP
In the Vail Headquarters historic district, its Downtown Apothecary is the place to purchase small-batch handmade bath and body products. Donut bath bomb, anyone? Essential oil blends and sea sponges are popular products here.
Big Horse Feed & Mercantile began with a few horse-related items and feed for sale. Today, it offers much more than feed, but fun and unique items for pets, humans, and your home. Come October, there's a festival held that includes time spent navigating your way through a corn maze.
At Vail Headquarters, Bucket of Nails is the place for custom-built furniture and home décor. Want to design your dream table? Now you'll have the chance to do so.
Temecula Valley Alpacas is the place to purchase hats, wraps, and everything alpaca, handmade from fabric shed from the animals you'll greet upon entrance.
Old Town specialty shops worthy of a peek inside:
-         Old Town Spice & Tea Merchants for loose teas and those hard-to-find pantry items.
-         Temecula Lavender Company for all things lavender and TLC.
-         Temecula Olive Oil Company for olives, balsamic vinegar, olive soaps.
Farmers Markets are held on Saturdays in Old Town, Tuesdays in Vail Headquarters, and Wednesdays in Promenade. Yes, three outdoor Farmers Markets within three separate shopping and dining areas. Shop here for local produce, artisan, and handcrafted goods.
There's no shortage of authentic, unique experiences to be had in Temecula. From locally sourced restaurant menus, to Alpaca-oriented boutiques, to hot air balloon rides overlooking the city, Temecula has it all. It's the perfect place to hold a much needed getaway with your friends or family, and it's sure to have something that everyone can enjoy. Explore Temecula firsthand and book a place at one of AvantStays Temecula properties.