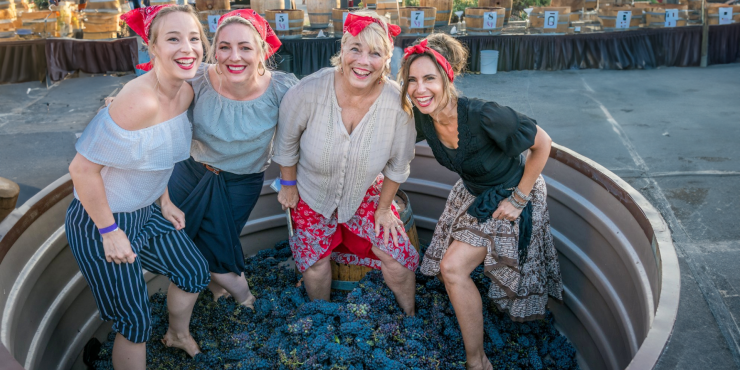 Whether sipping a glass of wine in a vineyard or enjoying a hot air balloon flight at sunrise, there's something for everyone in Temecula Valley during California Wine Month, which is celebrated throughout September. This is a perfect time to see and experience the makers and mavericks who live and work in wine country, enjoy onsite tastings, tours, and elevated wine and food pairings.  
Here are ten ways make Wine Month in Temecula Valley extra special: 
Art in the Vines 
For many years, Temecula Valley Southern California Wine Country has been inspiring artists and photographers with its natural beauty, miles of vineyards, and stunning landscapes. During the first two weeks of September, nine local artists will be live-painting at several wineries including Avensole Winery, Europa Village, Leoness Cellars, Palumbo Family Vineyards & Winery, Robert Renzoni Winery, and Wilson Creek Winery. Their artwork will be displayed at Temecula Valley Museum Sept. 17-25. The public is invited to visit the museum in Old Town and vote for their favorite art piece. 
Danza del Sol Winery: Sea to Table Harvest Celebration  
Celebrate the harvest at Danza del Sol's Sea to Table Harvest Celebration on Sept. 23. Chef Dylan Soros will be cooking up a delicious seafood boil to pair with favorite Danza vintages at this beautiful 40-acre estate winery on the De Portola Wine Trail.  
Flights and Bites 
Discover the perfect pairing of wines and culinary creations during September Wine Month. Participating restaurants and wineries will blend locally selected wines with delicious bites for a truly memorable experience. The right combinations can take the dining experience to a new level and inspire guests to try their own pairings at home. 
Monte de Oro Winery: CRUSH Wine & Culinary Showcase 
One of the most popular wine country events in Temecula Valley, the CRUSH Wine & Culinary Showcase, will be held Sept. 30. Guests will enjoy live entertainment as well as wine and food pairings from more than 30 wineries and culinary creators. 
Ponte Family Estate Winery's 21st Grape Stomp 
Join Ponte Family Estate Winery on Sept. 24 at its 21st Annual Grape Stomp as it rings in the harvest season. Guests will enjoy Ponte wine, a spectacular Italian-themed catered dinner, music, dancing, and a Grape Stomp competition (with prizes). 
Ultimate Vineyards & Maurice Car'rie Winery: Harvest Grape Stomp 
Established among the first vineyards planted in the region since 1968, this 91-acre vineyard will host a Grape Stomp Competition on Sept. 16. Admission includes a welcome glass of cuvee, music from DJ Chris Static, lawn games, and bottle specials. More here. 
Temecula Carriage Company: A Private Grape Stomp 
On a wagon drawn by elegant horses, guests are transported back in time to experience the crush of grapes. Wagons will hold a maximum of eight guests as they travel through the vines for a wine tour and competition preparations. More information here. 
Europa Village: Great Taste of Europa Wine & Food Festival 
Sip, Sip, Hooray! The Great Taste of Europa Wine & Food Festival has returned for another year. Guests can explore the sights and wonders of Europa Village, with plenty of wine, local craft brews, spirits, gourmet food, and live entertainment.  
South Coast Winery Resort & Spa: Fall Harvest Events 
Celebrate the Fall Harvest commencement on a beautiful day surrounded by wine, friends, family, and fun activities on Sept. 8 in the Vintner's Garden at South Coast Winery Resort & Spa.  
On Sept. 28, the Harvest Winemaker's Dinner offers a multi-course, wine-paired dinner. Winemakers Jon McPherson and Javier Flores will personally select new wines to share and describe how they complement each course. 
Peltzer Winery: Stomp Out Cancer Festival 
It's time for the 4th Annual Stomp Out Cancer festival on Sept. 23 at Peltzer Pumpkin Farm. Sip and stomp for a cause, with a percentage of winery proceeds benefitting the Childhood Cancer Foundation of Southern California.  
Where to Stay 
During Wine Month, visitors can pair their experience with a stay at one of Temecula Valley's many resorts, hotels, or short-term rentals. Find rates and availability here: https://www.visittemeculavalley.com/hotels/