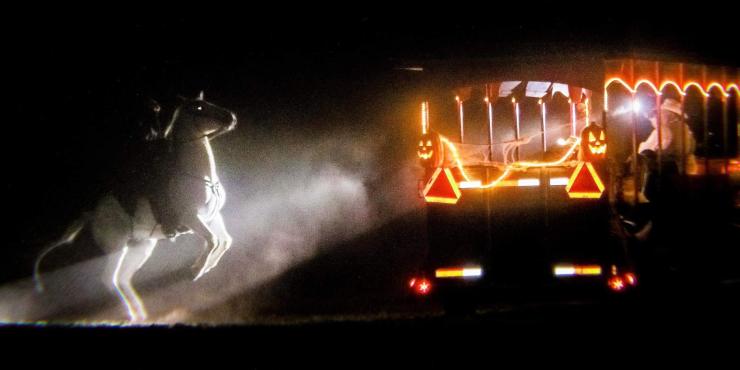 Good evening, ghosts & ghouls! During October, Temecula Valley transforms into a melting pot of frights & delights. From Halloween fun to spine-chilling excursions, there's a little something for everyone this spooky season. Let's dive into our ultimate Halloween guide to Temecula Valley. We have 13 suggestions! 
CarnEvil Ball at Europa Village. Dare to dance with the nocturnal beings that revel in the shadows. With electrifying music, creepy costumes, cocktails & bites, and a setting that screams Halloween, this will be a nightmare to remember at Europa Village.  
Headless Horseman Haunts Temecula. Experience Halloween the old-fashioned way with the Haunted Horse-Drawn Wagon ride at Temecula Carriage Co. Journey through mist-filled trails and watch out for the infamous headless horseman on your path!  
Fright Night on Friday the 13th: If superstitions are your thing, then mark this date! A scary good time is guaranteed at Vail Headquarters with themed food, vendors, live music, and activities for all ages. 
HalloWine Party at Peltzer Winery. Grab your ghoul gang and head to the Crush House for a raging night of all-out tom foolery! This party is fully equipped with food trucks, Witch's Brew Sangria, costume contests, and a killer DJ.  
Haunted Studio with JDS Creative Academy. Venture through this Haunted House if you dare! Support the talented actors, set designers, costume creators and volunteers who turn the entire JDS Studio into a giant Halloween extravaganza. 
Boos and Brews. Nightly Spirits and Temecula Cable Car Wine Tours team up for a spooky tour with a boo-zy twist. Hop on the cable car and cruise through the storied streets of Old Town Temecula paired with a ghostly walking tour and stops at two local breweries. 
WilsonFest at Wilson Creek Winery. Swap the eerie for the cheery in this harvest festival meets Oktoberfest celebration. Don your best Halloween costume and indulge in some grape stomping, wine sipping, and a themed buffet. 
Haunted Dinner Party at Corbeaux Wine & Tea House. Channel your inner 1930s ghost for this six-course, prix fixe menu dinner party. Step back in time and savor vintage recipes paired with your choice of wine or tea. Check out their Haunted High Tea for another unique offering! 
Haunted Masquerade Ball at Fazeli Cellars. Enjoy a frightfully fun night at this annual event which features a live DJ, dancing, dining, and spooky drinks. Masquerade masks encouraged.  
Real Ghost Tour of Old Town Temecula. Unearth the mysteries and tales of yesteryear as you wander through Old Town Temecula during this immersive ghost hunting experience. The tour combines a mix of local lore, true crime histories, and ghostly interactions! 
Midnight at the Masquerade Murder Mystery Party. Attend a masquerade ball at Doffo Winery where intrigue, drama, and murder are on the menu. Gather information, trade clues, and solve the ultimate crime before the masked menace gets away! 
Pennypickle's Magical Fun House Party at the Pennypickle's Workshop Children's Museum in Old Town Temecula. Enjoy a non-scary evening of exceptional fun for the whole family! The museum will be transformed into a magical fun house full of adventures for all ages.  
Lorimar's Annual Halloween Party. Enjoy a costume contest, live music, DJ, candy, and more! Additional food, wine, beer and sangria will be available for purchase.

Old Town Ghost Tour . The nightly ghost tour shares stories of true times of years past that still resonate today. You will hear detailed accountings of incidents that have left their spiritual imprint as you search for the unknown in Old Town Temecula or Vail Headquarters.
 
There you have it! From the mysteriously haunting to the delightful and festive, we've pulled all the stops this October. Whether you're a local or visiting for the first time, Temecula Valley's Spooky October Adventures are sure to leave you spellbound and wanting more. Remember to book your events in advance!  
 
Looking for more exciting events in Temecula Valley? Visit our website, stay tuned to our blog, and never miss out on the latest happenings.