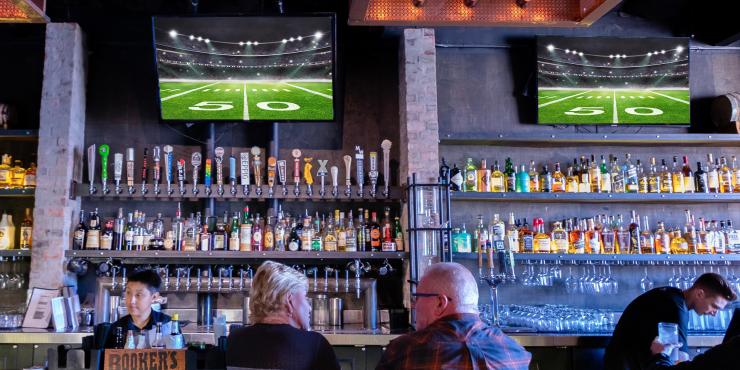 Are you ready for the showdown between the Kansas City Chiefs and the Philadelphia Eagles on Feb. 12? If you're looking for a great spot to watch the game, we have you covered! There will be several viewing parties and events throughout the Temecula Valley. If you prefer to watch the game on your big-screen TV at home, we have handpicked recipes from several top-area restaurants. They're guaranteed to keep your guests happy, no matter what the score! 
Here's a list of Temecula Valley bars, breweries, and eateries for Super Bowl Viewing: 

If you plan to watch the game at home, keep in mind that the food is almost as important as the actual game! Here are some of Temecula Valley's most popular dishes, shared by local chefs: 

Prep Time: 45 minutes | Cook Time: 16 minutes |Total Time: 1 hour 1 minute | Yields: 40 pretzel bites 
Ingredients: 
1 tbsp active dry yeast 
1 tbsp brown sugar 
1-1/2 cups warm water (about 110°F), divided 
5 cups all-purpose flour 
2 tsp fine salt 
2 tbsp food-grade lye 
1-liter water, room temperature 
Coarse salt and/or sesame seeds 
 
Directions: 
Preheat the oven to 400°F. Line two baking sheets with parchment paper. Spray with nonstick cooking spray. In the bowl of a stand mixer fitted with the dough hook, combine the yeast, sugar, and 1/4 cup of warm water. Whisk to combine. Let stand for 5 minutes. Add the remaining 1 1/4 cups of warm water, flour, and fine salt. Mix on low speed until combined. Increase speed to medium and knead for five minutes until the dough is smooth and doesn't stick to the sides of the bowl, adding more flour if needed. This will be a very dense dough. Remove the dough to a clean work surface (do not flour). Divide into 10 equal pieces (each should be about 100 grams). Roll each piece against the counter or between your palms into about a 24-inch long log. Cut each log into 4 equal "bites".  Place on baking sheets. Wear safety gloves and goggles and a face mask too if you prefer. In a well-vented area, place a plastic or glass container (do not use metal) on top of a few pieces of parchment paper to protect your counter. Carefully sprinkle the lye into the water. Use a silicone spatula to carefully stir the lye to dissolve. The lye is dissolved when the water looks clear. Dip pretzels into the lye bath for about 30 seconds. Remove to the baking sheets. Use a paring knife to score two slices into the thickest part of each pretzel. Sprinkle with coarse salt or sesame seeds. Bake at 400°F for 16 minutes until deeply golden brown. Let cool for 5 minutes before removing it from the parchment paper. Serve warm or at room temperature with spicy deli mustard.  Enjoy with a glass of Cougar Vermentino or a local Craft Beer! 
Ingredients
2 - 16 oz cans of garbanzo beans + Liquid 
2 - 16 oz cans – cannellini beans 
2 tbsp tahini paste 
2 oz roasted garlic 
2 oz garlic oil 
2 tbsp sesame oil 
2 tbsp lemon juice 
 
Garnish: 
4 oz feta cheese 
4 oz walnut pesto 
4 oz roasted blueberries 
4 each naan bread 
 
Directions: Place all ingredients except for the garnish in a food processor. Do this in small batches to ensure the hummus is thoroughly blended. Press the hummus through a fine mesh sieve to ensure the hummus is strained properly and smooth. Garnish the hummus with the feta, roasted blueberries, and walnut best. Cut the naan into triangles and quickly fry in a 350-degree fryer. Once it slightly browns, put the naan in a mixing bowl and toss with a little salt, freshly cut herbs of your choice, and a splash of garlic oil. 

These are sweet, spicy, and sticky baked chicken wings in an ultra-flavorful Calabrian chili-based sauce. 

Prep Time: 4 hours | Cook Time: 35 minutes | Serves: 4-5 
Ingredients: 
4 lbs chicken wings 
3 tbsp Calabrian chili peppers 
5 tbsp honey 
Juice and zest of one lime 
2 tbsp Yuzu 
1 clove garlic, grated 
½ tsp baking soda 
Salt and pepper 
Sesame seeds 
1 bunch of fresh cilantro (or stemmed Cilantro) 
 
Directions: Prepare wings by cutting them apart at the joints to separate the drumettes from the flats. You can also remove the wing tips and use them to make stock later. Combine the salt, pepper, and baking soda in a small bowl then dust the wings with this mixture. Arrange wings on a wire rack set over a baking sheet. Place wings in the refrigerator (don't cover them!) for a minimum of 2 hours and up to 12. Lightly grease a baking sheet with olive oil, arrange wings on the baking sheet, and bake wings on 450F for 30 minutes, rotating once halfway through. While the wings are baking, make the Calabrian chili sauce. In a large bowl, place Calabrian chilis, honey, Yuzu, lime juice and zest and garlic. Whisk to combine. Remove wings from baking sheet. If they're slightly stuck, use a fish spatula to help get them off without tearing them! Switch oven to broil. Toss wings in the sauce and return them to the baking sheet. Broil for 3 minutes, or until slightly blackened. Garnish with cilantro and toasted sesame seeds. 
Squeeze a fresh lime over before serving to really make the flavors pop! 
Ingredients:
12 oysters (your favorite variety), opened and abductor muscle severed 
8 oz unsalted butter, melted 
2 tbsp minced garlic 
1 tbsp granulated garlic 
Lemon wedges 
Flat leaf parsley, chopped 
Rock salt   
 
In a small bowl combine melted butter, minced garlic and granulated garlic. Mix together. Keep warm. 
Preheat your gas or charcoal grill. Place the oysters in their shell directly on the grill grates. Cook until the oyster liquor just begins to simmer. Transfer oysters to a shallow bowl or plate lined with rock salt, making sure not to spill any of the liquor. Top each oyster with the garlic butter. Squeeze lemon wedges over each oyster and top each with chopped parsley. Serve immediately. 

Ingredients:
1 ½ cups water (110 degrees) 
1 tbsp salt 
1 tbsp sugar 
1 ¼ tsp active dry yeast 
4 ½ cup all-purpose flour 
3 tbsp extra virgin olive oil 
2/3 cup baking soda 
2 large eggs 
1 each bratwurst 

Combine water, sugar, and yeast. Mix well and let stand for 10 minutes. Place into mixer. Add egg and oil. Slowly add flour and salt. Mix until dough is formed and is not sticky. Place dough in bowl cover and let rise for one hour. Remove dough from bowl and knead for 5 minutes. Cut into workable pieces and roll into long string. Skewer bratwurst through center and grill for 4-5 minutes. Carefully, with a sharp knife, spiral cut the bratwurst. Place string of pretzel dough into cut bratwurst. Bring 10 cups of water to a boil with baking soda. Place bratwurst into water mixture for 20-30 seconds. Remove and place on pan with parchment paper. Cook at 425 degrees for 10-12 minutes Remove and let rest for two minutes. Serve with cheese sauce (recipe below). 
Cheese Sauce 
2 tbsp butter 
2 tbsp four 
1 cup milk 
2 cups sharp cheddar, grated 

In a medium saucepan, melt butter. Add flour and whisk. Slowly whisk in milk. Add cheese and mix until melted. Serve with pretzels.  
Ingredients:
5 lbs ground chuck 
2 medium red onions, chopped 
1 red pepper, chopped 
1 green pepper, chopped 
3 garlic cloves, minced 
2 - 14 ½ oz cans diced green Ortega's tomatoes, undrained 
4 – 8 oz cans tomato sauce 
1 - 6oz can tomato paste 
1/4 cup chili powder 
1 tsp kosher salt 
1 tsp ground black pepper 
1/2 tsp smoked paprika 
1/2 tsp red pepper flakes 
½ tsp ground bay leaf powder 
2 - 16oz cans light red kidney beans, rinsed and drained (optional) 
 
Garnish: Sour cream, shredded cheddar cheese, chopped green onions, white onions chopped 
Directions for slow cooker: Cook ground chuck, in batches, in a large skillet over medium-high heat, about 5 minutes, stirring until meat crumbles and is no longer pink; drain. Place meat in a 6-quart slow cooker; stir in onions, next 12 ingredients, and, if desired, beans. Cook, covered, at HIGH 5 to 6 hours or at LOW 6 to 8 hours. Serve with desired toppings. 
Directions for cooktop preparation: Cook ground chuck, in batches, in a large Dutch oven. Drain beef and return to Dutch oven. Add onions, next 12 ingredients, and, if desired, beans. Bring to a boil over medium-high heat; reduce heat, cover, and simmer 4 to 6 hours. Remove and discard bay leaf.