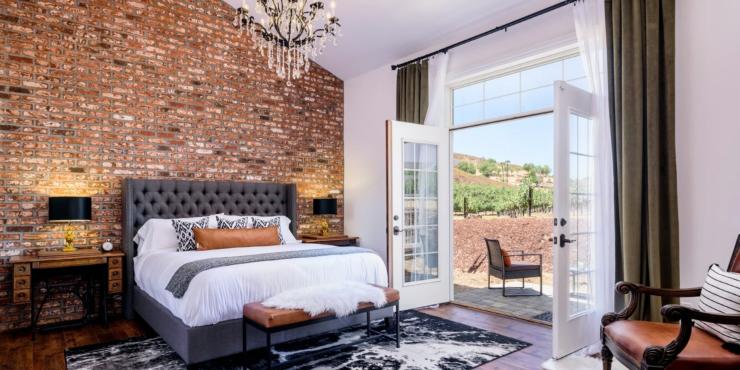 Temecula Valley has become increasingly popular as a Southern California destination, with a vibrant Old Town, award-winning restaurants, craft breweries, horseback riding, hot air ballooning, and nearly 50 wineries. Each day offers a new adventure, and with so much to explore, a midweek vacation is a fantastic way to experience Temecula Valley without the hustle-and-bustle of the weekend rush. Lucky for you, this Southern California gem has plenty of weekday charm to make for a memorable visit.  
Here are seven compelling reasons why you should consider a midweek stay in Temecula Valley: 
Work it! Super-Charge Productivity and Creativity with Vineyard Views 
Whether you are a hybrid worker or creative maverick seeking inspiration, Temecula Valley is a beautiful place to work remotely! Take productivity to new heights as you enjoy the Valley's gorgeous rolling hills, lush green vineyards, and hot air balloons majestically soaring above. A midweek work stay sets the perfect scene to tackle your "to do" list with newfound zest.  
Take Advantage of Midweek Rates & Packages 
Amazing offers are at your fingertips! By planning your visit midweek, you can take advantage of lower accommodation rates and special offers from hotels and vacation rentals in Southern California Wine Country. Sip & stay at Europa Village where their midweek package includes breakfast and wine tasting for two or hit your best shot at Temecula Creek Inn's golf course with their Unlimited Golf Summer Escape special. Visit Temecula Valley Hotel Packages to start exploring. 
Rub Elbows with Local Artisans on Quieter Days 
Discover the essence of Temecula's booming community by visiting winemakers, restauranteurs, and entrepreneurs when they're less busy during the week. Engage in intimate conversations with local industry professionals and seize the opportunity to learn about the passion behind the region's renowned wines, shops, and culinary delights. 
Make Your Midweek Break Extra Special with a Spa Day 
Experience tranquility at its finest. Unwind in the quieter atmosphere that weekdays at a spa can offer and savor each moment. Embrace the feeling of healing at Spa Pechanga, or relax poolside at South Coast Winery's GrapeSeed Spa with a Spa Day Pass (only available Monday – Thursday). Also, Murrieta Day Spa offers a plethora of wellness opportunities. 
Secure a Table at Exclusive Restaurants 
With such a vibrant culinary scene in Temecula, popular restaurants can sometimes be a challenge to book on weekends. Visiting midweek increases your chance of grabbing a table at that buzzy restaurant you've just been dying to try. Check out our Foodie Favorites guide for inspiration. 
Bleisure Travel! Enhance Your Business Trip with Leisure 
Heading to Temecula for business? Revel in the brilliance of "bleisure" travel by adding a few extra days for leisure activities. Explore Temecula's wineries, enjoy local attractions, and make your work trip a well-balanced "work & play" excursion. Temecula makes for a fantastic playground, after all!  
You Keep Your Weekends "Yours" 
If you've ever felt the dread of having to go back to work after traveling all weekend long, you're not alone. Consider this: A Monday – Friday vacation means you've still got the weekend to relax, unpack, and ease back into your schedule before that Monday wake-up call.  
Take our advice– use that PTO, pack your bags, and flip your regular routine upside down for a midweek stay in Temecula Valley, Southern California Wine Country.