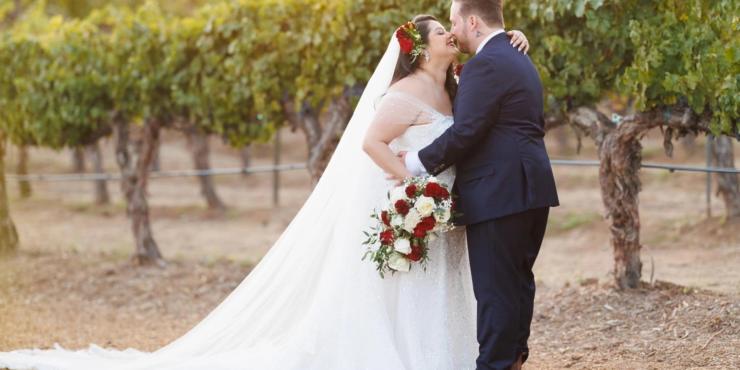 Full Article: Fairy-tale weddings have become big business for Temecula area – Press Enterprise
By Carl Love | March 16, 2023
Think Temecula-area tourism, and wine country, Pechanga Resort Casino and Old Town come to mind.
Weddings? Unless it's a couple locals getting hitched, who would bother?
Crystal and Joshua Huckabee did bother, as their shared last name indicates.
Both 31, they've known each other since high school and now live in Ontario. Yet they opted to get married at Wilson Creek Winery in Temecula Valley Wine Country because they got engaged locally and visit the area at least twice a month.
Crystal, an anthropology professor, and Joshua, a chef, are wine and food people, adding to the Temecula appeal.
They got married Sept. 15, 2022, having to sweat that the area was threatened by a fire. They did it in a vineyard, the vines plump, the hills rolling, the temperature in the 70s … on and on go the benefits of getting married near Temecula.
Think fairy tale.
About 115 people attended the affair, which cost about $45,000. Talk about pumping up the local economy.
Jeff Littrell, director of events and catering at Wilson Creek, said that on any day, "we have small and large ceremonies, themed weddings inspired by Star Wars or Disney characters, pets featured in the ceremony and couples arriving on horseback or horse-drawn carriage."
We're so not the basic Las Vegas wedding-chapel scene.
A note from Visit Temecula Valley, a marketing organization, puts it well: "From the Snow White-inspired cottage at Briar Rose Winery to a horse drawn-carriage through the vineyards, Temecula Valley offers a wide array of beautiful places for stealing a kiss, popping the question or sealing the deal."
Who wouldn't want to get down on one knee after such a sales pitch?
Of course, there are the wineries, but there's also a chapel for weddings in Old Town Temecula, hot air balloons, the Rose Haven Heritage Garden, Harveston Lake, Vail Lake and so many more options. It's a wonder vows aren't being exchanged as folks idle on our congested freeways. There'd definitely be a crowd.
Jokes aside, weddings are a serious business given the money involved. That's one reason locals are so excited about the hitches happening here.
According to Annette Neilsen, a weddings/event specialist in the area for more than 20 years, the average local wedding now costs about $65,000 and there are at least 5,000 a year here. Those wedding bells are making cash registers ring.
About 18% are local residents, meaning a lot of outsiders are being exposed to the Temecula area via their weddings.
Brianna Perez, of Avensole Winery in wine country, said her business does more and more weddings for out-of-state couples.
They cite the area's natural setting, romantic views and "elegant ambiance," she said. That's something wineries specialize in.
"As a destination location, couples also look for regions that include immersive settings," she added. "I find our couples adore the charm of not only the Temecula landscape, but also the engaging community and its captivating small local businesses, where most host pre- and post-wedding gatherings."
"It couldn't have been better," the happy bride said.
Another indicator of the growth in weddings can be found at Stryder Transportation, where the firm's wedding-related business has grown 266% from 2018 to 2022, said Jodee Morgenroth, who manages the shuttle's sales and hospitality.
Even if they don't move here after being exposed to our area from all the weddings happening locally, many people surely return for visits.
Sure enough, Crystal and Joshua say they would probably move here if they got local jobs.
It would be another fairy tale ending for them.