2021-2026 Wine Country Lodging Tourism Marketing District (TMD)
---
The mission of Visit Temecula Valley (VTV) is to positively affect the destination's tourism economy and quality of life for its citizens, serving the Temecula Valley Wine Country Tourism Marketing District (TWCTMD) Partners by providing sales, marketing, and public relations support targeting potential leisure travelers from around the world as well as event, meeting, and convention groups. In addition to destination sales and marketing, VTV supports workforce development, consumer and group business research, visitor studies, and destination stewardship.
Unincorporated Riverside County Wine Country Lodging and Vacation Rental owners successfully petitioned in 2016 to be included in the Tourism Marketing District, in partnership with the City of Temecula Lodging business. The City of Temecula Lodging hotels remit a 4% TBID assessment while Vacation Rental and Wine Country lodging pay a 2% TMD assessment on short-term stays of less than 28 days.
Please review the FAQs below for more details on the assessment and benefits. This information will be updated frequently to include more details on how Vacation Rental owners and managers can remit their assessment and get involved.
FAQs (Frequently Asked Questions)
---
What is a Tourism Marketing District (TMD)?

A Tourism Marketing District (TMD) is a collection of lodging properties that pay an assessment on individual room night stays. The assessment—a small fee usually paid by guests on their nightly bill—provides funding for destination marketing and development to grow visitation year-round and help the destination remain competitive worldwide.
Over 160 tourism improvement districts exist across the United States, with the majority being in California, including San Diego, Greater Palm Springs, Los Angeles, San Francisco, Santa Barbara, Big Bear Lake, Napa Valley, Huntington Beach, Oceanside, and Temecula Valley.
The Temecula Valley Wine Country TMD helps us compete with these destinations and promote our many wonderful activities, events, attractions, and unique places to stay to visitors.

Why does Temecula Valley need a WCTMD?

The TMD provides a stable, long-term funding source to promote tourism, our region's No. 1 industry. Increasing visitation and room night sales ultimately benefits our hotel/vacation rental businesses and helps grow the local economy. Unlike Transient Occupancy Tax (TOT) collections, which can be used for a variety of purposes, Police, Fire, City & County Public services.
TMD funds are protected and used exclusively by the destination marketing organization supporting our Industry for business and job growth.
How much is the assessment?

The annual assessment rate for Hotels and Vacation Rentals is 2% of gross short-term revenues, calculated monthly in the same way you calculate and remit TOT. Assessments will not be collected on long-term stays of 28 days or more.
The fee is typically passed on to the overnight guest via their nightly rental bill. Travelers in the U.S. have become accustomed to these destination fees, which are standard practice across the country.

All lodging businesses and vacation rentals are located within the boundaries of the Unincorporated Riverside County in Temecula Valley Southern California Wine Country.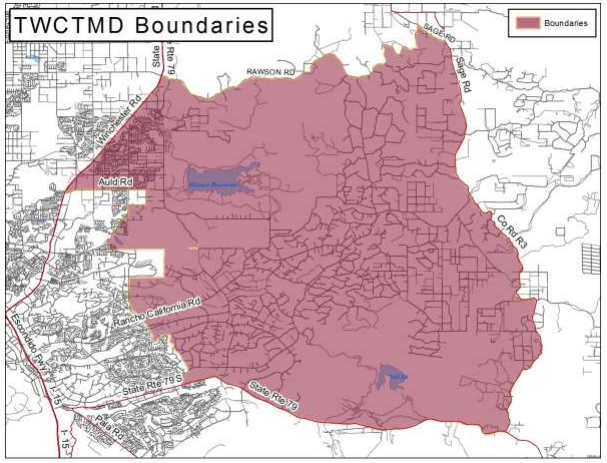 When do I begin paying the assessment?

Vacation rentals will begin assessing stays Nov 1, 2021. Assessments for each month are due by the end of the following month to avoid penalties or late fees.
How is the assessment calculated?

The TMD assessment is calculated as 2% of gross rental revenue on short-term stays of less than 28 days, remitted each Quarterly in the same way you calculate and remit Transient Occupancy Tax (TOT).
How do I pay the assessment?

The TMD assessment will be remitted Quarterly to the County along with your TOT payment. If you have a property manager that is remitting TOT for you, they will collect and remit the TMD for you as well.
What is the duration of the TBID Renewal?

The renewed TMD will have a 5-year life, beginning November 1, 2021, and ending October 31, 2026.
When will I have access to my VTV account as a vacation rental owner or manager?

Visit Temecula Valley will load in vacation rental owner information received from Riverside County for permitted homes within our boundaries. Once your information is loaded in, an email will be sent to you, or your property manager, with information about how to log in and access your account.

Visit Temecula Valley has a Vacation Rental Board Member & Taskforce for vacation rental owners and property managers to guide promotion priorities and review marketing plans. The TMD funding is required to be used in a way that specifically benefits the businesses assessed, and guidance from the industry is essential.
Contact Leigh Jensen at leigh@visittemeculavalley.com or (951) 491-6085 if you are interested in being involved with the Vacation Rental Task Force.
Why are Wine Country Lodging and Vacation Rentals in the Temecula Valley Wine Country Tourism Marketing District?

Local wine country lodging owners, vacation rental agents and owners asked VTV to begin the process of becoming a part of the TMD several years ago. Those owners saw the success of the original City of Temecula Tourism Improvement District started in 2004. In 2016, VTV stated the process for the Temecula Valley Wine Country as part of the Wine Country 2020 Plan working to help grow tourism lodging.
Vacation rentals are key for our destination to help meet visitor demand during our busiest times of the year and having them be part of our Board of Directors benefits all of us. The funds collected from vacation rentals for the TMD will be used specifically to market our destination for overnight visitation designed to bring in more visitors—with a special focus on educating homeowners, neighbors, and guests in order to create a positive environment in the local community and improve the vacation rental guest experience.