Romantic Moments
The romance of wine county can be captured through memorable experiences high above the vineyards, on horseback over the rolling hills, outdoors dining with panoramic views, or overlooking the valley under colorful skies.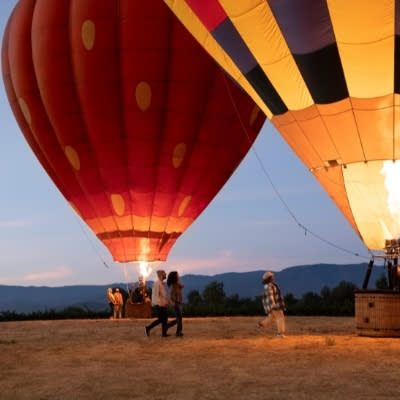 Couples can watch the sunrise together in a hot air balloon floating over the vineyards. This is popular for marriage proposals, celebrations, and special occasions. California Dreamin', Magical Adventure, and A Grape Escape all offer a "Will You Marry Me?" package.
Horse Drawn Carriage Ride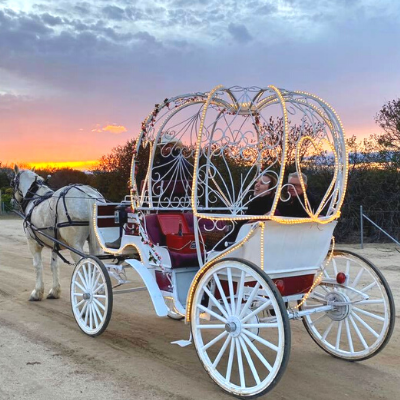 There is something magically romantic about a horse and carriage ride through the vineyards. Temecula Carriage Company offers private horse drawn carriage rides for couples, complete with an intimate vineyard picnic and a bottle of sparkling wine.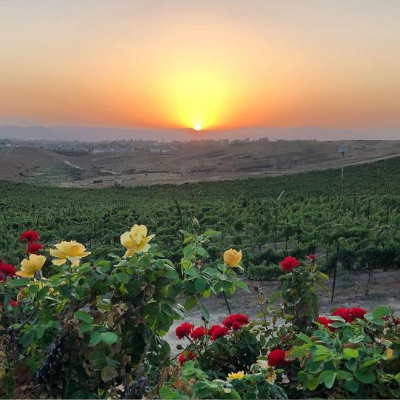 Temecula Valley is known for its stunning sunsets. Professional photographers flock to wine country's hilltops in hopes of capturing some of the most spectacular landscape images rich with blended colors of scarlet, crimson, saffron, dusty orange, gray-pink, and eggplant in the vast open skies above.
The best spots cozy up and relax with a glass of wine while watching a breathtaking sunset together are Avensole Winery, Bel Vino Winery, Callaway Vineyard & Winery, Danza Del Sol Winery, Lorimar Vineyards & Winery, and Palumbo Vineyards & Winery.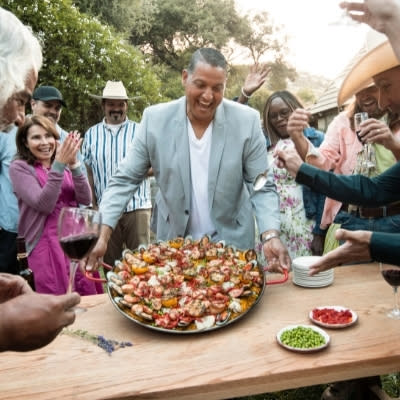 With nearly 20 dining options to choose from in wine country, this is one of Temecula Valley Southern California Wine Country's unique amenities. Al fresco dining is a favorite with visitors who want to take in the panoramic views. Celebrated chefs use local, natural resources to create innovative dishes that pair beautifully with their wines. See all wine country dining options here. 
Visitors can enhance the wine country experience by staying in Temecula Valley Wine Country at Bolero Winery at Europa Village, Carter Estate Winery & Resort, Inn at Churon Winery, Inn at Europa Village, The New Inn, South Coast Winery Resort & Spa or Wine Country Vacation Rentals. Other nearby options open only minutes away include Best Western Country Inn, Best Western Plus, Extended Stay America, Fairfield Inn & Suites, Hampton Inn, Holiday Inn Express, Home2 Suites, Hotel Temecula, La Quinta Inn & Suites, Motel 6, Pechanga Resort Casino, Quality Inn, Rancho California Inn, Rodeway Inn, Signature Temecula, and SpringHill Mariott.