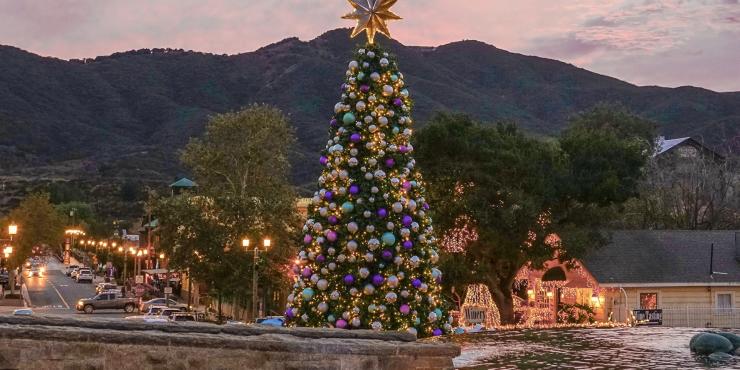 Ready for a December to remember? Imagine wandering through the twinkling lights of Old Town, sipping on seasonal drinks crafted by local artisans, and ice skating underneath the stars in our picturesque wine country. As the temperatures drop and the holiday spirit fills the air, Temecula Chilled returns to transform Temecula Valley into a festive paradise.  
From December 1st to 31st, experience a holiday season complete with festive decorations, live entertainment, and special events that capture the essence of the holidays in Southern California. Here's your guide to making the most of every merry moment: 
Season's Eating's Digital Passport: This year, Visit Temecula Valley introduces the Season's Eating's digital passport, a culinary adventure that takes you on a journey through local flavors. Discover "chilled" food and drink items created by local artisans, available throughout December. Earn points for cool prizes with every bite or sip. Check it out at TemeculaChilled.com. 
Old Town Temecula: Step into a holiday postcard with an outdoor ice rink, cozy holiday tunes, and twinkling lights. Don't miss the free cookies distributed every Monday to Thursday at 2:00 p.m. by Temecula Chilled volunteers! 
Wine Country: Temecula Valley Southern California Wine Country isn't just for wine enthusiasts; it's a holiday destination unto itself. Rolling hills, nearly 50 wineries, and over 20 dining spots come alive with stunning decorations, Season's Eating-themed treats, holiday markets, ice skating rink, and an array of special performances. 
Holiday Performances Galore: Catch a show at places like Old Town Temecula Community Theater, The Merc, and Europa Village. Don't miss Chris Isaak's "It's Almost Christmas Tour" on Dec. 20 at Pechanga Resort Casino! 
New Year's Eve Grape Drop: Ring in 2023 with us! There's ice skating, live music, and a festive countdown at this beloved local tradition in Town Square Park. 
Book the Ultimate Holiday Retreat: Chill out in style this season! Book your room at one of our signature hotels or resorts, or gather the family at a beautiful vacation rental.  
Daily Doses of Holiday Magic: 
Jingle Bell Sleigh Rides (Dec. 5) 
Holiday Taste of Old Town (Dec. 6) 
Chanukah Celebration at Lorimar Winery (Dec. 7) 
A Christmas Carol at Old Town Community Theater (Dec. 8) 
Christmas Around the World at Temecula Valley Museum (Dec. 9) 
...and so much more every single day! 
Whichever time of the month you visit, there will be plenty to do! Be sure to check our event calendar so you don't miss anything.  
Temecula Chilled offers not just a getaway but a holiday experience that brings together the best of festive cheer, culinary delights, and memorable moments. Whether you're nestled in a charming hotel or unwinding in a quaint vacation rental, every moment here promises to be sprinkled with holiday magic. Come, be a part of this winter wonderland, and create holiday memories that you'll cherish for a lifetime.  
Stay tuned for more Chilled blogs where we'll dive into everything there is to know about the holiday season in Temecula Valley.  
May your gatherings be warm, and your season be Chilled!