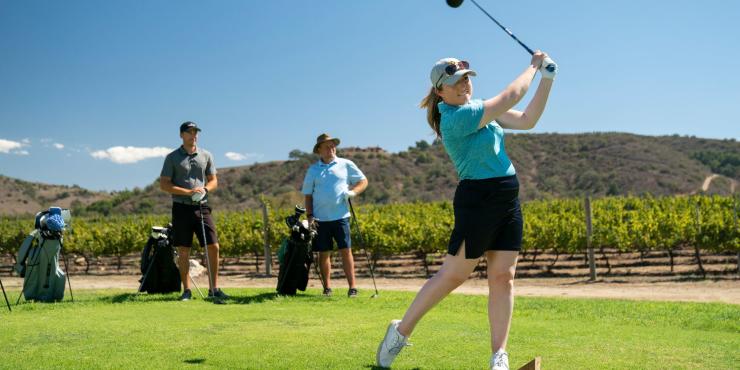 Golfers-in-the-know celebrate the richness of the game at three excellent courses open to the public in Temecula Valley. Awards and accolades abound at Journey at Pechanga, Temecula Creek Golf Club, and CrossCreek Golf Club making these courses some of the best to play in Southern California. The region's sunny skies and pleasant weather coupled with its unique variety of courses offer year-round challenges and opportunities for golfers of every level and handicap.  
Here are some of the reasons why these courses are top choices for both visitors and residents: 
Journey at Pechanga 
Journey at Pechanga is a renowned golf course located at Pechanga Resort Casino. It offers a challenging yet scenic golfing experience. Here are some key features: 
Course Design: Journey at Pechanga is an 18-hole championship golf course designed by Arthur Hills and Steve Forrest. It spans over 7,219 yards and incorporates the natural landscape of the area, including ancient oak trees and natural water features. 
Scenic Beauty: The course is known for its stunning views of the surrounding mountains, vineyards, and valleys. The picturesque setting adds to the overall golfing experience. 
Facilities: The golf facility at Journey at Pechanga offers a pro shop where you can find a wide range of golf equipment and apparel. Additionally, they have practice areas, including a driving range, putting greens, and chipping areas for honing your skills. 
Temecula Creek Golf Club 
Temecula Creek Golf Club is another popular golf destination. It features three distinct courses and offers a variety of golfing experiences. Here are the highlights: 
Three Courses: Temecula Creek Golf Club comprises three 9-hole courses: the Creek, the Oaks, and the Stonehouse. Each course has its own unique layout, challenges, and scenic beauty, providing golfers with different experiences. 
Natural Setting: The golf club is situated amidst the rolling hills and vineyards of Temecula Valley, offering beautiful vistas and a serene ambiance. 
Amenities: Temecula Creek Golf Club provides a comprehensive golfing experience with facilities like a pro shop, driving range, and practice putting greens. They also offer golf instruction and clinics for players of all skill levels. 
Cross Creek Golf Club 
Cross Creek Golf Club is a scenic and secluded 18-hole golf course. Here are some key features of this course: 
Course Design: The golf course was designed by Arthur Hills and opened in 2001. It features a challenging layout with undulating fairways, strategically placed bunkers, and water hazards that come into play on several holes. 
Beautiful Surroundings: Cross Creek Golf Club is known for its picturesque surroundings, with stunning views of the nearby mountains and a vineyard backdrop. The course offers a peaceful and enjoyable golfing experience in a natural setting. 
Practice Facilities: The club offers a driving range, putting greens, and a short game practice area where golfers can work on their skills before hitting the course. 
Overall, these three golf courses provide golfers with unique experiences, beautiful scenery, and well-maintained facilities. Each has its own distinct features, offering a memorable experience in picturesque Temecula Valley.