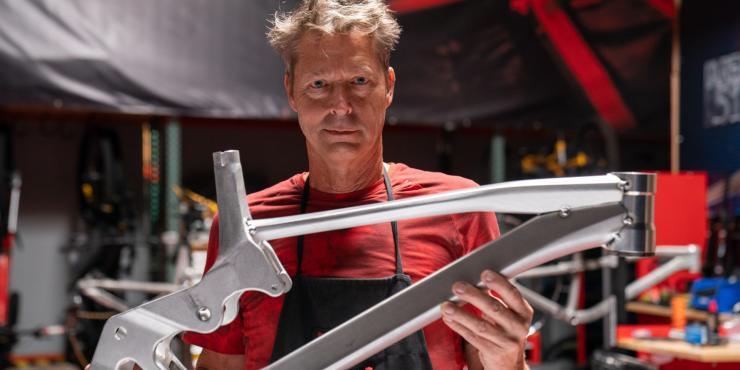 National Bike Month was established in 1956 as an opportunity to showcase the many benefits of bicycling and encourage more people ride a bike. In addition, May 7 is National Ride a Bike Day. Take advantage of this beautiful time to bike around Temecula Valley! You can find popular local bike trails for the novice, family, and adventurer throughout the Valley.
In recognition of National Ride a Bike Day and National Bike Month, we are featuring Temecula's own maverick, Intense LLC founder and CEO Jeff Steber. In the early 80's, Steber chose picturesque Temecula Valley as the location for his burgeoning mountain bike company that started out making small frames and is now a bike manufacturer with global sales.
"Temecula Valley offered the perfect location, with great weather making access to year-round action sports ideal," Steber said. "Another key factor is its central location in Southern California that's basically one hour from the beach, the mountains, Los Angeles and San Diego." 
Steber's journey into the world of mountain biking started at an early age thanks to his adventurous spirit and enthusiastic desire to expand the world he could explore. As he got older, he began working on motocross bikes, building guitars, and customizing cars, always refining and aiming to make things better. 
"I have always been a designer, artist, and a craftsman and when I get into something I always have to put my spin, improvements, and ideas into it which was the main driver for INTENSE," Steber said. 
After word got out that he was working his magic on mountain bikes, people began clamoring for him to build them one of his bikes. He quickly realized he was onto something awesome, organic, and authentic. INTENSE bikes are now ridden all over the world, including the multitude of trails in the Temecula Valley area. 
The love of the sprawling location and all it has to offer inspired Steber to create the latest mountain bike design, the 951 Series, named after the region's area code as homage to the birthplace of INTENSE. The full suspension bike is designed for riders of all levels in an effort to get more enthusiasts outside in nature to enjoy all of the benefits the sport brings. 
"Most of Temecula Valley is a bit on an oasis with its own unique climate and the proximity to the ocean," said Steber. "Then there's Old Town, which has grown into a nice fusion of opportunities and culinary options, while wine country adds to the charm of the region."