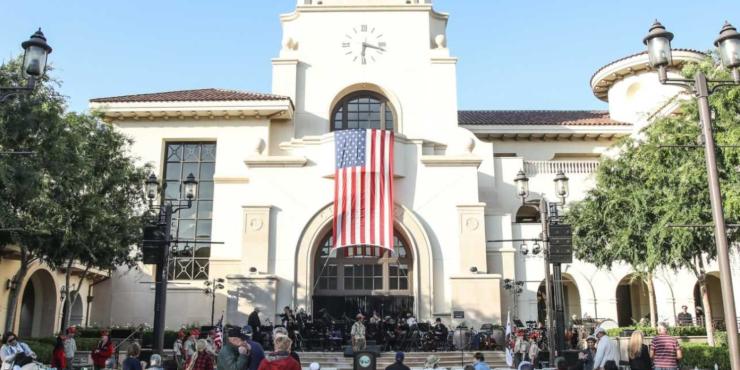 Temecula is proud to honor its military residents and visitors with year-round memorials and special holiday events. There are more than 6,000 current or retired military residents in Temecula.  
Its first memorial was erected in 2004. Located at the Temecula Duck Pond, the "Letters Home" Veterans Memorial, designed by Artist Christopher Pardell, displays reproductions of real letters written by service men and women from the battlefields as early as the American Revolution. The steps leading to the memorial and the wheelchair access ramp extending from the memorial are each dedicated as a "Path of Honor." The paths are comprised of permanent granite pavers, each engraved with the names of men and women who have served our nation in the Armed Forces during peace or war at any time in history.  
The Temecula Fallen Heroes Memorial, also located at the Temecula Duck Pond alongside the Path of Honor, features multiple elements, including a life-size battlefield cross cast in bronze, and a life-size bald eagle forged in steel and mounted in the attack position on top of a 17-foot tall cor-ten steel tower. Arranged in front of the tower on the ground are five bronze Military Service Seals honoring the individual branches of the United States Armed Services.  Sculptor Austin Casson designed the memorial to honor all Temecula residents who were killed in line of duty. 
The Temecula Duck Pond & Veterans Memorial is a lovely outdoor space located one block east of Interstate 15 on the corner of Rancho California Road and Ynez Road. The park features a serene duck pond that is home to various waterfowl species and is surrounded by walking paths and benches for visitors to enjoy. 
In commemoration of Memorial Day, the City of Temecula will host the patriotic-themed concert, A Tribute to Heroes: Memorial Day Observance performed by the Temecula Valley Symphony on Saturday, May 27, 2023, at 6:30 pm at the Temecula Civic Center, 41000 Main Street. Guests are encouraged to bring lawn chairs or blankets to this free, family-friendly concert.  
Under the musical direction of Maestro John Mario, this annual military and patriotic-themed concert will include musical works by John Williams and John Phillip Sousa. Other featured selections on the program include Aaron Copland's Hoe Down, and Samuel Barber's Adagio for Strings. The Temecula Valley Symphony is a 60-member community orchestra that has become a regional organization attracting professional and volunteer musicians throughout Southern California. 
In addition, each year on this national holiday, the City of Temecula pays tribute to all who have served honorably in the military. Families of service members are presented with Military Appreciation Banners which have graced the streets of Old Town Temecula. There is a procession through historic Old Town, culminating in a ceremony on the steps of City Hall. Spectators are asked to wear red, white, and blue, and wave American flags.