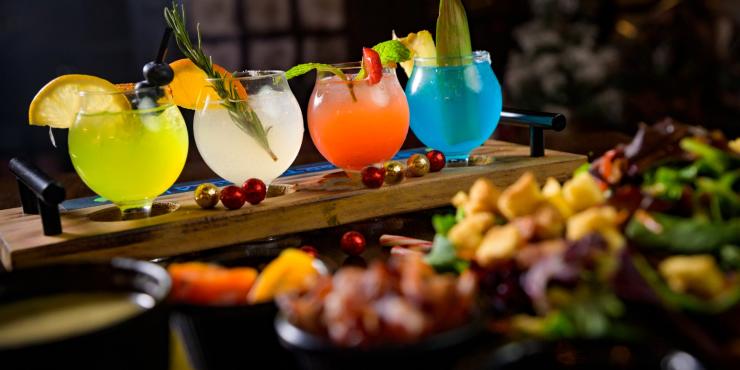 America's love affair with the margarita will take center stage in Temecula on National Margarita Day, which is Wednesday, February 22. This thirst-quenching beverage is the most popular cocktail in North America, with a whopping 56 percent of bar-goers saying a margarita is their go-to order.  
If you want to know where the margarita originated, there are many stories. Legend has it that it was invented in 1945 in Juarez, Mexico, when bartender Poncho Morales could not remember the ingredients for a "magnolia." He mixed it with tequila and named the new concoction "margarita," which means daisy in Spanish. The lady enjoyed it so much that she ordered a second, and then she told other customers about it. The rest is history!
Thirsty yet? Well, you are in luck, because several fine establishments in Temecula will honor National Margarita Day with special versions of this delicious beverage. For those who wish to celebrate at home, we have rounded up several recipes:
 

Ingredients: 
1.5 oz Milagro reposado 
2.0 oz fresh watermelon juice 
0.5 oz Green Pepper Ancho Reyes 
oz lemon juice 
0.5 oz Cointreau 
Jalapeño slices 
​Honeycomb 

Directions: Pour the Milagro reposado, watermelon juice, lemon juice, Ancho Reyes, and Cointreau over ice. Stir together. Top with a couple slices of jalapeno and swipe some honeycomb on the rim of your glass. Serve and enjoy! 

Ingredients: 
2 oz Blanco tequila  
¾ oz chile syrup*  
¾ oz lime juice  
Directions: Combine ingredients into a shaker and aggressively shake. Strain over fresh ice and enjoy.  
 
*Chile Syrup:  
8 oz water  
1 jalapeno, chopped  
1 serrano, chopped  
1 habanero, chopped  
Zest of ½ an orange  
12 oz sugar  
 
Directions: Add all the ingredients except the sugar to a pot and heat on the stove. Once it simmers, cut the heat and cover, letting it steep for 30 minutes. Strain on the solids, add the sugar and stir until fully incorporated. You can alternate the peppers and amounts to adjust the heat and flavor profile, omitting the membranes and seeds will result in a milder syrup. Jalapenos are medium heat, serranos are medium plus, and habaneros high heat. Both jalapenos and serranos contribute green and vegetal pepper flavors, and habaneros will add a distinct fruitiness. 

Ingredients:  
1-½ oz Blanco tequila  
1 oz lime juice  
¾ oz agave 
1 oz Syrah 
Lime wedge 

Directions: Combine the first three ingredients in a shaker with ice. Shake well. Pour mixture over rocks in a rocks glass. Float with Syrah and garnish with lime wedge. 
Ingredients: 
2 oz Espolon Blanco Tequila 
1 oz fresh lime juice 
½ oz agave nectar 
2 oz grapefruit juice 
2-3 slices of fresh muddled jalapeño  
Tangy Tajin seasoning for rimming 
 
Directions: Rim a rocks glass with Tajin seasoning by running a lime wedge around the rim and dipping it into the seasoning. Muddle 2-3 slices of jalapeño in a cocktail shaker. Add ice, tequila, lime juice, agave nectar, and grapefruit juice to the shaker. Shake well to combine all the ingredients and to chill the cocktail. Strain the cocktail into the Tajin-rimmed rocks glass over fresh ice. Garnish with a slice of jalapeño and/or a slice of grapefruit. Enjoy your salty, spicy, sweet, cold, tart, and absolutely refreshing Jalapeño Grapefruit Margarita! 
Ingredients: 
2 oz Don Julio Reposado 
¼ oz Ancho Reyes chile liqueur 
½ oz Grand Marinier 
½ oz lime juice 
¾ oz pickled pear tangerine syrup* 
 
Recipe yield: 1 qt 
*Pickled Pear Tangerine Syrup, Step One:
2 tangerines; zest peeled and juiced 
1 pear, peeled & large diced 
½ cup water  
¼ cup rice wine vinegar 
1 tsp granulated sugar 
 
Combine all ingredients, cook in a pot until pear is tender blend together, strain, and reserve liquid. 
*Syrup, Step Two:
¼ tsp salt 
2 cups water  
1 ¾ cups sugar 
1 cup pickling liquid 
Pickled Pear/Tangerine liquid 
Light simmer for 10 minutes. Cool. 
 
Tajin rim. Mix all ingredients in a shaker, shake, and strain over ice.

If you cannot make up your mind, consider a visit to Be Good for a Margarita Flight – an assortment of rotating flavors created with house-made sweet-n-sour fruit purees and premium tequilas.