Battle of the Burgers - 2018 Results 
The second annual Battle of the Burgers was held on Saturday, October 20, 2018 at Pechanga Resort Casino. Ten restaurants located in Temecula Valley competed for the Judge's Choice & People's Choice award. The event was a collaborative effort between Visit Temecula Valley, Pechanga Resort Casino, and Temecula Valley Unified School District. New to the event, was a "Loaded Fries" competition that included eleven Pechanga Resort Casino executive chefs partnering with third year Career Technical Education (CTE) students at Temecula Valley High School. The students teamed up with the chefs to create their "Loaded Fries" recipes.
The event was a sellout, with many wishing they had pre-purchased their tickets. There were more burgers and fries than one could consume, but everyone tried their best. Restaurants cooked onsite and attendees came up to their booths for samples (some as big as half a burger), while the "Loaded Fries" were the centerpiece of the room with the chefs and students offering a wide variety of fries.
Restaurants that participated in the burger competition were Baily's Old Town, Burger Lounge, Burgers & Beer, Café Champagne at Thornton Winery, Crush & Brew, Devilicious Eatery, Mad Madeline's Grill, Matty G's Steakburgers, Naughty Pig Butchery, and Siggy's.
The competition included a Judge's Choice and a People's Choice selection. Add the winners are...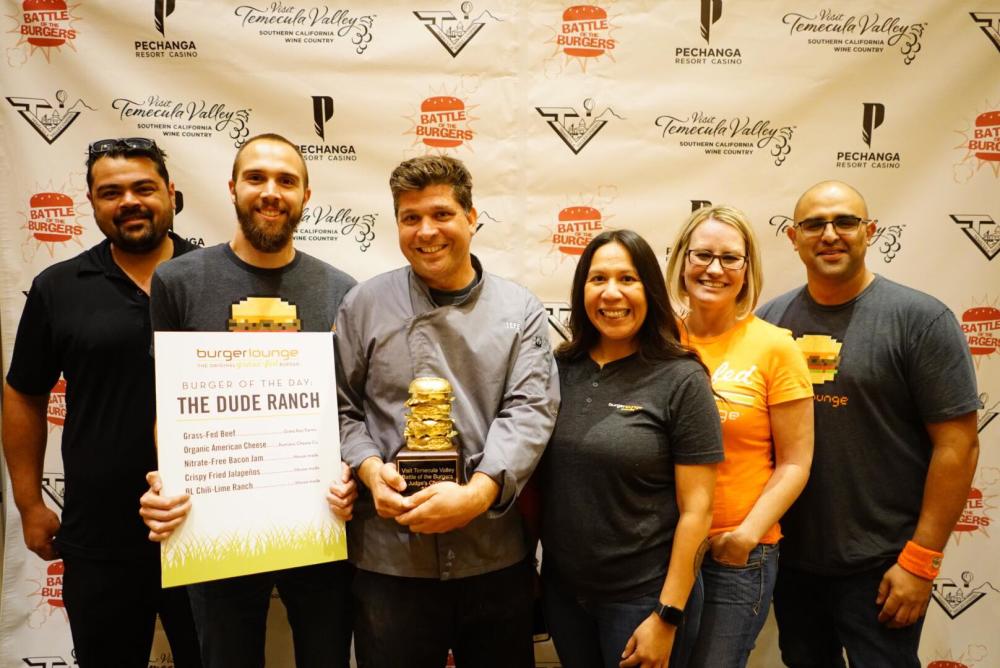 Judge's Choice - Best Burger
#1 - Burger Lounge - The Valley Special/Dude Ranch - Burger #7
#2 - Naughty Pig - The Royale with Cheese - Burger #3
#3 - Crush & Brew - Whiskey Burger - Burger #1
#4 - Baily's Old Town - Wine Country Burger - Burger #8
#5 - Mad Madeline's - Chili Relleno Burger - Burger #2
#6 - Siggy's - Bacon Cheeseburger - Burger #10
#7 (tie) - Cafe Champagne at Thornton Winery - Lamb Bacon Cheeseburger - Burger #9
#7 (tie) - Matty's G - All Star Burger - Burger #6
#8 - Devilicious - Gastroburger - Burger #4
#9 - Burgers and Beer - Imperial Fig Burger - Burger #5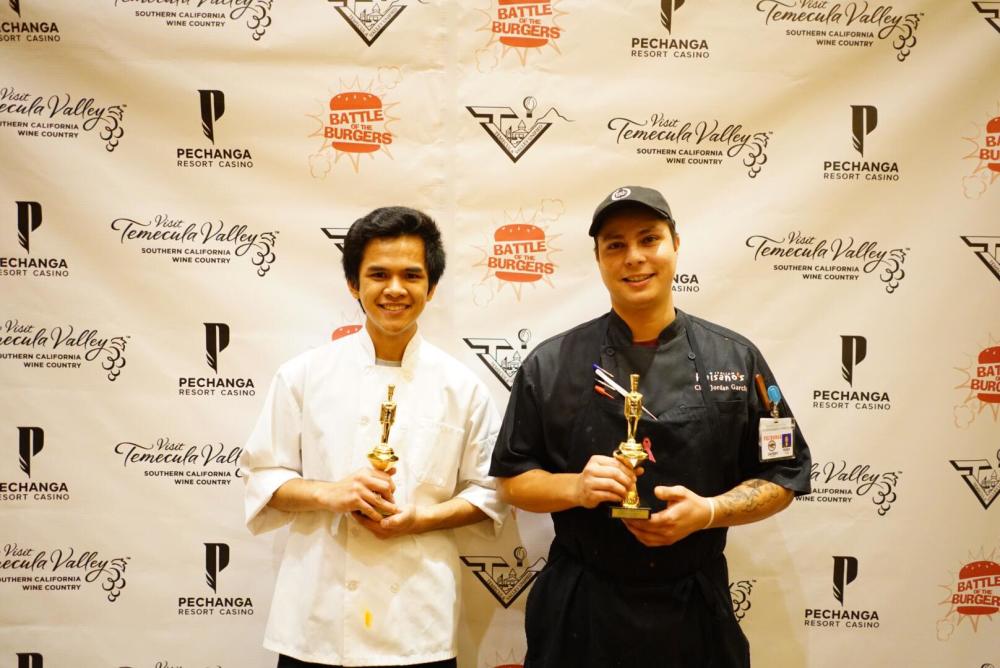 Judge's Choice - Loaded Fries 
#1 - Chef Garcia at Paisano's with student Sebastian Ariola - Loaded Fries #21
#2 - Chef Acosta at Kelsey's with student Giovanni Pena, Zach DeNofrio - Loaded Fries #14
#3 - Chef Ryan Vandermark at Umi Sushi & Oyster Bar with student Avriell Ciriani - Loaded Fries #16
#4 - Chef Capacia at Journey's End with student Adam Boggess - Loaded Fries #20
#5 - Chef Mendoza at The Lobby Bar & Grill with student Sam Placek - Loaded Fries #15
#6 (tie) - Chef Gonzales (catering & Banquets) with student Ricardo Salazar - Loaded Fries #12
#6 (tie) - Chef Nuguid (Assn't Executive Chef) with student Cory Peterson - Loaded Fries #19
#7 - Chef Marlene Moore at Temptations Food Court with students Miles McKinzie, Griffin Merrick - Loaded Fries #11
#8 - Chef Schenk (Garde Manager) with student Mattie Dominguez - Loaded Fries #17
#9 - Chef Venegas (Executive Sous Chef) with student Ivan Molina - Loaded Fries #18
#10 - Chef Andre Pinto at Great Oak Steakhouse with student Cory Mason - Loaded Fries #13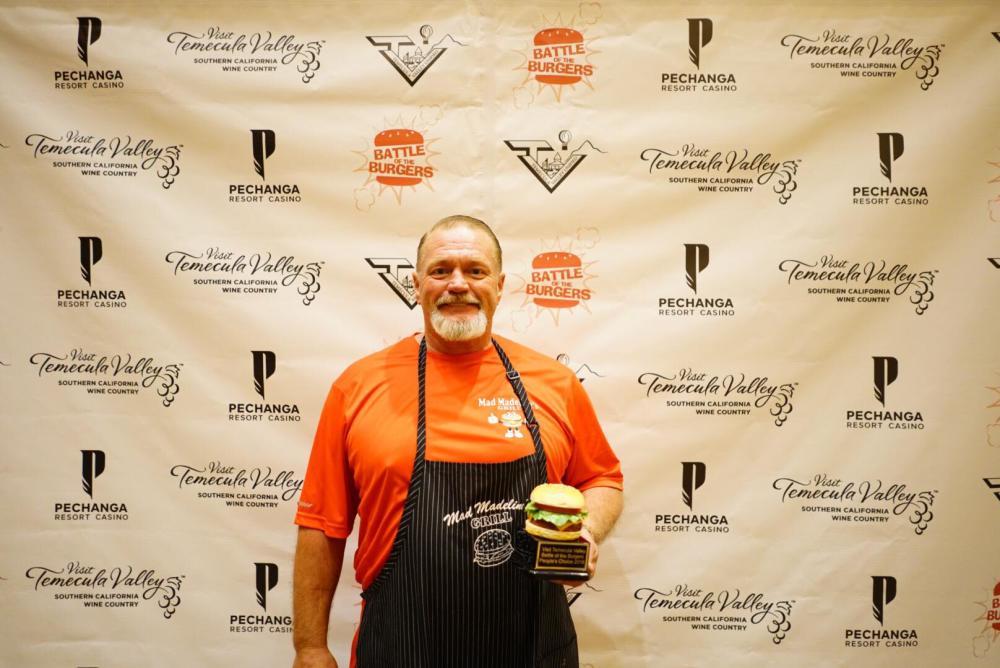 People's Choice - Best Burger
#1 - Mad Madeline's - Chili Relleno Burger - Burger #2
#2 - Burger Lounge - The Valley Special/Dude Ranch - Burger #7
#3 - Naughty Pig - The Royale with Cheese - Burger #3
#4 - Matty's G - All Star Burger - Burger #6
#5 - Devilicious - Gastroburger - Burger #4
#6 - Cafe Champagne at Thornton Winery - Lamb Bacon Cheeseburger - Burger #9
#7 - Baily's Old Town - Wine Country Burger - Burger #8
#8 - Crush & Brew - Whiskey Burger - Burger #1
#9 - Burgers and Beer - Imperial Fig Burger - Burger #5
#10 - Siggy's - Bacon Cheeseburger - Burger #10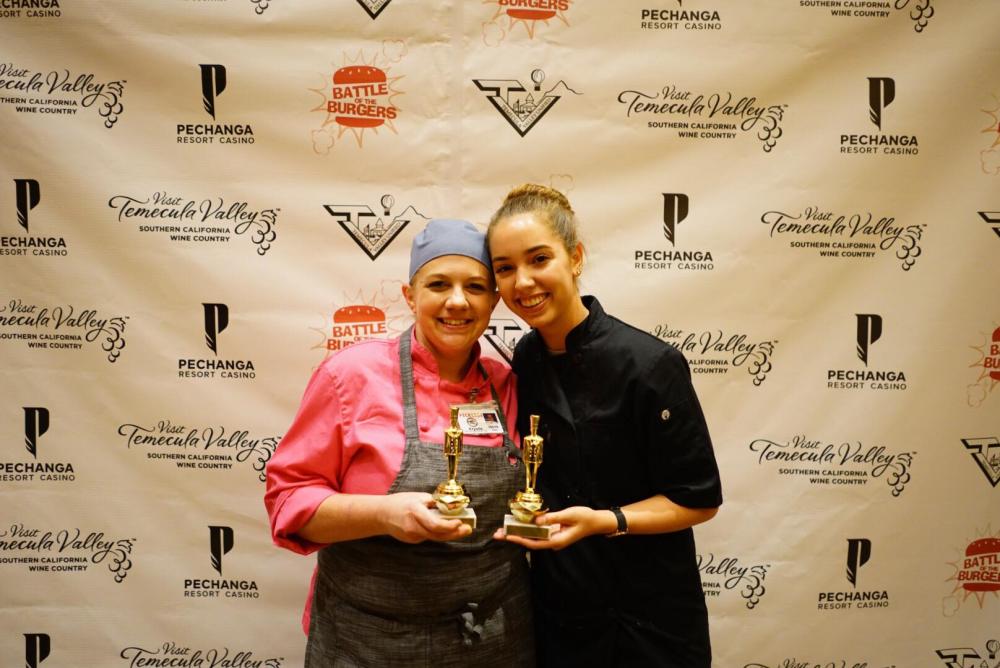 People's Choice - Loaded Fries 
#1 - Chef Schenk (Garde Manager) with student Mattie Dominguez - Loaded Fries #17
#2 - Chef Marlene Moore at Temptations Food Court with students Miles McKinzie, Griffin Merrick - Loaded Fries #11
#3 (tie) - Chef Nuguid (Assn't Executive Chef) with student Cory Peterson - Loaded Fries #19
#3 (tie) - Chef Capacia at Journey's End with student Adam Boggess - Loaded Fries #20
#4 - Chef Acosta at Kelsey's with student Giovanni Pena, Zach DeNofrio - Loaded Fries #14
#5 - Chef Mendoza at The Lobby Bar & Grill with student Sam Placek - Loaded Fries #15
#6 (tie) - Chef Gonzales (catering & Banquets) with student Ricardo Salazar - Loaded Fries #12
#6 (tie) - Chef Ryan Vandermark at Umi Sushi & Oyster Bar with student Avriell Ciriani - Loaded Fries #16
#6 (tie) - Chef Garcia at Paisano's with student Sebastian Ariola - Loaded Fries #21
#7 - Chef Andre Pinto at Great Oak Steakhouse with student Cory Mason - Loaded Fries #13
#8 - Chef Venegas (Executive Sous Chef) with student Ivan Molina - Loaded Fries #18