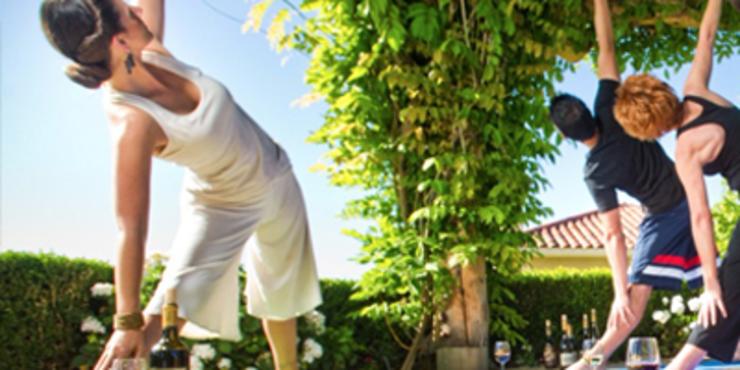 With so many travelers looking to escape the fast-paced urban lifestyle, more and more are discovering the great outdoors as their remedy to detox, unwind, and refresh. Temecula Valley Southern California Wine Country, an off-the-grid destination, offers five reasons to book a three-day mid-week stay for wellness travel. For those motivated to take control of their overall well-being, this hidden gem makes an ideal destination. Conveniently located in the center of Southern California and surrounded by five major airports, it's an oasis with its open skies, rolling hills, warm days, cool breezes, and a plethora of tempting outdoor activities.
A prescription from Mother Nature allows people to spend more time immersed in the outdoors, so much so that time spent in nature has become synonymous with wellness. Scenery and experiences can be spontaneously enjoyed along the way as outlined below.
Green Exercise and Fresh Air
Taking advantage of the surroundings, several wineries offer yoga in the vines. At Akash Winery, attendees enjoy a glass of Sauvignon Blanc or Rose after a one-hour outdoor yoga session.
"Is there any better way to start your day than with a yoga class and a delicious glass of wine?" asks owner Akash Patel.
Ideal settings for meditation and reflection are the Rooftop Garden at Pechanga Resort Casino, Tranquility Path at South Coast Winery Resort, Rose Haven Heritage Garden, and the walking trail at Temecula Creek Inn.  
Morning runs on wine country trails may include spotting hot air balloons overhead. Runs and hikes can also be enjoyed immersed in beautiful scenery at Santa Rosa Plateau Ecological Reserve, Lake Skinner, and Vail Lake.
Horseback riding in wine country's serene environment is available at Green Acres Ranch and with wine tasting at Wine Country Trails by Horseback. Horses as well as other wildlife can be spotted while exploring the countryside. 
Golf with a breathtaking view is easy at any of Temecula Valley's golf courses including Journey at Pechanga, Temecula Creek Golf Club, and CrossCreek Golf Club. The courses include water features, magnificent oak trees, rolling greens, and natural beauty.
Personal Development
A distiller's workshop at Galway Spirits shows the process of making whiskey. Paint & Sip classes teach art techniques while creating a masterpiece, cooking classes forage locally, and wine blending is a hands-on winemaking experience. Educational tours include behind-the-scenes winery tours, olive oil tasting and tour, lavender farm tour, and Old Town or Vail Headquarters walking tour.
Indulging Spas
A wellness journey can begin with an immersive spa experience at Spa Pechanga. Their Native American roots are inspired by the reverence for native botanicals and the strength of their Great Oak known as Wi'aasal. Therapies integrate the healing powers of nature. Waves of Sound Massage is a popular way to relieve stress and energize through the use of a zero-gravity relaxation chair. This sensory experience lulls the mind into a deep state of inner peace and calm.
GrapeSeed Spa at South Coast Winery Resort & Spa amenities include a glass of wine to be enjoyed while lounging on their spacious veranda overlooking wine country after a day of rejuvenation. GrapeSeed Spa treatments use innovative techniques, organic ingredients, and sustainable products so guests can feel good about the products interacting with their bodies.
Murrieta Day Spa recently celebrated their 30th anniversary. In addition to traditional pampering services, they have weekday Happy Hour. Thursday evenings there is live entertainment. They have a full bar outdoors to accompany a generous beer, wine and champagne menu.
Mindful Dining
Healthy menus using local ingredients are maintaining visitor's healthy lifestyle or encouraging them on their way to transformation. It's easy to find guilt-free delicious foods in Downtown Old Town Temecula, Temecula Valley Wine Country and Pechanga Resort Casino. Because so many chefs in the region make everything from scratch, they cater to those with food restrictions and diet preferences. Dining experiences include a chef's table at The Restaurant at Leoness Cellars, charcuterie wine pairings at BOTTAIA Winery, and food and wine pairings at several of the wineries. Old Town Temecula is a treasure for food explorations. In addition to great independent restaurants for breakfast, lunch, and dinner, retail food items are available. Temecula Olive Oil Company offers free tastings of their oil and balsamic vinegar blends. Old Town Spice & Tea Merchants carries hundreds of fresh spices, in-house blends, and tea varieties. Three Farmer's Markets welcome visitors on Tuesdays at Vail Headquarters, Wednesdays at Promenade Temecula, and Saturdays in Old Town Temecula.
Volunteerism
With hundreds of non-profit organizations in Temecula Valley, there's an opportunity to serve for just about every interest from distributing to the needy, to caring for a rose garden, to working an event. Not only can visitors give back, they also have opportunities to be involved in the wine making process. During harvest season in late summer through mid-fall, visitors can live a day in the life of a winemaker by volunteering to pick the wine grapes or help with the bottling process.
Plan your wellness trip at VisitTemeculaValley.com.
ABOUT THE TEMECULA VALLEY AND VISIT TEMECULA VALLEY
Laid back, picturesque Temecula Valley Southern California Wine Country welcomes nearly three million visitors each year. It is a year-round vacation destination, located 60 minutes from San Diego, Orange County, and Palm Springs; 90 minutes from Los Angeles.
Temecula Valley Wine Country is widely recognized for its scenic vineyards, award-winning wines, and experiential wineries. The popular boutique destination includes the Temecula Valley A.V.A. (American Viticulture Area) as well as historic Old Town Temecula, and Pechanga Resort Casino. It also was named as a 2019 Wine Enthusiast 10 Best Wine Travel Destination.
Visit Temecula Valley is the region's official tourism marketing organization and resource for visitors. The Visitors Center is located in Old Town Temecula. For visitor information and assistance, please call (888) 363-2852 or go to VisitTemeculaValley.com.