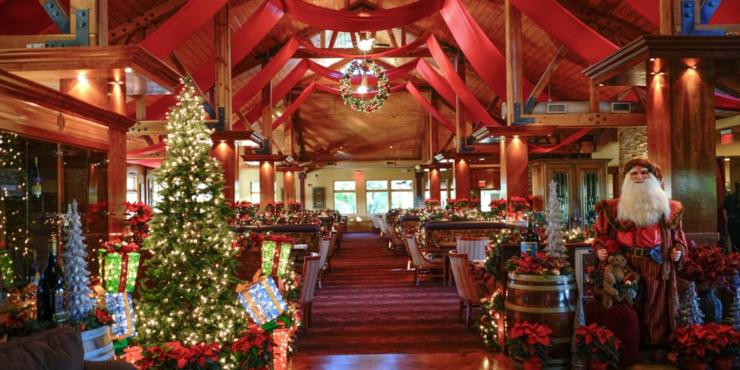 That crisp chill in the air can mean only one thing: the holidays are right around the corner! It is almost time for Temecula Chilled, a magical winter festival that captures the warmth, beauty, and festive spirit of the Temecula Valley during the holiday season. Guests are invited to celebrate Temecula Style with a fantastic line-up of activities and events for all ages: wine tasting, dining, horseback riding, hot air ballooning, hiking, shopping, golfing, or just plain chilling! 
Beginning in Old Town with Santa's Electric Light Parade and ending at City Hall with a New Year's Eve Grape Drop, visitors will discover delightful and festive carolers, twinkling holiday lights, horse-drawn carriages, outdoor ice rinks, festive food and drinks, and brilliant holiday decorations. 
An easy drive from most major Southern California cities, there is something to do every day in December. To find the best options for lodging and accommodations, visit www.visittemeculavalley.com.   
31 Days of Temecula Chilled: Recommendations for Travelers 
Thursday, Dec. 1 – Holiday Market, Europa Village. Discover an enchanting holiday wonderland at this European-inspired market, for beautiful seasonal gifts and decorations highlighting European craftsmanship. Additional holiday markets will be held throughout the season at several locations: Batch Mead, Callaway Winery, CRC Ranch, Old Town, Peltzer Family Cellars, Promenade Temecula, and Vail Headquarters.
Friday, Dec. 2 – Santa's Electric Light Parade, Old Town Temecula. Join Santa on his first big night of the season! The parade will begin at 7:00 PM sharp at the intersection of Jefferson Ave & Del Rio Rd. and will travel south into Old Town. Guests should bring blankets and chairs. 
Saturday, Dec. 3 – Europa Village, The Nutcracker. The Ballet Studio & Norris Performing Arts Center brings its version of the most-performed ballet in the world to the outdoor Piazza at Europa Village for the third year in the heart of the Temecula Wine Country. If you prefer an outdoor holiday adventure, visit the Temecula Chilled Holiday Market at Vail Headquarters. Snap a photo with Mr. & Mrs. Claus! Vail Headquarters has been the heart of Temecula since 1867. Thanks to decades of preservation and restoration efforts, it is now a living historic park that brings the community together and introduces visitors to Temecula's local heritage. It is also a fun destination for specialty restaurants, boutique shopping, and special events. 
Sunday, Dec. 4 – Santa at Lorimar Winery. Join us for Dinner with Santa! Event ticket includes... Cookie decorating & Santa goodie bags for the kids, Santa reading "Twas the Night before Christmas," an opportunity for a photo with Santa, and more! If you enjoy holiday music, don't miss the Christmas in the Air concert at the Old Town Temecula Community Theater. The Southwest Women's Chorus is thrilled to return to the stage after a two-year hiatus. This concert features holiday carols, seasonal classics, and sing-alongs for the whole family to enjoy. 
Monday, Dec. 5 – Take pictures with Santa, indulge in seasonal favorites, and enjoy beautiful holiday trees and decorations while finding the perfect gifts at the Temecula Promenade 
Tuesday, Dec. 6 – Evening out at Big Horse Feed from 5-7 p.m. Guests are welcome to register in-store for their Holiday Wish Lists. In addition to feed for a variety of animals, Big Horse houses up to 8,000 square feet of fun and unique items including Western style clothing and accessories, home décor and furnishings, bath and bedding, kitchen and dining, as well as horse-related necessities.  
Wednesday, Dec. 7 – Holiday Taste of Old Town will feature restaurant samples, wine tasting discounts, and goodie bags. Visit https://oldtowntemecula.org/ for updated information. 
Thursday, Dec. 8 – Marvel at Pechanga Resort & Casino's dazzling display of holiday decorations including a not-to-be-missed assortment of holiday gingerbread houses. Eat, drink and be merry at one of Pechanga's many on-site restaurants and indulge in specialty holiday cocktails and bite-sized Christmas desserts. 
Friday, Dec. 9 – A Christmas Carol at Old Town Temecula Community Theater. It is Christmas Eve in 1850 London. See Ebenezer Scrooge's transformation from a miserly, greedy, and lonely man into an empathetic and kind individual.  
Saturday, Dec. 10 – Christmas Speakeasy at the Merc The Second Hand Jazz Band will be performing a Christmas concert at the Merc, featuring Kristina Rasband. Doors open at 6:30pm.
Sunday, Dec. 11 – Visit Santa in his comfy, cozy cottage in the Pennypickle's Workshop's outside area from 1-4 p.m., Saturday and Sunday afternoons through Dec. 18 
Monday, Dec. 12 – GrapeSeed Spa, South Coast Winery Resort & Spa. After all the holiday hustle & bustle, take time to relax and renew at this beautiful luxury spa overlooking wine country. Spa day passes are available Monday – Thursday.  
Tuesday, Dec. 13 – Holiday Shopping, Old Town. Visit Temecula Olive Oil Company for beautiful gift sets featuring hand-blended, artisanal Temecula olive oils and balsamic vinegars. Walk over to Old Town Spice & Tea Merchants for an amazing selection of herbs, spices, salts, blends, and loose teas. Try hot or iced holiday iced teas like Figgie Pudding, Snow Berry, Cinnamon Spice, and Winter Wonderland. 
Wednesday, Dec. 14 – Old Town Blues Club, Motown Christmas Party It's a Holiday Motown Celebration! A superb 8-piece, horn blowin' tribute to Motown with holiday flair. 
Thursday, Dec. 15 – Wine & Cookie Pairing, Grazing Theory. Life is short. Eat the cookies. Drink the wine. Join us for an exclusive Wine + Cookie Pairing with our guests The Cookie Crew. Includes five cookies and five 2-ounce perfectly paired wine pours. 
Friday, Dec. 16 – Santa's Workshop, Temecula Carriage Company. Enjoy a lovely, holiday-themed horse-drawn carriage ride and a visit with Santa at his wine country workshop 
Saturday, Dec. 17 – Temecula On Ice returns to Old Town for another exciting holiday season with a state-of-the-art ice rink, rental skates, and its own radio station playing the best ice-skating music.  
Sunday, Dec. 18 - Celebrate Chanukah at Lorimar Winery with a Menorah Lighting, Latkes, and more. Visit the Craft Fair at Maurice Car'rie Winery and mingle with craft vendors offering handmade jewelry, paintings, and ceramics along with fun items like great handbags and accessories. 
Monday, Dec. 19 - Bolero lobby, Europa Village. Experience a sweet and dazzling gingerbread village created by Executive Chef Hany Ali and his culinary team. This elaborately decorated village is covered with individual gingerbread bricks, colorful candy, sweet treats, baked goods, and other delectable confections. 
Tuesday, Dec. 20 – Gather with friends for a festive holiday dinner at Small Barn, located in a historic building in Old Town that has been transformed into a modern bistro. 
Wednesday, Dec. 21 – Last-minute shopping at Farmer's Market, Promenade Temecula. Find local, fresh, artisan foods and goods, fresh flowers, produce and hand-crafted pieces for everyone. 
Thursday, Dec. 22 – Visit Temecula Lavender Company in Old Town for beautiful last-minute gifts for bath, body, and home. All products are hand crafted in small batches on a lavender farm located in Temecula Valley Wine Country.  
Friday, Dec. 23 – Uncorked with Michael LeClerc at Wiens Family Cellars. Relax before the big weekend with live music by Michael LeClerc, a popular Canadian singer/songwriter with a style reminiscent of Van Morrison, Dave Matthews, or Jack Johnson. 
Saturday, Dec. 24 – Have a rustic yet elegant Christmas Eve dinner at The Gambling Cowboy, Old Town. Enjoy a holiday meal with loved ones at this fabulous steakhouse featuring filet mignon, lobster mac 'n cheese & Maine lobster tail, and other cowboy classics. Visit www.visittemeculavalley.com for additional restaurants serving holiday dinners. 
Sunday, Dec. 25 – Europa, Christmas Dinner at Bolero Restaurante taking you on a culinary journey throughout Spain with a menu that celebrates the centuries-old tradition of dining and drinking together in Tapas style. 
Monday, Dec. 26 – Give back by donating blood at the Promenade Temecula, in the Plaza in front of the theater  
Tuesday, Dec. 27 – Visit Peltzer Winery's Ice Rink which features 8,400 square feet of skating space, complimentary gliders, picnic benches, hot cocoa, snacks, local food truck eats, and a bar serving Peltzer Wine.  
Wednesday, Dec. 28 – Stock up on champagne for New Year's by visiting Thornton Winery and dine in its award-winning Café Champagne Restaurant 
Thursday, Dec. 29 – Visit Vail Lake Village and have an unforgettable camping adventure during the Winter Wonderland Weekend 
Friday, Dec. 30 – Wine tour, Southern California Wine Country. Take a nice holiday break, let someone else do the driving, and enjoy a lovely wine tour! Grapeline Wine Tours offers an all-inclusive Classic Wine Tour with four hours of wine tasting, a select cheese and fruit board, and deluxe transportation hosted by a 5-star wine country insider. Temecula Cable Car Wine Tours transport guests through wine country in a historic, 1914 fully restored, open air cable car originally from San Francisco, for unobstructed views of the beautiful landscape. 
Saturday, Dec. 31 – This year visitors have many choices in Temecula when it comes to celebrating New Year's Eve: Ring in the new year Temecula style with the infamous Grape Drop at Civic Center in Old Town where you can celebrate 2023 twice with an East Coast (9pm) and West Coast (midnight) countdown. Other options include Wilson Creek Winery's black tie event or dinner and live music at  Fazeli Cellars New Year's Eve party. Visit www.visittemeculavalley.com for continuous updates. 
For a full list of continuously updated events and activities as well as lodging and hotel accommodation options, go to www.visittemeculavalley.com.