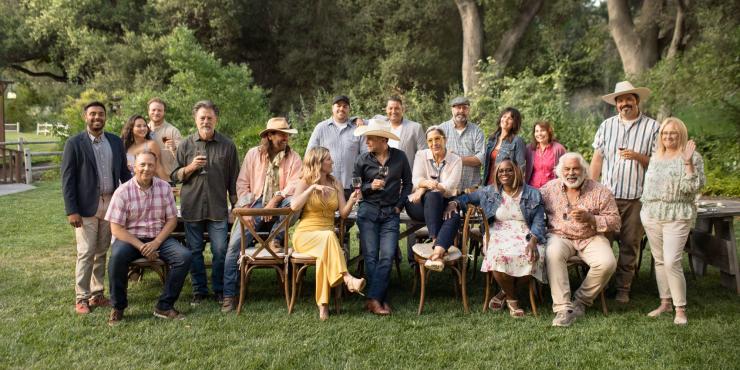 Visit Temecula Valley's new $300 thousand nationwide marketing campaign targets the leisure travel audience. Although centered around wine, Temecula Valley is a wine+ destination offering engaging experiences and events that complement wine country. Such images will be featured in a celebratory toast type of campaign, like "to hidden doors and wide-open opportunities" and "to saying 'giddy-up' more often." New video footage and photographs will be used to capture Temecula Valley Southern California Wine Country's unique assets and the celebration of its mavericks and makers.
"Travel is back, and we invite everyone to come celebrate with us," announces Visit Temecula Valley Chairman of the Board Bill Wilson. "We want to share our award-winning wine, our beautiful scenery, and our wonderful people."
The Live Glass Full campaign reveals the destination's spirited kinship borne of gathering, making and living every drop of life to the fullest. "It's our call to celebrate with us, an invitation to raise a glass, raise your spirits and come together," states Kimberly Adams, Visit Temecula Valley CEO and president.
Visit Temecula Valley hired Greenhaus, based out of San Diego, California, as their agency to create the Live Glass Full marketing campaign as well as refresh their brand.  This project was accomplished after a two-year discovery process involving target market surveys, interviews with key stakeholders, and product research.
Visit Temecula Valley is hopeful this new campaign will push their overnight occupancy up to pre-COVID numbers. Though weekend stay is strong, weekday numbers need some nudging, according to Adams. "We will be targeting consumers that have the ability to travel midweek to increase weekday economic development." Adams adds, "Sunday through Thursday stays offer unique experiences as well as opportunities for chance conversations with our mavericks and makers."
A special overnight Live Glass Full package will be available Monday through Thursday for bookings made during the month of September at participating hotels and resorts.
Find out more about Temecula Valley Southern California Wine Country and start planning your trip at VisitTemeculaValley.com.
ABOUT TEMECULA VALLEY AND VISIT TEMECULA VALLEY 
Temecula Valley Southern California Wine Country is a year-round vacation destination pouring award-winning wines as well as craft beers and spirits. Its where people live glass full behind the scenes and under the spotlight. Temecula Valley is made up of a community of Mavericks and Makers that are telling their stories, their way. Stories they carry around in their hearts and minds, and the ready to share with the world with enthusiasm and passion.
The emerging and evolving culinary scene, small town atmosphere, and outdoor recreation and entertainment in Temecula Valley Wine Country, Old Town Temecula, and Pechanga Resort Casino culminate to create a spirited destination inspired by the vine.
Temecula Valley is located in the center of Southern California just 60 minutes from San Diego, Orange County, and Palm Springs; 90 minutes from Los Angeles.
Visit Temecula Valley is the region's official tourism marketing organization and resource for visitors. The Visitor Center is located in Old Town Temecula. For visitor information and assistance, please call (888) 363-2852 or go to VisitTemeculaValley.com.