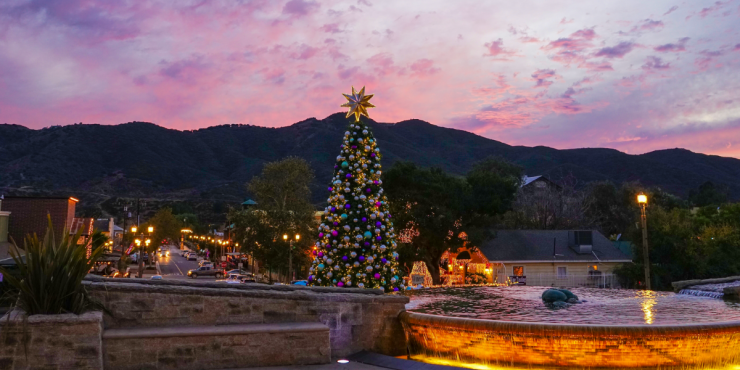 TEMECULA, California – October 19, 2023 – Temecula Chilled returns for another holiday season of spectacular decorations, live entertainment, and special events from December 1-31. This year Visit Temecula Valley introduces its new Season's Eatings digital passport. Local makers create a "chilled" food or drink item available throughout December. When an individual orders one of these menu items, they receive points redeemable for prizes. Learn more and sign up at TemeculaChilled.com.  
"Temecula offers a wonderful blend of holiday warmth and charm, making it an ideal destination for a festive and relaxing holiday getaway," said Scott A. Wilson, CEO and President of Visit Temecula Valley. "Because we're an easy drive from most major metro areas in Southern California, visitors can enjoy everything this beautiful region has to offer without the hustle and bustle of a large city." 
Here are a few spirited suggestions for visitors to consider during December. More information, including hotel and lodging options, can be found here: www.visittemeculavalley.com. 
Santa's Electric Light Parade: On Friday, Dec. 1, Old Town Temecula is decked with holiday lights and décor in time for the highly anticipated annual parade. Santa will greet everyone with warmth, good will, and festive holiday cheer during this fun family holiday event.  
Old Town Temecula: Old Town becomes a nostalgic, charming small town during the holidays with its outdoor ice rink, holiday décor and music, and friendly hospitality. Look for someone in a Temecula Chilled apron giving away free cookies walking along every Monday through Thursday at 2:00 p.m. Find unique gift ideas at the specialty shops, even made-in-Temecula products, and taste some of the creatively delicious Season's Eatings food and drinks.  
Southern California Wine Country: Whether you're a seasoned wine enthusiast or first-time visitor, Temecula Valley Southern California Wine Country offers a picturesque setting with rolling hills, nearly 50 wineries, and 20-plus places to dine. Throughout the holiday season, wine country is transformed into a holiday destination, with stunning decorations, Season's Eatings-themed foods and beverages, holiday markets, special performances, an ice skating rink, and more. 
Pechanga Resort Casino: From handmade gingerbread houses ready for purchase to a giant gingerbread display, Pechanga Resort Casino has all the picture-perfect elements to make this holiday season special. An array of holiday decorations adorns the entire property inside and out, with dazzling displays perfect for holiday photos. Chris Isaak's It's Almost Christmas Tour performance is on December 20. Guests can also enjoy a variety of dining options at 12 restaurants. 
Temecula on Ice: Lace up your skates and hit the ice in Old Town, directly in front of City Hall. This seasonal attraction is fun for skaters of all ages and skill levels and makes for a perfect family activity! 
Holiday Performances: Catch colorful and festive performances at venues like the Old Town Temecula Community Theater, The Merc, Europa Village, and Pechanga Resort & Casino, among others. From holiday music to beloved stage plays and traditional favorites, live entertainment is offered all month long.  
New Year's Eve Grape Drop: Families can ring in the New Year with the annual Grape Drop celebration in Old Town Temecula with ice skating, live music, food vendors, and a countdown at 9:00 p.m. and midnight. Adults can enjoy toasting in the New Year at one of the many celebrations in wine country – but get your tickets early because these parties sell out quickly – or choose one of the many options at Pechanga Resort Casino.  
There's something to do every day during Temecula Chilled. For continuous updates and more information, go to: www.visittemeculavalley.com 
Dec. 1 – Santa's Electric Light Parade, Old Town 
Dec. 2 – The Nutcracker Ballet, Europa Village 
Dec. 3 – Dinner with Santa, Lorimar Winery 
Dec. 4 – Seasons Eatings themed food and drinks 
Dec. 5 – Jingle Bell Sleigh Ride, Temecula Carriage Company 
Dec. 6 – Holiday Taste of Old Town 
Dec. 7 – Chanukah Celebration, Lorimar Winery 
Dec. 8 – A Christmas Carol, Temecula Old Town Community Theater 
Dec. 9 – Christmas Around the World, Temecula Valley Museum 
Dec. 10 – Candlelight Classics, The Merc in Old Town 
Dec. 11 – Chilled Cookies in Old Town 
Dec. 12 – Ice Skating, Peltzer Winery 
Dec. 13 – Temecula Sunset Market, Old Town  
Dec. 14 – Holiday Shopping in Old Town 
Dec. 15 – Ugly Sweater Christmas Party, Europa Village 
Dec. 16 – Holiday Concert, Temecula Valley Symphony 
Dec. 17 – Hot Air Ballooning 
Dec. 18 – Gingerbread Display, Pechanga Resort Casino 
Dec. 19 – Santa's Workshop, Temecula Carriage Company 
Dec. 20 – Motown Holiday Dance Party, Old Town Blues Club 
Dec. 21 – Festive Lights in Wine Country 
Dec. 22 – Christmas Carolers, The Vineyard Rose Restaurant, South Coast Winery Resort & Spa 
Dec. 23 – Santa at Pennypickle's Workshop, Pechanga Resort Casino, or Promenade 
Dec. 24 – Holiday Market, Europa Village 
Dec. 25 – Christmas Dinner in Wine Country 
Dec. 26 – See the Christmas Decorating Contest Winners, Old Town and Wine Country 
Dec. 27 – Indulge in a Spa Treatment, Grapeseed Spa, South Coast Winery Resort & Spa 
Dec. 28 – Temecula on Ice, Old Town 
Dec. 29 – Holiday in the Park, Vail Lake Village 
Dec. 30 – Horseback riding, CRC Ranch  
Dec. 31 – New Year's Eve Grape Drop, Old Town 
For more information on holiday events and activities in Temecula, go to TemeculaChilled.com.  
Media Contact: 
Norma Marlowe 
Director of Public Relations 
Visit Temecula Valley 
norma@visittemeculavalley.com 
Direct: 951-252-2139 
Mobile: 818-370-4430