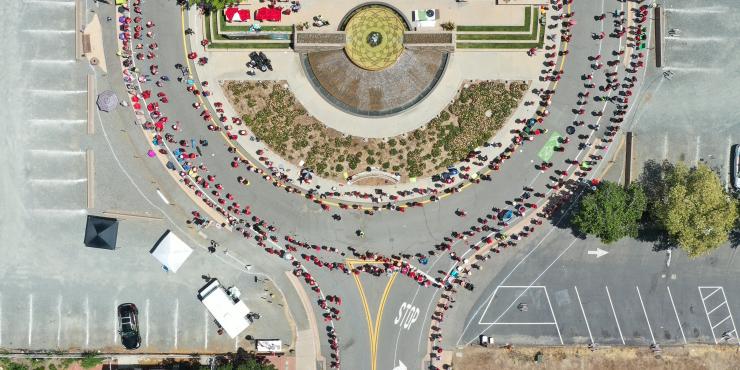 Nearly 1,000 wine enthusiasts descended into historic Old Town Temecula to attempt a GUINNESS WORLD RECORDS title for the longest toast relay on Tuesday, April 26, 2022.
After a call out to the community, a flurry of people registered to be a part of the history making event. All participants received a commemorative glass – sponsored by Libbey, who donated all the wine glasses – and an event t-shirt. Most importantly, people came together as a community to toast to living glass full.
"Just getting our application selected for the attempt was a challenge in itself but watching everyone roll up their sleeves and jump in to help and be a part of this event is awe inspiring," Bill Wilson, Visit Temecula Valley Board Chairman and co-owner of Wilson Creek Winery said. "We celebrate a region full of hard-working, fun-loving and creative individuals from every corner of life which is something this world really needs after a few difficult years. It is time to celebrate and what better way to toast than with a glass of wine!"
The official final count of people raising their wine glasses and toasting to earn Visit Temecula Valley was 943. Several local businesses and organizations stepped up with their own groups, including Pechanga Resort Casino, Temecula Creek Inn, Old Town Temecula, Temecula Valley Balloon & Wine Festival, Small Barn, Grapeline, Refuge Brewery, Equity Management, Temecula Valley Chamber of Commerce, Office of Senator Melendez, and numerous wineries. It was unfortunately only about half the registrants showed up for the event.
The festive scene featured street performers sponsored by Be Good Restaurant & Entertainment, photo opportunities sponsored by Brand Assassins and Sidecar Wine Tours while transportation was sponsored by Stryder Transportation. Another highlight was an exciting drawing where many prizes donated by local businesses were given away by Dellinger Entertainment.
The magnitude of the event was felt by community leaders, businesses, citizens, and visitors as many participated in the relay and volunteered to help.
"Temecula Valley is prominently on the map when it comes to wine making and wine recognition in Southern California, and it makes sense that so many from our community would unite together in Temecula's charming Old Town to toast to 'Live Glass Full,'" Temecula Mayor Matt Rahn said. "And, I am very proud to live, work and serve as Mayor in a desirable region that is highly ranked among the most beautiful wine country destinations in the State and Country."
Beloved Temecula Valley Wine Country wineries that donated wine to make this event a success included Bel Vino Winery, BOTTAIA Winery, Callaway Vineyards & Winery, Danza del Sol Winery, Doffo Winery, EAT Marketplace, Europa Village, Falkner Winery, Fazeli Cellars, Masia del la Vinya Winery, Monte De Oro Winery & Vineyards, Mount Palomar Winery, Palumbo Family Vineyards & Winery, Peltzer Farm & Winery, Robert Renzoni Vineyards, Oak Mountain Winery, Wiens Family Cellars and Wilson Creek Winery & Vineyards.
"We as a family and Team Doffo are super excited to be a part of this event," Samantha Doffo of Doffo Winery said. "It's great to be a part of a community that is embracing an opportunity to come together. This is just another push to show how great Temecula is."
Event in-kind sponsors include the Libbey, City of Temecula and Temecula Valley Winegrowers Association.
Visit Temecula Valley produced this event as part of their Live Glass Full brand launch, showing Temecula Valley as an award-winning wine and travel destination. Visit Temecula Valley is hopeful their new brand will welcome visitors back and increase tourism spend to pre-COVID numbers.