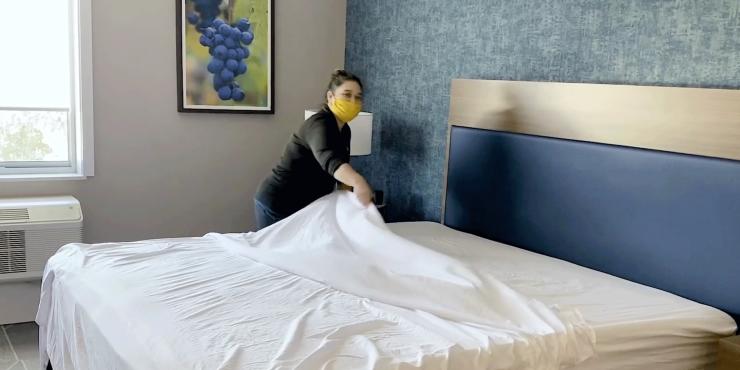 The California Department of Health has approved Riverside County to reopen leisure businesses with modifications. Temecula Valley hotels, wineries, breweries, distilleries, museums, and outdoor recreation are now open with modifications to ensure health and safety, please check with specific businesses for their reopening dates, hours, and protocols.
Restaurants and retail shops opened late last month while adhering to CDC and Cal/OSHA requirements. The destination's emerging and evolving culinary scene is in great part due to the innovative and talented chefs working in Temecula Valley Wine Country, Old Town Temecula, and Pechanga Resort Casino. Small town atmosphere can be found in Old Town Temecula where owners are running the shops and making their goods like olive oils, lavender home and body products, and spice blends.
In addition to nearly 50 wineries, Temecula Valley offers other engaging activities that compliment wine country; such as, hot air ballooning, horseback riding, farmer's markets, golf, gaming, breweries, and distilleries.
Visitors can choose to stay in Temecula Valley Wine Country at Bolero Winery at Europa Village, Carter Estate Winery & Resort, Inn at Churon Winery, Inn at Europa Village, South Coast Winery Resort & Spa; or in or near Old Town Temecula at Best Western Plus, Home2 Suites, Hampton Inn, SpringHill Marriott, Hotel Temecula, Rodeway Inn, Rancho California Inn, Motel 6; or in the canyon at Pechanga Resort Casino, Temecula Creek Inn, Signature Temecula; or in Uptown at popular brands like Best Western Country Inn, Extended Stay America, Fairfield Inn & Suites, Holiday Inn Express, La Quinta Inn & Suites, and Quality Inn.
Temecula Valley is conveniently located just a short drive from most Southern California cities. It's an immersive escape some have called "closer to far away." It's Southern California's wine country destination; a convenient, accessible place to escape, relax, and wander.
Start planning a getaway and book a room at VisitTemeculaValley.com.
ABOUT TEMECULA VALLEY AND VISIT TEMECULA VALLEY  
Temecula Valley is open and welcomes local visitors. The businesses have strict cleaning protocols to ensure everyone's safety and comfort because they consider the health of their employees and guests top priority. They have met and often succeeded county and state requirements. Face masks are strongly recommended when visiting and please be kind to the workers, they are doing everything they can to make the experience an enjoyable one.
Temecula Valley is a popular Southern California destination that includes Temecula Valley Wine Country, Old Town Temecula, and Pechanga Resort Casino. In 2019, Wine Enthusiast named it a 10 Best Wine Travel Destination. 
Visit Temecula Valley is the region's official tourism marketing organization and resource for visitors. For visitor information and assistance, please call (888) 363-2852 or go to VisitTemeculaValley.com.