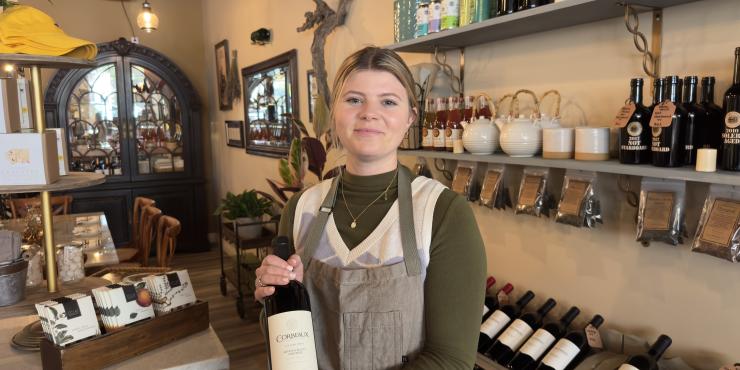 Temecula winemaker Regan Schneider has opened an upscale wine and tearoom in Old Town Temecula. Corbeaux Wine & Tea House offers unique wine and tea food pairings, low and high tea, and acts as a tasting room for her family's winery, Matin Du Bois Vintners.
A winemaker since the age of 22, Schneider, now 25, describes herself as a lifelong foodie and wine lover who wanted to create an Old Town destination and tasting room for people like herself.
"Corbeaux Wine & Tea House combines Old World Traditions with amazing food and wine pairings designed for the modern palate," Schneider said. "We are passionate about the art of pairing and enjoy the process of marrying cuisines and creating unique sensory experiences for our guests."
The menu is hyper-seasonal and features an assortment of French and Asian inspired small bites and desserts created by their Executive Chef Chris Gimeno who incorporates tea into each of the dishes, whether they are used as seasoning or infused. "Trying to find the perfect intersection between tradition and innovation, we are incorporating much of our tea selection into food items and creating wine and tea cocktails as well to bring a unique spin on a traditional menu."
Current menu choices include Herb & Tea Popcorn, Mushroom Pate, Torched Peach Tea Salad, Japanese Beef Carpaccio, Kinilaw Yellowtail, and Serrano Strawberry Sorbet. The menu also features more than two dozen exquisite teas and tea blends from Japan, China, and India.
About Matin Du Bois Vintners
What started as a small batch of home-grown wine in 2004 became a small family winery known as Matin Du Bois Vintners. The winery's original four labels were released in 2010 by winemaker Patrick Schneider. 10 years and a generation later, winemaker Regan Schneider expanded the business and now offers a line of 16 wines from up the coast of California, including Temecula. The family continues to grow their French varietal of Merlot in Temecula Valley Southern California Wine Country; alongside Bordeaux varietal Sauvignon Blanc, and an Alsatian varietal Muscat.
Corbeaux Wine & Tea House is located at 41923 Second Street Suite 105 in Old Town Temecula. It is open from Thursday through Monday from 10am-10pm. For more information, visit www.corbeauxwineandtea.com or call 951-240-7134.