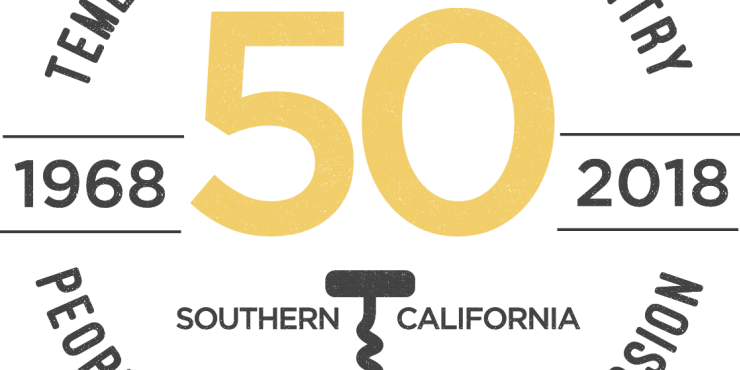 Temecula Valley Southern California Wine Country recently wrapped up another successful Grape Day, hosted by the Temecula Valley Winegrowers Association and attended by winemakers and growers across the U.S. Now in its 35th year, the one-day conference features in-depth seminars on the latest advancements in enology and viticulture. This year's event also unveiled a celebratory 50th anniversary video, featuring vintage photographs of the region's pioneers and the land as it was being cultivated and built into the successful destination it is today.
"As we showed the video for the first time to our local winemakers and visiting industry peers, I had multiple people tell me they got goosebumps," TVWA Executive Director Krista Chaich said. "Building on the theme of the 'People, Passion and Perseverance,' of our 50th anniversary programs, it's a moving look at where we have come from and everything that we have accomplished over a half-century. I know I am not alone in being immensely proud of this region and can't wait to unveil additional videos that tell our story throughout the year."
Since 2015, the TVWA has annually inducted one influential figure into the Wine Country Hall of Fame. This year's inductee was Ely Reeves Callaway, Jr. Ely Callaway's grandson, Pete Callaway, received the honor on behalf of his grandfather who died in 2001.
In introducing the young Callaway and the award, fellow wine country pioneer, Phil Baily, owner of Baily Winery, said, "In 1974, Ely Callaway established the first winery in the Temecula Valley and produced the first commercial wine made in the Temecula Valley from Temecula Valley grapes.  His extraordinary dedication to producing wines of the highest quality brought acclaim and respect to the region. In addition, his creative merchandising of Callaway wines and the region resulted in the Temecula Valley being recognized far beyond what would have been expected in a region so young and small."
To view the 50th anniversary video, visit www.temeculawines.org.
More information about all Temecula Valley 50th anniversary happenings can be found at www.temeculawines.org.
http://www.myvalleynews.com/story/2018/05/26/entertainment/temecula-valley-southern-california-wine-country-releases-tribute-video-celebrating-50th-anniversary/60920.html