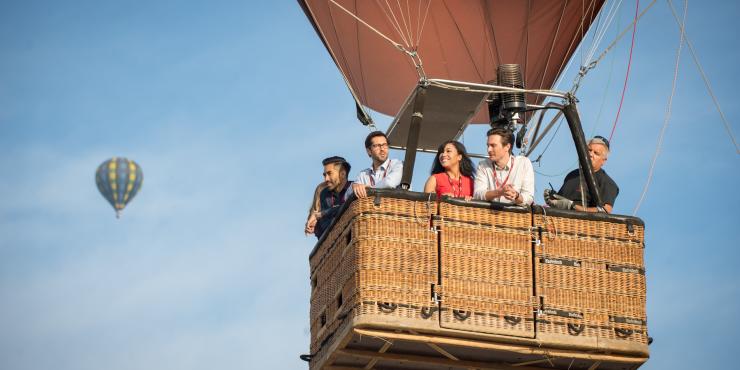 Millennials in the workplace have disrupted the meetings scene and caused a new serge of energy and innovation. They aren't the only ones benefitting from the changes, baby boomers and every generation after are appreciating remodeled rooms, innovative food offerings, high tech modifications, experiential activities, and unconventional meeting spaces.
Businesses in Temecula Valley understand millennials are bringing new expectations and the region's hotels and venues are catering to these requests. Meeting planners are seeing a revival from the traditional Temecula Valley venues as well as new offerings. Attendees are benefiting from more Wi-Fi accessibility, contemporary tech features, dramatic new spaces, healthy and creative food options, "campfire" settings, and add-on activities.
Meeting spaces in hotels, wine country, farms, ranches, theaters are providing participatory environments with informal networking opportunities. These non-traditional settings keep the participant active while learning, engaging, networking and enjoying free time.
Hands-on educational and wellness activities offered in Temecula Valley include whiskey making, wine blending, poker tournaments, cooking demonstrations and classes, wine and cheese pairing, olive oil tasting and ranch tour, and much more. South Coast Winery Resort and Carter Estate offer some great add-on group activities like wine blending, yoga and wine, and spa services. Temecula Creek Inn has frisbee golf and glow ball golf on their 27-hole championship golf course to add some fun competition or team building into the itinerary. Great poolsides to soak in the sun are Embassy Suites, South Coast Winery, Pechanga Resort Casino, and BOTTAIA Winery. All of them have poolside food service available and plenty of chase lounges to choose from.  
Ideal year-round climate encourages productive outdoor meetings in the vineyards, meadows, or gardens with inspiring, panoramic views. Another option is volunteerism with a local non-profit. With hundreds of non-profit organizations in Temecula Valley, there's an opportunity to serve for just about every interest from distributing to the needy, to caring for a rose garden, to working an event.
Venues like Pechanga Resort Casino make connectivity a priority in their facilities. They keep attendees online with strong Wi-Fi as well as outlets and charging stations wrapped around their new 40,000 square foot ballroom and meeting space. Pechanga now provides more than 100,000 square feet of indoor meeting space and 174,500 square feet of outdoor event space.
Innovative offerings like Parlay Café provides an environment that enables their clients to work alone, meet others and attend gatherings or events. Business professionals can purchase an hourly, daily, monthly or annual pass to the private Members Lounge. There are also four meeting and conference rooms available on an hourly basis that accommodate eight to 27 people, as well as mobile phone pods that provide a soundproof environment for private calls. There is also a full-service espresso bar at the entrance serving coffee drinks, smoothies and light fare.
Whether business is conducted solo, in small groups, or convention style, Temecula Valley attracts attendees with its atmosphere, customizable options, and giving the meetings industry the unexpected. Planners often claim about Temecula Valley that it's the people and their passions that create memorable, authentic experiences.
When the meeting is over, there are plenty of options to unwind and add on a nightlife option. Old Town Temecula is filled with repurposed historical buildings independently owned restaurants, breweries, tasting rooms, and bars with great atmosphere including live music. Keep those lanyards on and receive special discounts when dining, shopping, and tasting at participating "Show Your Lanyard" partners.
It's easy for millennials to blur the lines between work and play when in Temecula Valley. We encourage extending the business trip into a personal vacation to take advantage of everything the destination has to offer and share the experience with loved ones. The best time for bleisure is mid-week, not only are there lower hotel rates and discounted activities, but the weekend crowds are avoided.
Find out about meeting spaces, things to do, and where to stay at VisitTemeculaValley.com.
About Visit Temecula Valley

Laid back, picturesque Temecula Valley Southern California Wine Country welcomes nearly three million visitors each year. It is a year-round vacation destination, located 60 minutes from San Diego, Orange County, and Palm Springs; 90 minutes from Los Angeles.
Temecula Valley Wine Country is widely recognized for its scenic vineyards, award-winning wines, and experiential wineries. The popular boutique destination includes the Temecula Valley A.V.A. (American Viticulture Area) as well as historic Old Town Temecula, and Pechanga Resort Casino. It also was named as a 2019 Wine Enthusiast 10 Best Wine Travel Destination.
Visit Temecula Valley is the region's official tourism marketing organization and resource for visitors. The Visitors Center is located in Old Town Temecula. For visitor information and assistance, please call (888) 363-2852 or go to VisitTemeculaValley.com.