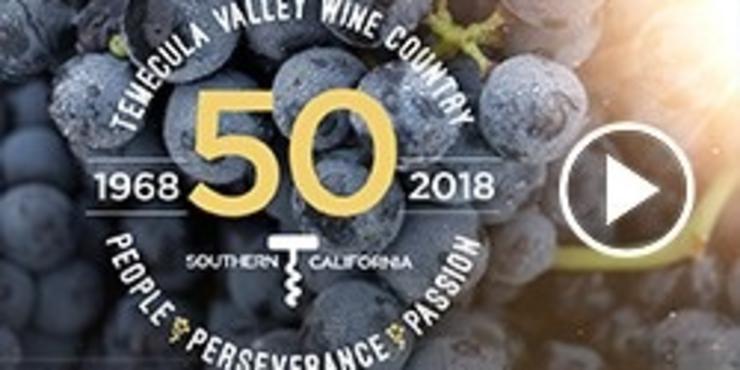 The year 2018 marks the 50th anniversary of Temecula Valley Southern California Wine Country. Under the theme of "The People, Passion and Perseverance," the Temecula Valley Winegrowers Association and Visit Temecula Valley will roll out a series of events and programs, including an intimate wine dinner among the vines and the launch of a commemorative wine, to celebrate the important milestone for the region throughout the entire year.
"Temecula Valley wine country has a rich history dating all the way back to the 1800s when wine grapes were first planted in Temecula by the San Luis Rey padres," TVWA Executive Director Krista Chaich said. "In the 50 years since the first commercial vineyard was planted here, the region has flourished despite some very real challenges. We are excited to share these remarkable stories about the passionate entrepreneurs and talented winemakers who have poured their hearts and souls into putting Temecula Valley on the global wine stage."
The 50th anniversary will be celebrated throughout the year, through various activities.
Several social media campaigns, including a flashback photo feature, invite visitors to share their historic pictures of Temecula Valley Wine Country using the hashtag #cheersto50years.
The "Celebrate your 50th with Us" celebration invites visitors to show their ID or documentation indicating a 50th milestone, such as anniversary or birthday and to gain access to various wine country perks at participating wineries throughout the year.
The Temecula Valley 50th Anniversary limited edition commemorative regional wine will be launched. Pre-orders of this bottling will be available for purchase in the coming months.
A 50th anniversary dinner will be held among the vines preceding the annual Crush, a wine and culinary showcase. Fifty guests will dine with Temecula Valley winemakers in a celebration of both harvest and the region's history, Friday, Sept. 28.
linkThe 50th Anniversary edition of the Temecula Valley "Behind the Wine Bottle" dinner series, slated to take place in select markets throughout the year
Special stay packages at select hotels will include wine tasting and hotel accommodations.
Souvenir merchandise will be available for purchase at the Visitor Center in Old Town Temecula.
The first modern commercial vineyard was planted in 1968 by the late Vincenzo Cilurzo and his wife Audrey. Temecula Valley received formal recognition as an American Viticultural Area in 1984, first as "Temecula AVA" with a subsequent name change to "Temecula Valley AVA" in 2004.
link "It was completely wide open, and there weren't any commercial (buildings). The town of Temecula had about 200 people," Audrey Cilurzo said about purchasing that fateful plot of land with her husband back in the 1960s in response to a newspaper ad promising "Gentlemen Farming" in Temecula. "First we planted 25 acres of Chenin Blanc and 15 acres of Petite Sirah. We later sold that parcel, which is where Maurice Car'rie Winery is today. There are still original vines there. We weren't even doing it to be profitable; this was our fun project."
Temecula Valley now boasts over 50 licensed wineries, producing over 500,000 cases annually. Temecula Valley Wine Country hosted more than 1.7 million winery visits last year, contributing $78 million to the regional economy and supporting 4,800 jobs, according to the 2016 economic impact report generated by research firm Dean Runyan Associates. Temecula Valley wines regularly receive scores of 90 and above by wine media, and the region has received thousands of domestic and international wine awards.
More information on these programs and regular updates about all Temecula Valley 50th anniversary happenings can be found at www.temeculawines.org.
http://www.myvalleynews.com/story/2018/02/05/news/temecula-valley-southern-california-wine-country-celebrates-50th-anniversary-in-2018/57119.html