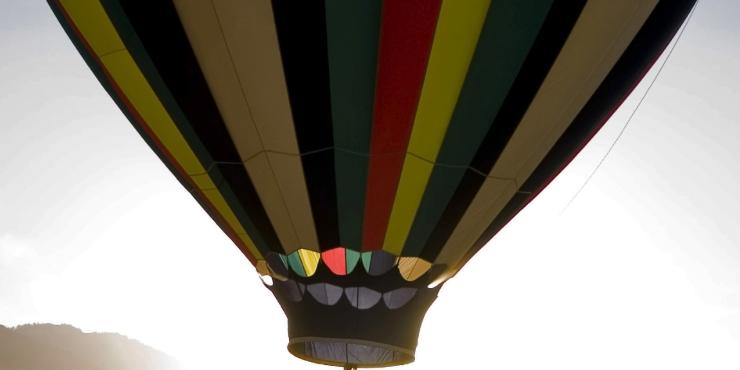 This summer, visit beautiful Temecula Valley to check off five bucket-list worthy activities from your must-do adventuring list. Located just 60 minutes from San Diego and 90 minutes from Los Angeles, Temecula Valley Southern California Wine Country presents visitors with the opportunity to experience bucket-list adventures from a hot air balloon flight to limo rides, exploring wine country by foot or on horseback, and watching the California sun set over the hills, this summer bucket list is a must-do for both first-time and repeat visitors to the region. Guests staying midweek can avoid large crowds and enjoy a more intimate experience with local artisans while on their bucket list adventure.
Take a Hot Air Balloon Flight
For the ultimate airborne adventure, check a hot air balloon flight off of your bucket list while in the Temecula Valley. Visitors can take in a panoramic view of Southern California's unique topography, beautiful estates, and awe-inspiring scenery with sunrise flights, available year-round (weather-permitting) to explore the subtle seasonal changes that take place throughout the valley. Passengers float above the vineyards and citrus groves with the scent of fresh oranges filling the skies.  
Ride in a Limo
A bucket list wouldn't be complete without a ride in a limousine at least once in a lifetime. Temecula Valley offers not only a variety of car and limo service providers available to pick up and drop off at locations throughout the valley, but also exceptional points of interest, including the vineyards of wine country and top-rated restaurants throughout the region. Wine country tours in a limo allow groups of tasters to enjoy sampling various varietals at multiple vineyards in style without compromising safety.
Visit Wine Country
Temecula Valley Southern California Wine Country features more than 40 local wineries, including boutique and full-service wine resorts, for a wine tasting bucket-list adventure to enjoy with friends, family, and for special occasions. The relaxed and unpretentious atmosphere of the region is matched by its delightful tasting experiences overlooking picturesque rolling hills of vineyards while sampling award-winning premium wines and Southern California cuisine.
Ride Horseback
Saddle up for a bucket-list adventure atop a gentle steed. Horse trails in Temecula Valley's wine country are perfect for exploration on horseback and first-timers can book lessons or introductory trail rides for both guided group tours and on-your-own endeavors. For a breathtaking view, consider taking trails to Vail Lake.
Watch a Sunset
As the California sun sets behind Temecula Valley each evening, the hills of wine country come alive with shimmers of light reflecting the yellows, oranges, purples, and pinks of the sun's last moments. Visitors can end their bucket-list worthy day with a sampling of the region's local wine in hand to toast the completion of a bucket list well done. Fantastic sunset viewing locations are available at Callaway Vineyard and Winery, Bel Vino Winery, and Avensole Winery.
About Visit Temecula Valley
With natural gifts of climate and geography Temecula Valley Southern California Wine Country is recognized for scenic vineyards, award-winning wines, and 40+ wineries. The popular, boutique destination includes the Temecula Valley A.V.A. (American Viticulture Area) as well as Historic Downtown Old Town Temecula, Pechanga Resort & Casino, and Temecula Wine Country Golf Trail.
Visit Temecula Valley is the region's official tourism marketing organization and an online resource for visitors at VisitTemeculaValley.com. Temecula Valley Visitors Center is located in Old Town Temecula (Third Street and Mercedes). For visitor information and assistance, call (888) 363-2852 or (951) 491-6085.