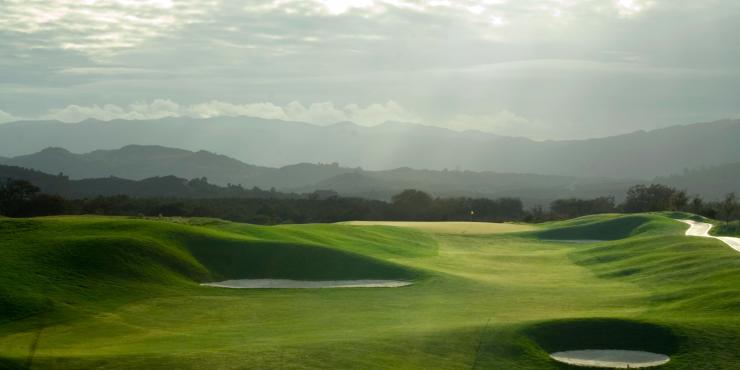 Golfers can escape to Temecula Valley Southern California Wine Country for a safe place to tee up and take in the panoramic landscapes. Three notable courses, Temecula Creek Golf Club, CrossCreek Golf Club, and Journey at Pechanga, afford the most spectacular views of age-old trees, epic mountain views, and sprawling vistas overlooking the rolling hills of Temecula Valley.  
Golf has emerged as a popular outdoor activity that can provide safe distancing and no contact during concerns of COVID-19 spread. Players are asked to wear face masks inside the clubhouse, keep their distance on the course, keep the flagstick in, and forgo celebratory high fives and handshakes. 
Temecula Creek Golf Club 
Temecula Creek Golf Club is a 27-Hole championship golf course with breathtaking views of stunning Temecula Valley as the course meanders through more than 300 acres of natural beauty. Dramatic mountain views, elevation changes, mature trees, and water features throughout the 27 holes are just part of the reason Temecula Creek Golf Club course has received a Four-Star rating from Golf Digest's "Places to Play" list of top courses throughout the country. Full-service driving range, golf pro shop, and PGA Golf instructors add to this Temecula Creek's allure. Temecula Creek Inn and Cork|Fire Kitchen expect to open this fall for overnight accommodations and dining. The resorts website, https://www.temeculacreekinn.com/, provides up to date information for trip planning.  
CrossCreek Golf Club 
Legendary golf course designer Arthur Hills is the architect behind CrossCreek Golf Club and the result is epic. Age old oak and sycamore trees, freshwater streams, and seclusion from the outside world offer respite and challenge to golfers seeking both natural splendor and a test of skill. The par 71 layout, complete with various tee positions, makes the course accessible to all levels of play.  A golf shop, PGA professionals, and CrossCreek Grille round out the experience. Reserve a tee time and find out more at https://www.crosscreekgolfclub.com/.  
Journey at Pechanga 
Home to some of California's most popular golf tournaments, Journey at the Pechanga Resort & Casino, is an award-winning 18-hole golf course consistently rated among the nation's best courses by Golf Week magazine. The 72-par course, designed by Arthur Hills and Steve Forrest, offers incredible vista views and elevation changes, most notably on the 488-yard 6th hole where elevation drops nearly 300 feet from tee to green. Impeccable views continue after the scorecards have been signed at Journey's End Bar & Restaurant overlooking the stunning terrain. Visit https://www.pechanga.com/ for updates on hotel accommodations and things to do at the resort.  
Stay & Play Packages 
A round or two of golf at CrossCreek Golf Club includes a one-night stay at Home2 Suites. The weekday price through October 31, 2020, starts at $184 for single and $235 for double. From November 1, 2020 to April 30, 2021 weekday prices start at $174 for single and $225 for double. To book your golf package call (951) 506-3402. For more information go to https://www.crosscreekgolfclub.com/stay-play/.  
A CrossCreek Stay & Play package with accommodations at Quality Inn includes a green fee, golf cart, range balls, and tax. Room occupancy is limited to two people. Weekday packages start at $115 for single and $164 for double. A 30-minute golf lesson can be added at just $20 per person. To reserve this package, call (951) 3402. For more information visit https://www.crosscreekgolfclub.com/stay-play/quality-inn/.  
Places to Stay 
Golfers can book their stay with confidence, knowing Temecula Valley hotels have created the safest environment possible using CDC, State, American Safe Stay, and Clean+Safe guidance. Visit Temecula Valley and its partners have committed to a unified "Safer Together Greater Together" pledge to ensure the health and safety of its visitors, staff, and community by following the latest guidelines. 
Other nearby hotels to all three courses are Best Western Plus, Best Western County Inn, Embassy Suites, Fairfield Inn & Suites, Hampton Inn & Suites, Holiday Inn Express, Home2 Suites, Hotel Temecula, La Quinta Inn & Suites, Motel 6, Signature Temecula, SpringHill Mariott, Rancho California Inn, and Rodeway Inn. For an entire list of lodging options and rates, go to https://www.visittemeculavalley.com/hotels/.  
About Visit Temecula Valley 
Temecula Valley is prepared to welcome visitors to a safe and clean environment. The businesses have strict cleaning and safety protocols to ensure everyone's safety and comfort. They have met and often succeeded county and state requirements because visitors and their employees' health are top priority. 
Temecula Valley Southern California Wine Country is a year-round vacation destination, located 60 minutes from San Diego, Orange County, Palm Springs, and 90 minutes from Los Angeles.   
Temecula Valley Wine Country is widely recognized for its scenic vineyards, award-winning wines, and experiential wineries. The popular boutique destination includes the Temecula Valley Wine Country as well as historic Old Town Temecula, and Pechanga Resort Casino. It also was named as a 2019 Wine Enthusiast 10 Best Wine Travel Destination.  
Visit Temecula Valley is the region's official tourism marketing organization and resource for visitors. For visitor information and assistance, please call (888) 363-2852 or go to VisitTemeculaValley.com.