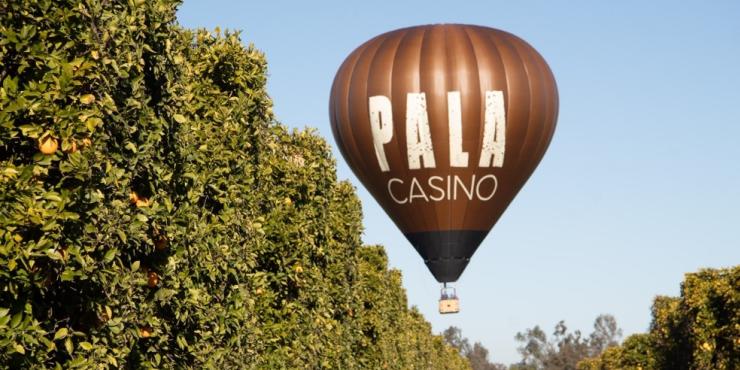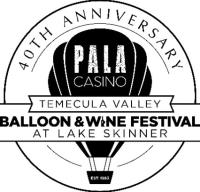 Temecula, CA –The most talked about and well-known community Festival in the Temecula Valley is set to kick off an incredible weekend on May 19-21, 2023, and will celebrate its 40th Anniversary. This year's festival will feature a gorgeous Pala Casino hot air balloon that offers a unique and heartfelt story to go along with it. Through a relationship that was fostered during last year's Temecula Valley Balloon and Wine Festival, Pala Casino graciously donated the funds to Reach for the Stars Hot Air Balloon Foundation for a second handicapped accessible hot air balloon. The new balloon, referred to as 'Pala Spirit', is a 120,000 cubic foot balloon featuring the Pala Casino logo. This six-person basket is custom made with a viewing window and VIP chair for any person that cannot stand for the duration of a balloon flight. The 'Pala Spirit' balloon has been spotted flying over the Temecula Valley and the most recent flight was on April 5, with passengers Sam and Jill from England.  It had always been Sam's dream to take a ride in a hot air balloon, but being in a wheelchair, the options were limited. Sam's family contacted Reach For the Stars and arranged a sunrise flight, making Sam's dream come true. Lasting memories were certainly made that day. Alongside the 'Pala Spirit' balloon, nearly 30 additional hot air balloons will take flight into the blue skies overlooking Lake Skinner and the beautiful Temecula Valley during the exciting 3-day Festival.
Visit booths from the Festival's outstanding sponsors who continue to make this event successful, Elite Sponsor Pala Casino Spa Resort, Platinum Sponsors SoCal Toyota and Stella Artois, Gold Sponsors Hyatt Vacation Club, and the City of Temecula. The Festival will feature additional sponsors; 100% Chiropractic Care, American Medical Response, Hampton Inn & Suites, Kaiser Permanente, Raising Cane's Chicken Fingers, Anheuser-Busch, and many more exciting exhibitors.
This festival has it all; from hot air balloon rides to festival foods to wine & beer and phenomenal live performances from chart-topping artists.
Headlining the Pala Casino Main Stage on Friday, May 19th will be Multi-platinum American rock band REO Speedwagon along with Night Ranger and John Waite. On the Wine Stage, Colt Ford, Moonshine Bandits and Kanan Road Band.
On Saturday, May 20th headlining the Pala Casino Main Stage will be Grammy Award winner Country superstar Brad Paisley along with Sara Evans, Tenille Arts and Brandon Calhoon. The Wine Stage will feature The Lacs, George Shingleton, Twisted Gypsy, Parade Wave, Pulp Vixen, and Billy Williams.
Headlining the Pala Casino Main Stage on Sunday, May 21st will be 2011 American Idol winner and Award-winning Country Music artist Scotty McCreery, Dylan Scott, Callista Clark and Brandon Calhoon. Featured on the Wine Stage will be The English Beat, Daring Greatly, Cassie B and Billy Williams.
To purchase your 2-day country combo tickets, VIP packages, single day tickets, 3-day packages, parking passes, beverage tickets and to book your hot air balloon ride visit www.tvbwf.com.
For ticketing questions contact (951) 234-5559 or tvbwf@completeticketsolutions.com. For general information email info@tvbwf.com. All concerts included with festival admission. Lineup subject to change.
The festival will take place at Lake Skinner Regional Park/Recreation Area, 37701 Warren Rd, Winchester, CA.
About Reach For The Stars Hot Air Balloon Foundation
Reach For The Stars Hot Air Balloon Foundation is a recognized 501c3 nonprofit that has the mission of sharing the joy and excitement of hot air ballooning with people of all abilities. They can accommodate a wheelchair, walker, and person with special needs. For more information about accessible hot air balloon flights, visit www.reach4thestars.org.