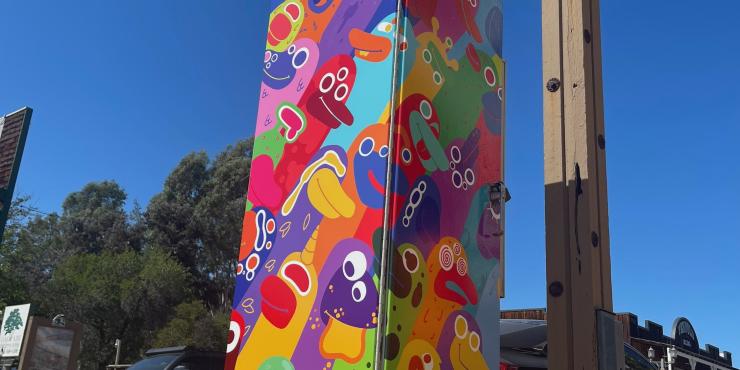 The City of Temecula will unveil its Old Town Temecula Utility Box Art Project, a public art display featuring unique and colorful pieces from local artists, at a ribbon-cutting ceremony on Wednesday, Oct. 26, 2022 at 12:00 p.m. in Sam Hicks Monument Park, 28300 Mercedes Street, Temecula, CA.
The collection features 20 utility boxes wrapped with 24 beautiful original art images that feature the rich history, natural beauty, and cultural heritage of the Temecula Valley. Featured pieces were chosen by Temecula's Art Selection Committee, comprised of Temecula's City Council Members on the Arts & Cultural Affairs Subcommittee, City of Temecula Commissioners, local citizens, and non-profit organizations. Each work of art was carefully chosen from 210 pieces of art submitted by 67 artists in a competitive process.
"I am very excited to see this creative idea come to life expanding our vision for more Public Art in Temecula," said Mayor ProTem, Temecula Community Services District Vice President, and Arts & Cultural Affairs Subcommittee Member Zak Schwank. "These unique masterpieces from local artists help build community connections and provide a sense of place for residents and visitors. It is amazing to see the beauty, history, and vibrancy of Temecula represented on what are plain yet necessary utility boxes. We hope to see more Public Art expand throughout our entire City."
The City of Temecula will display the art throughout Old Town encourage the public to discover and enjoy street art in unexpected places – as they are parking their cars, walking, shopping, or driving. The creative and delightful canvases reflect the City of Temecula's story and position the city as a beautiful and safe place to live, work, play, and have the best quality of life – as seen through the eyes of talented local artists.
Each artist selected to participate in the Old Town Temecula Utility Box Art Project will receive a $400 stipend for the use of their work. A map of the art wrapped utility boxes can be viewed digitally and is featured on the City of Temecula's website at www.TemeculaCA.gov/UtilityBoxArt where visitors can learn more about each artist and get background information on their artwork and style. The City of Temecula thanks Southern California Edison for their continued cooperation in supporting local community art projects and programs. For more information, please email ArtsAndCulture@TemeculaCA.gov, or call (951) 694-6450.