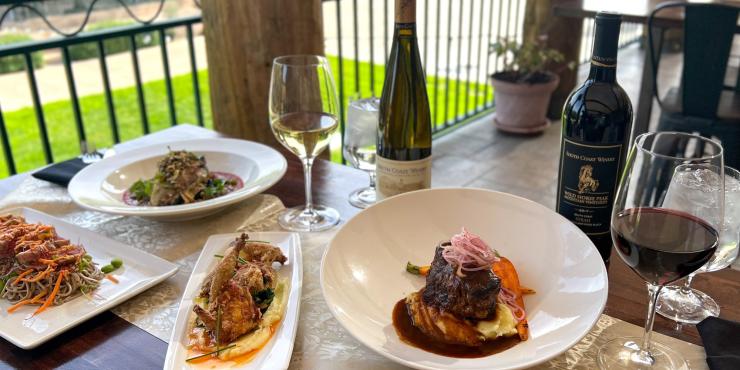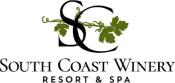 One of Only Four Winners in Temecula; Garnering Award of Excellence
TEMECULA, Calif. – South Coast Winery Resort & Spa's The Vineyard Rose Restaurant located amongst 63 acres of prime Temecula Valley vines, has received a 2023 Award of Excellence distinction from industry wine leader Wine Spectator. South Coast Winery and its sister wineries in Temecula and Texas Hill Country are owned and operated by Carter Hospitality Group. The wineries have won thousands of wine awards over the years – at prestigious state, national and international wine competitions. This, though, is their Temecula restaurant's first Wine Spectator award – one of only four restaurant winners in the region.
"Being recognized by Wine Spectator, our industry's esteemed authority on wine, and receiving recognition that honors the world's best wine restaurants – exemplifying outstanding wine lists and delivering outstanding wine service – is a highly prized award for The Vineyard Rose Restaurant and South Coast Winery," said Jeff Carter, president of Carter Hospitality Group. "We also thank Chef Albert Park, our restaurant manager Frank Miller and their team for their dedicated expertise and professionalism. We are always grateful to our Temecula-based master winemakers Jon McPherson and Javier Flores for all their contributions."
The Vineyard Rose Restaurant's 100-bottle wine list representing an inventory of 1,215 selections complements the contemporary California cuisine of Executive Chef Albert Park who collaborates with Director of Tasting Room and Wine Club Operations Tahra Bargar. The restaurant serves award-winning South Coast and Carter Estate Winery options along with choices from other California producers, including sparkling wines, gewurztraminer, syrah, merlot, Riesling, pinot grigio, tempranillo, chardonnay and others. Wines and delicious fare are savored in the elegant open-beamed dining room with its relaxing bar or on the idyllic terrace overlooking scenic vineyard views.
The 2023 Wine Spectator awards program recognizes 3,500 dining destinations from all 50 states and more than 75 countries and territories. This year, there are 2,001 winners in the Award of Excellence category, one of three total categories. They are establishments that offer at least 90 interesting selections, reflecting a well-chosen assortment of quality production along with a thematic match to the restaurant's menu in both price and style. Training and wine education, proper storage, presentation and sufficient choices to satisfy discerning wine lovers are also important criteria of each restaurant's program. All award winners will be featured in Wine Spectator August 31 issue, which hits newsstands on Tuesday, July 11, and the list is now available on WineSpectator.com.
Where:        The Vineyard Rose Restaurant
                        South Coast Winery Resort & Spa 
                        34843 Rancho California Road
                        Temecula, California 92591
                        844.428.6292
About The Vineyard Rose Restaurant
Featuring fresh, California-style cuisine masterminded by Executive Chef Albert Park, The Vineyard Rose Restaurant offers three meals a day. Guests can dine indoors in the elegant Tuscan-style dining room or al fresco on the beautifully landscaped patio. A semi-private dining room hosts parties up to 20. For reservations, book online or call (951) 587-9463.
South Coast Winery Resort & Spa
The only winery among the state's top wineries to claim the title of California Winery of the Year five times at the California State Fair Wine Competition, South Coast Winery Resort & Spa sets the gold standard for excellence amongst California wineries, earning more than 3,000 awards since its inception in 2003. Situated on 63 lush acres, the resort offers a breathtaking retreat for wine tours, romantic getaways and group events with 132 rooms and villas, a working winery and tasting room, gift shop, full-service spa and restaurant.
South Coast Winery offers a broad portfolio of 45 wine labels, the majority of which are available for sampling in its main tasting room – from robust reds such as Tempranillo, Cabernet Sauvignon, Grenache, Petite Sirah, Merlot and Pinot Noir to whites including Sauvignon Blanc, Viognier, Pinot Grigio, Chardonnay and Riesling. Also available are sparkling wines, dessert wines and other specialty offerings. The winery employs a staff of skilled winemakers, including master winemaker Jon McPherson and winemaker Javier Flores, both with decades of experience in the wine industry. For more information, visit www.southcoastwinery.com.
About Wine Spectator Magazine
Wine Spectator is the world's leading authority on wine. Anchored by Wine Spectator magazine, a print publication that reaches around millions of readers worldwide, the brand also encompasses the Web's most comprehensive wine site (WineSpectator.com), mobile platforms and a series of signature events. Wine Spectator examines the world of wine from the vineyard to the table, exploring wine's role in contemporary culture and delivering expert reviews.