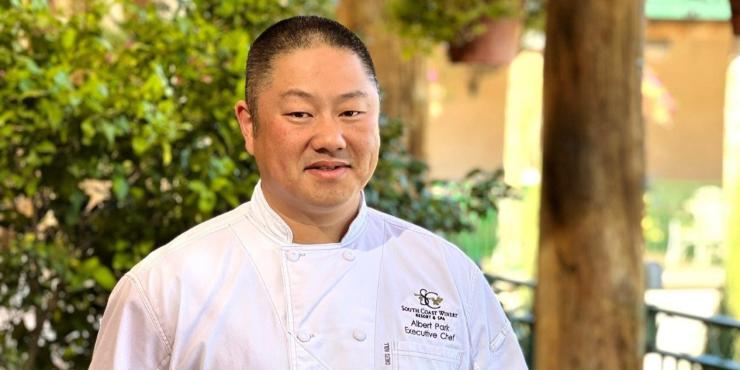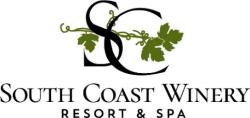 TEMECULA, Calif. – South Coast Winery Resort & Spa has named seasoned culinary professional Albert Park as its new executive chef at this multi-award-winning winery and luxurious wine country resort. Prior to this appointment, Park served as executive sous chef at The Pacific Club in Newport Beach, Calif., overseeing Talbot Grill.
In his new position, Park's responsibilities include overseeing culinary operations of the resort's signature all-day The Vineyard Rose Restaurant, where he is supervising the kitchen team as they launch newly created menus featuring innovative California cuisine sourced seasonally, responsibly and locally. Examples from the chef's new spring dinner menu feature entrees such as "Birria" Short Rib accompanied by Manchego grits, thumbelina carrots, curtido and queso fresca and a delightful Fisherman's Stew composed of clams, mussels, fish, crab claws, fennel and tomato-fennel broth.
In addition, Park is in charge of the poolside Vineyard Grill at South Coast's sister property Carter Estate and Resort. He oversees in-room dining at both winery resorts and onsite menus for meetings, weddings and special occasions.
"Chef Albert brings a wealth of culinary expertise, impressive managerial and organizational skills, valuable mentoring and leadership acumen to our Temecula winery resorts," said Jeff Carter, president of Carter Hospitality, owner and operator of South Coast Winery Resort & Spa and Carter Estate Winery and Resort. "With South Coast being a top 20-year-old winery in beautiful Temecula, we are certain his contributions will lead to further success and acclaim for our culinary program."
Park's past kitchen experience includes his position at Newport Beach's prestigious The Pacific Club for the last six years. Previous to that, he was chef de cuisine at Bosscat Kitchen and Libations also in Newport Beach and held the same position at now-closed Six Park Grill at the former Hyatt Regency Irvine.
Park graduated magna cum laude from the International Culinary School at the Art Institutes of California-Orange County with a Bachelor of Science degree in culinary management. Leisure time includes traveling with his wife and their three children and assisting his sons' baseball teams.
# # #
About South Coast Winery
The only state winery to claim the title of California Winery of the Year five times at the California State Fair Wine Competition, South Coast Winery sets the gold standard for excellence amongst California wineries, earning more than 3,000 awards since its inception in 2003. Situated on 63 lush acres, South Coast Winery Resort & Spa offers a breathtaking retreat for wine tours, romantic getaways and group events with 132 rooms and villas, a working winery and tasting room, gift shop, full-service spa and restaurant.
South Coast Winery is family-owned and offers a broad portfolio of 45 wine labels, the majority of which are available for sampling in its main tasting room – from robust reds such as Tempranillo, Cabernet Sauvignon, Grenache, Petit Syrah, Merlot and Pinot Noir to whites including Sauvignon Blanc, Viognier, Pinot Grigio, Chardonnay and Riesling. Also available are sparkling wines, dessert wines and other specialty offerings. The winery employs a staff of skilled winemakers, including master winemaker Jon McPherson and winemaker Javier Flores, both with decades of experience in the wine industry.
For more information, visit www.southcoastwinery.com.