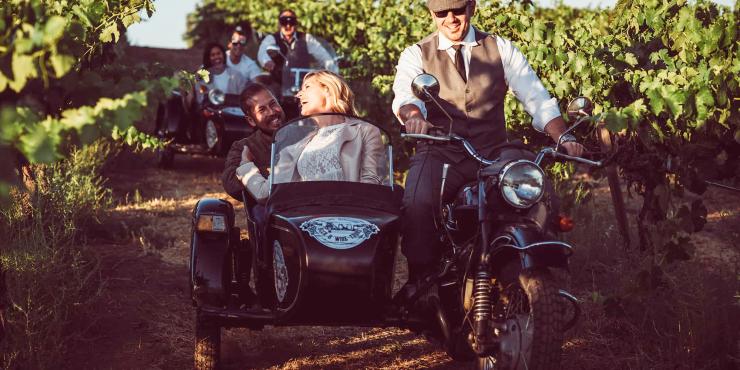 When visiting Temecula Valley Wine Country there are many experiential ways to taste the wine. With nearly 50 wineries and dozens of grape varietals, deciding where to go can be overwhelming. Booking a wine tour company makes it easy for the traveler, and there is no need to worry about driving. Visit Temecula Valley introduces four new companies that create a memorable experience when touring and tasting while staying in Temecula Valley Wine Country, just in time for bud break in the vineyards.
So-Cal Sidecars was birthed from the idea of having a fun and new experience for date night. The owners of So-Cal Sidecars enjoy visiting wine country, wine tasting, and the freedom of the backroads on a motorcycle, so they decided to share the opportunity of tasting the way they love. They have modified the standard motorcycle sidecar to accommodate two passengers and now have the world's first and only tandem sidecars. This gives winery goers a unique, fun, and intimate way to get to know the beautiful wine region with their knowledgeable drivers that share information and wine country's history.
Temecula Wine Country E-Bike Rentals allows visitors to explore wine country at their leisure with their state-of-the-art electric bikes. Temecula Wine Country E-Bike Rentals is located in the heart of Wine Country. With the wineries so close together, riding to a few in one afternoon is easy and allows plenty of time to sip and relax in between. The e-bikes are designed to make the ride smooth and easy on wine country's paved and dirt roads. No matter the fitness level, with the pedal-assist feature everyone can zip up the hills and glide down the other side, effortlessly.
Toasted Corks philosophy is about making memories that stick for life. The business got started with a couple wanting to create and build a way to share a glass of wine, a lot of laughs, and a beautiful experience. They converted a school bus into a luxury transportation space that offers private group wine tasting tours to three wineries for five to 16 passengers. Whatever the celebration, even just to celebrate life, Toasted Corks offers a great way to make it memorable.
Temecula Cable Car Wine Tours offers a wine country tour a historic fully-restored 1914 San Francisco cable car. Their vehicle is open-air, providing unobstructed views of the beautiful wine country landscape while adding a fun and exciting twist to the tour. They also do haunted winery and bar tours for an even more exciting adventure.
See all the wine country tours and transportation options at VisitTemeculaValley.com. Explore Temecula Valley's online travel guide and check rates. Follow Visit Temecula Valley on Instagram for more travel inspiration @visittemecula. Start planning your next trip at VisitTemeculaValley.com.
ABOUT TEMECULA VALLEY AND VISIT TEMECULA VALLEY    
Temecula Valley is open and welcomes local visitors. The businesses have strict cleaning protocols to ensure everyone's safety and comfort because they consider the health of their employees and guests top priority. They have met and often succeeded county and state requirements. Face masks are strongly recommended when visiting and please be kind to the workers, they are doing everything they can to make the experience an enjoyable one.   
Temecula Valley is a popular Southern California destination that includes Temecula Valley Wine Country, Old Town Temecula, and Pechanga Resort Casino. In 2019, Wine Enthusiast named it a 10 Best Wine Travel Destination.  
Visit Temecula Valley is the region's official tourism marketing organization and resource for visitors. For current information on what is open and what to expect, please go to VisitTemeculaValley.com/info.