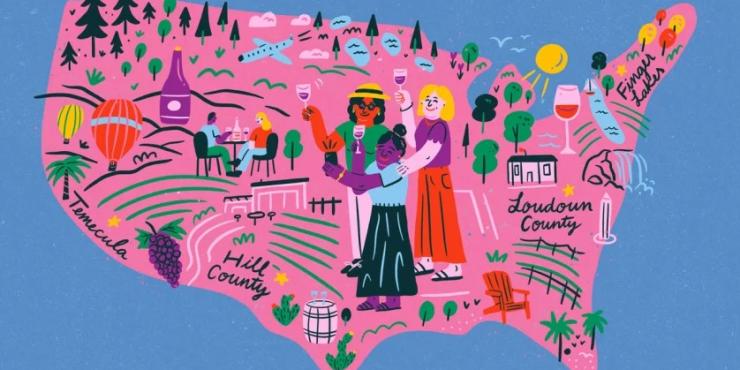 Full Article: 4 Lesser-Known Wine Regions To Visit In 2023 (thegirlfriend.com)
By Kathryn Streeter | September 18, 2023
Grab your fellow oenophiles and get tasting.
When someone mentions visiting wine country, your mind may well picture the storied vineyards of Napa and Sonoma counties in California. Popular and known throughout the world, they unfortunately also tend to be crowded.

Why not instead explore smaller, personality-rich wine regions that offer great wine yet not quite so many visitors? These four hidden-gem wine regions, each with its assortment of boutique wineries, will satisfy your thirst in every way. Let's get tasting!
Southern California — Temecula Valley
You'll feel transported to Tuscany in Temecula Valley, where the setting resembles that of the Mediterranean. Nearly 50 picturesque wineries dot the rolling hills of the area known as Southern California's Wine Country. The lush environment produces superb fruit, allowing for award-winning wines ranging from cabernet sauvignon and sauvignon blanc to European varietals Syrah and Sangiovese.

· Palumbo Family Vineyards & Winery sits serenely on a quiet hilltop with stunning 360-degree views. Visiting the vineyard truly feels personal —it's the idyllic haven where the Palumbos raised their kids, farmed livestock and fed their dreams. Part Sicilian and part Illinois farm boy, Nicholas Palumbo was born to make wine, a craft he believes is all-consuming when it's done well. The winery holds an unwavering commitment to scale, exercising a passion for making small, exceptional batches using sustainable methods.

· Chapin Family Vineyards offers a perfect illustration of "the good life," maintaining the highest standards through every step of the wine-making process, from raising nutritionally balanced vines to investing in top-tier vineyard tools. Tip: Recline on the veranda overlooking the vines with a glass of the 2018 Syrah Rock Creek, a velvety-textured wine with ginger, blueberry and cassis flavors.

· Lorenzi Estate winery has been described as Southern California's most-awarded winery, with 155 red wines rated 90 points or higher. Reserve a coveted spot at The 90 pt. Seated Tasting, where you can taste five renowned reds of this caliber. Anchored by the philosophy that it takes a wine lover to create great wine, the Lorenzi family makes wine lover's wine — a sensibility woven throughout the vineyard.