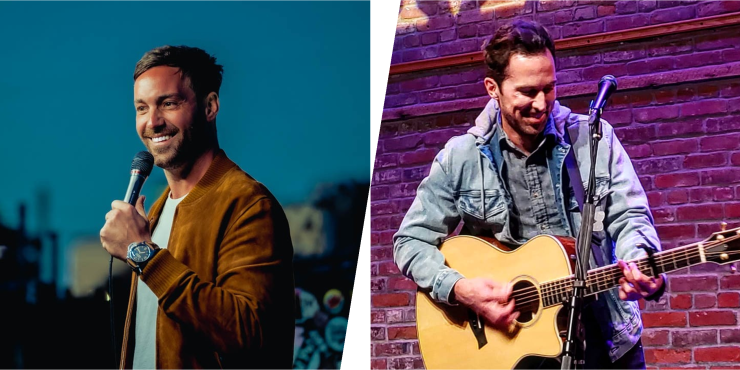 Jeff Dye, a nationally touring comedian, actor, host and prankster will headline A Night of Comedy and Music on Friday, October 27, 2023 at 7 p.m., at The Merc in Old Town Temecula. Dye has performed on The Tonight Show with Jimmy Fallon (twice), finished 3rd on Last Comic Standing and has had his own "Comedy Central Presents" special. In previous years, he has starred on numerous TV projects, including "Money from Strangers", "Girl Code", "Extreme Makeover: Home Edition", as well as NBC's "I Can Do That." Jeff's album Live from Madison has been a top 10 album on the Billboard Comedy Charts and his new album Dumb is Gooder is out now!
Joining Jeff at the special, one night only event is former Temecula area resident, Chris Mozy, who came up in the Southern California music scene as the youngster of a group that included a founding member of No Doubt. From there he recorded and performed in a Warped Tour era band that found themselves with a song featured on a hit MTV show. Combining acoustic sensibilities with pop melodies, Mozy has now teamed up with producer Stevie Benz (The Rocket Summer, Rookie of the Year, Corey Ward) to create hook-heavy pop/rock, alt/country anthems.
Rounding out the lineup is singer-songwriter, Ken Carter, and comedian/host Johnny Herrera of Southern California. Tickets are $35 and can be purchased here.
SHOW INFO – Seating is VERY limited – get your tickets early!
Who: Jeff Dye, Chris Mozy, Ken Carter, Johnny Herrera
What: A Night of Music and Comedy
When: Friday, October 27, 2023, 7:00pm
Where: The Merc, 42051 Main St., Temecula, CA 92590
How: Tickets at https://tickets.temeculatheater.org/ or the Merc box office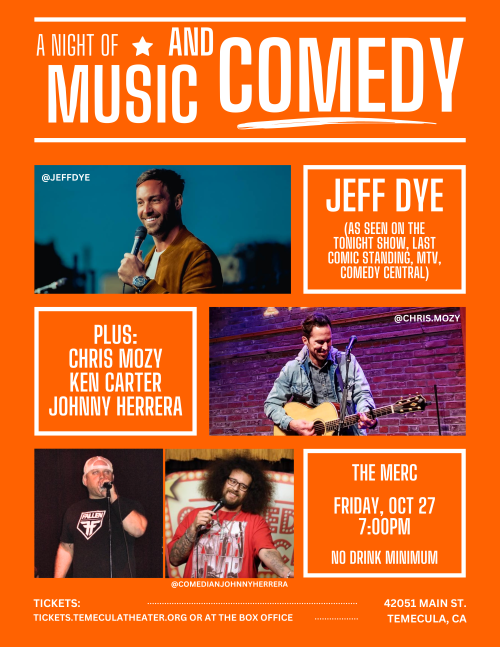 FOLLOW THE ARTISTS
Jeff Dye: @jeffdye
Chris Mozy: @chris.mozy
Ken Carter: @kencarter42019
Johnny Herrera: @comedianjohnnyherrera
MORE ABOUT JEFF DYE AND 'A NIGHT OF MUSIC AND COMEDY'
Jeff has starred in NBC's comedy adventure series "Better Late Than Never," a project that followed the travel of Henry Winkler, William Shatner, Terry Bradshaw and George Foreman as Jeff presents them the adventure of a lifetime. Currently he's on new episodes of "I Can See Your Voice" and "The Masked Singer" on Fox.
Dye's passion is bringing love and positivity through laughter to everyone he encounters. Unlike many comedy shows, there is no minimum drink or item purchase required for this event!