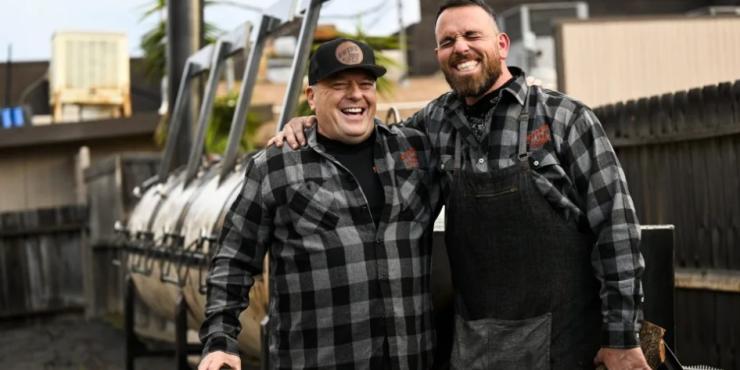 Full Article: 'Breaking Bad' actor Dean Norris takes over Swing Inn Cafe in Temecula
By FIELDING BUCK | 
Actor Dean Norris of "Breaking Bad" fame has big plans for the Swing Inn Cafe in Old Town Temecula. He and his wife Bridget took over in August, looking to invest in the city that has been their home for 22 years.
The Swing Inn Cafe dates from 1927, not long after the days when Temecula was a rough cattle town with authentic cowboys. That history is preserved on Old Town Front Street, a half a mile of rustic buildings that house eateries and boutiques.
Dean said he wants to keep the diner as it is, with tweaks.
"This is a valuable corner," he said Thursday. "People want to acquire it and do whatever they want to do. I want to preserve it for the next hundred years."
He was speaking at a dinner where his staff served platters of brisket, pork and smoked turkey to civic leaders and members of the Temecula Fire Department. The occasion was a preview of a new barbecue dinner menu that will launch March 3.
Until now, the restaurant has closed after lunch. It is known for its breakfasts with house-made cinnamon rolls.
Norris and his family had been regulars at the Swing Inn Cafe, he said in a phone interview, and convinced the previous owners, the Rauton family, that he would take care of it.
He said in a phone interview that he had zero restaurant experience, "but I like to think I'm a fast study and I listen to the right people."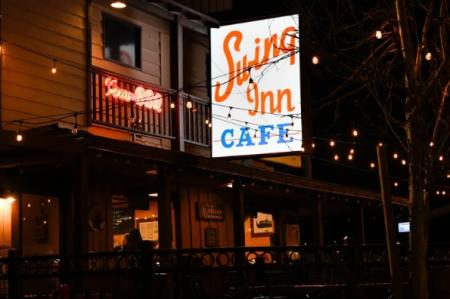 (Photo by Anjali Sharif-Paul, The Sun/SCNG)
Despite his love for Temecula, he said used to feel Old Town needed a little more nightlife.
"I used to tell my wife this place is completely underutilized. They close down at 5 o'clock. And I didn't have the money to do anything at that point."
"We found out from the city that there's 30,000-40,000 people that come in every weekend from Los Angeles, Orange County and San Diego. And when you make those kind of trips you're going to go to where a lot of people go, the down-home, old-style place."
He wants to grab that business as well as continuing to serve the locals.
He found a pitmaster for his barbecue in Nick Yepremian, owner of Destination Smokehouse & Eatery in Hemet. And he got a 1,150-gallon smoker to handle what he expects to be a high demand for brisket. At the preview, he dubbed it "Hank's Tank."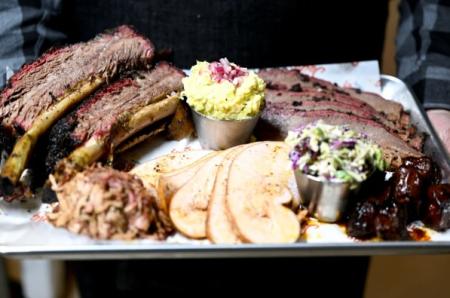 (Swing Inn Cafe opens the dinner menu with a work of smoked meats including pork, turkey, slaw and potato salad in Old Town Temecula on Thursday, Feb. 23, 2023. (Photo by Anjali Sharif-Paul, The Sun/SCNG)
The Norrises own more property in Old Town, and Dean aspires to open a separate restaurant that's "a little more upscale" in the shop next door, which used to be the Rancho Fruit Market.
Dean's visibility in "Breaking Bad" has been an asset in the restaurant business. He gets noticed in the Swing Inn Cafe.
"Our regular crowd takes a lot of pictures," he said. "They always joke about bringing the show pony out. It's great. I love it."
Swing Inn Cafe
Where: 28676 Old Town Front St., Temecula
History: Founded in 1927 as Mother's Cafe. The current building dates from 1932, according to a 2014 article in the Temecula Vally Historical Society Newsletter. Mayor pro-tem James Stewart cq said there have been additions to the oldest part of the building, which is the lunch counter. The restaurant acquired its current name sometime before 1955, according to the historical society, when it was attached to a motel that had a porch swing in front of it.
Menu: The breakfast menu will remain the same, owner Dean Norris said, but there will be a new dinner menu and additions to the lunch menu such as pulled pork sandwiches and a brisket and cheese melt.
Information: 951-676-2321, swinginncafe.com