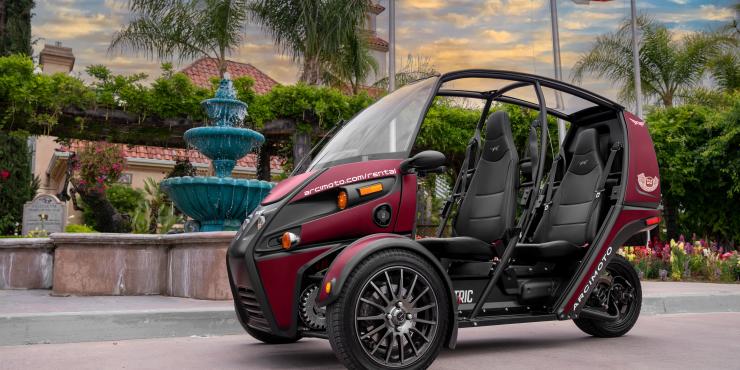 Arcimoto, Inc.® (NASDAQ: FUV), makers of rightsized, outrageously fun, ultra-efficient electric vehicles for moving people and stuff, and Cable Car Wine Tours today announced the first all-electric wine country tours in Temecula Valley. Visitors will be able to explore Southern California's Wine Country in fleets of Fun Utility Vehicles in both guided and self-guided tours that include olive oil tasting, chocolate tasting, and a thrilling all-electric ride through the picturesque Temecula Valley, named a Top 10 Wine Destination by Wine Enthusiast.
"As residents of the Willamette Valley here in Oregon, we already know just how amazing it is to ride an FUV through the rolling hills of world-class wine country, and we can't wait for visitors to Temecula Valley to be able to experience the same electric sensation," said Lynn Yeager, Arcimoto Chief Experience Officer. "Cable Car Tours offers one of the coolest rides in the Valley with a fully-restored San Francisco Cable Car, and we think the FUV will make for a great new option for those who want a more, shall we say, dynamic driving experience."
"After one ride in the FUV, we knew our Temecula customers would love this new tour," said Jared Broach, President of Eat Drink Scare Tours. "We've created a safe, responsible, and thrilling new tour that includes stops at some of our favorite Temecula Valley wineries for olive oil and chocolate tastings. And then, when the FUVs reach their final destination, we cap it all off with an epic wine tasting."
Welcoming more than three million visitors each year, casual, picturesque, Temecula Valley Southern California Wine Country is a year-round getaway and vacation destination situated within southwest Riverside County.
"In Temecula Valley, we pride ourselves on being made up of curious mavericks who aren't afraid to do things a little differently, which is a perfect description of Arcimoto and their one-of-a-kind EVs," said Visit Temecula Valley CEO and President Scott Wilson. "We're excited to now promote the first all-electric wine country tour. If you thought exploring Temecula Valley in a classic San Francisco cable car was awesome, just wait until you try the FUV."
For more information, visit Cable Car Tours and Visit Temecula Valley.
About Arcimoto, Inc.
Arcimoto is a pioneer in the design and manufacture of rightsized, ultra-efficient, incredibly fun electric vehicles for everyday mobility. Built on the revolutionary three-wheel Arcimoto Platform, our vehicles are purpose-built for daily driving, local delivery, and emergency response, all at a fraction of the cost and environmental impact of traditional gas-powered vehicles. Based in Eugene, Oregon, the Arcimoto team is dedicated to creating world-class EVs that make the world a better place. For more information, please visit Arcimoto.com.