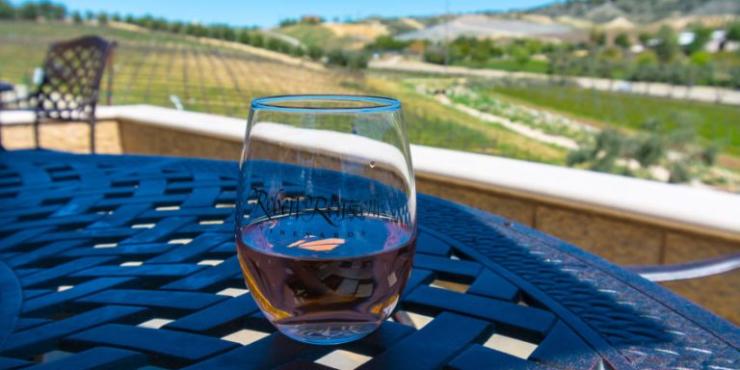 Temecula Valley is a beautiful area in southern California that's only an hour from San Diego and an hour and a half from Los Angeles. The flight was only two hours from Seattle, so it's the perfect place to get away for a long weekend. While there's plenty to do here, it's a popular place to go wine tasting.
I loved that the wineries were much less crowded than what I experienced in Napa Valley. It's also a more personal experience, as there's a good chance the owner will be there to tell you their story. This guide to Temecula Valley will help you decide what to do when you visit.
How to Get There
I flew into the Ontario Airport, which is about an hour north of Temecula. From there you can hire the Temecula Air Shuttle to take you to your hotel. They text you where they are so you don't have to wait outside for long, and I loved the amenities inside. They had snacks, water, phone chargers, and even wi-fi in the shuttle!
Where to Eat and Drink
There are so many delicious places to eat in Temecula, but here were some of my favorites.
Crush and Brew – Located in Old Town Temecula, they had some unique options to choose from. I got the kimchee fries and Caesar salad with balsamic dressing. They also have a speakeasy in the back called Thompson & Twin that's a fun place to get drinks before or after.
Eat Marketplace – This was health food heaven, and all of it tasted amazing. The friendly owner spent time explaining everything on the menu, and I ended up settling on the yam patty salad and vegan donuts and cookies for dessert. They also have an extensive coffee and tea bar to choose from.
Blue Water Grill – If you love seafood, you must stop at this restaurant. When you walk in, you can see all the fresh fish that you can order from to make your meal. It took me a long time to decide what to get here because there were so many different options.
The Press Espresso – I love finding a local coffee shop early in the morning when I travel, and enjoyed finding this small one. The stools were made from tree trunks, which I found so creative.
Read more: How to Spend an Active Summer in Lake Tahoe
Wineries
It's the 50th anniversary of wine country in Temecula Valley, so now's a great time to go visit. There are over 40 different wineries to choose from in the area. There are many ways to get around, from renting a car, limo, shuttle, winery hopper, or even a pink Cadillac.
Robert Renzoni – Winemaking has been in the family history since 1886 in Italy. The family eventually made their way over to California and started growing grapes. The winery now has a huge tasting room and a restaurant to enjoy a meal at while sitting outside. Some of the more popular wines are Big Fred's Red and the Tempranillo.
Lorimar – This winery is "a fusion of wine, art, music, and food." All the white wine bottles have labels made from local artists, while the red wine bottles have musical inspiration. There's live music on the weekends in the large outdoor area they have. My favorite wines were the Grenache Blanc and the Sangiovese.
Hart Winery – This is a smaller winery, but it's unique because it's the oldest winery in Temecula Valley. Everything is made in the winery and it's a family-run business. The grapes started growing in 1973 and it officially opened for business in 1980. I enjoyed the Syrah and the Arneis.
Where to Shop
You could easily spend a day in Old Town Temecula browsing all the shops. Here are some of my favorites.
Temecula Lavender Co. – I love all things lavender, and this shop did not disappoint. You can buy lavender air freshener, hand soap, lotion, oil, scrubs, and more.
Temecula Olive Oil Company – I liked this shop so much that I came back the second day. The first day I tasted half a dozen different olive oils, including blood orange, vanilla, and roasted garlic. I loved that after every tasting, I would leave a little bit of oil so a matching balsamic oil could be poured in to try. I dare you not to leave without a few bottles. The second day I stocked up on their olive oil lip balms and lotions.
Old Town Spice and Tea Merchants – One thing I love about traveling to other countries is the spice stores they have, such as in India and Morroco. These can be hard to find in the U.S., so I was excited to discover this shop. They have almost every spice you can think of, different flavors of honey, a variety of BBQ rubs, and plenty of loose leaf teas.
Old Town Sweet Shop – I love proper candy stores, as they remind me of being a kid. They had many popular candies as well as old favorites (candy cigarettes, anyone?). There was also a dozen different types of fresh fudge to choose from.
The Painted Garden – This garden has some of the most beautiful sculptures, and I wished I didn't carry on so I would have had room for these in my luggage.
Read more: Where to Stop on a Road Trip to Big Sur
What to Do
Besides wine tasting and shopping (which could easily take up two days), there are plenty of activities to do here. You can go horseback riding on the trails around the area, and some companies will even let you "park" your horse at wineries while you wine taste. There are plenty of golf courses to play on and even the largest casino floor in California, the Pechanga Resort and Casino. It's also a beautiful place to take a hot air balloon ride at sunrise or sunset.
https://postcardstoseattle.com/guide-to-temecula-valley/