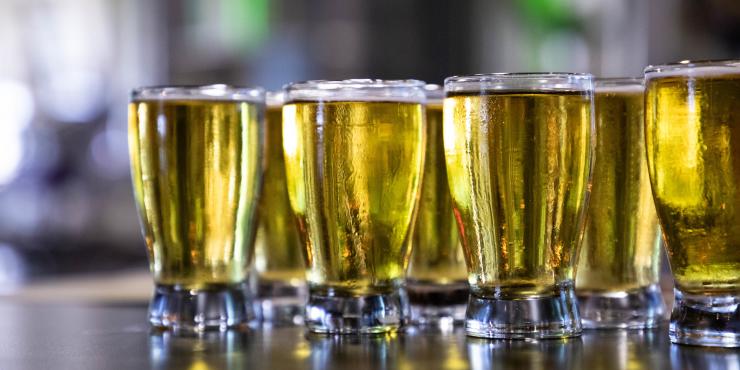 Temecula Valley Southern California Wine Country is pouring more than just wine. There are now twelve microbreweries using their creativity and innovation to brew award winning stouts, IPAs, and more that appeals to a broad spectrum of beer lovers. Suggested places to visit for some of the best local brews are Refuge Brewery, Wiens Brewing, Garage Brewing Company, Ironfire Brewery, Karl Strauss Brewing Company, and Stone Church Brewing.
Garage Brewing Company develops creative spins on standard styles in what was once an eight-bay garage on the south end of Old Town Temecula. There popular and gold medal winners Marshmallow Milk Stout and Mango Hefeweizen are must-trys. They also recently launched a low carb Brake Light India Pale Ale with citrus hops that looks promising. All their beers go great with their on-site custom-built thin crust pizzas.
Ironfire Brewery has two locations in Temecula, one is convenient for those exploring Old Town Temecula. Ironfire takes pride in disregarding all preconceived notions of beer when concocting their ales and lagers. Their Old Town tasting room offers a fun interactive environment.
Karl Strauss Brewing Company brews more than 140 different beers and has won 110 medals and counting. Temecula Valley is one of their 10 locations. They offer a Beer Brunch every Saturday and Sunday. Along with a selection of brews, they have fried chicken and waffles, chilaquiles cazuelas, churro donuts, and more.
Refuge Brewery is the largest craft brewery in the area. Their Blood Orange Wit is a must-have. Another great beer recommendation is their Illusion IPA. Refuge also likes to blend some of their beers with wine must during fermentation, a craft that dates back to the early days of brewing. They have several events and live entertainment, including every other Sunday when a HotGlass ColdBeer event demonstrates live glass blowing.
Stone Church Brewing celebrates its first year in Old Town Temecula on March 17 with a Kentucky Bourbon Barrel Stave Aged Stout. The business is owned by a retired Army Colonel that has been tasting craft beers around the world. They specialize in India Pale Ales, Pale Ales, and Belgian-style Tripels.
Wiens Brewing is a functioning facility with easy visibility from their taproom. Visitors frequently get a glimpse of beer production with brewing, kegging, canning, transferring commonly taking place. Their recently remodeled tasting space is a modern but modest look showcasing custom art on the walls. Note their creative beer labels designed by Alec Wiens. The family also owns and operates Wiens Winery in Temecula Valley Wine Country.
New and coming soon. Temecula Brewing Company will be opening soon at historic Vail Headquarters. Batch Mead opened December 2019. Their honey wine features locally sources honeys, apples, as well as other ingredients. They have created more than 100 fermentations of mead and hard cider.
Visitors can pick up an Ale Trail Craft Brewery Guide at the Visitor Center, 28690 Mercedes Street, in Old Town Temecula. For more information check out the breweries at VisitTemeculaValley.com.
Other activities to pair with your beers include a hot air balloon flight at sunrise, horseback riding, animal encounters, golf, hiking, and live entertainment. Plan for a mid-week three-night stay to taste and see without the crowds and for lower lodging rates. Start planning your trip at VisitTemeculaValley.com.
ABOUT THE TEMECULA VALLEY AND VISIT TEMECULA VALLEY
Laid back, picturesque Temecula Valley Southern California Wine Country welcomes nearly three million visitors each year. It is a year-round vacation destination, located 60 minutes from San Diego, Orange County, and Palm Springs; 90 minutes from Los Angeles.
Temecula Valley Wine Country is widely recognized for its scenic vineyards, award-winning wines, and experiential wineries. The popular boutique destination includes the Temecula Valley A.V.A. (American Viticulture Area) as well as historic Old Town Temecula, and Pechanga Resort Casino. It also was named as a 2019 Wine Enthusiast 10 Best Wine Travel Destination.
Visit Temecula Valley is the region's official tourism marketing organization and resource for visitors. The Visitors Center is located in Old Town Temecula. For visitor information and assistance, please call (888) 363-2852 or go to VisitTemeculaValley.com.