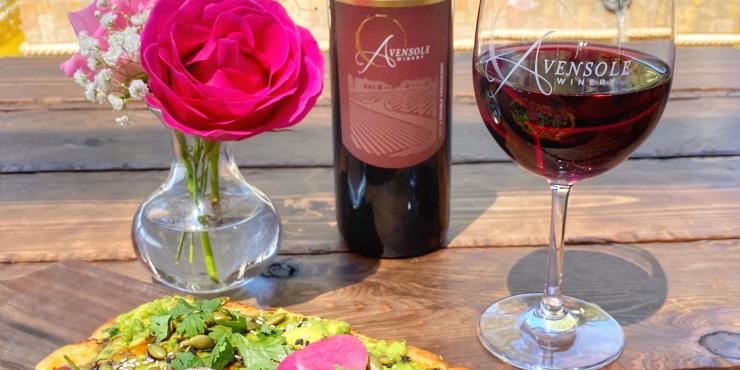 Temecula Valley Wine Country has 23 restaurants at the wineries with everything from casual to fine dining and Italian to Persian foods. All of them are providing scenic outdoor dining. Six of their outstanding chefs have shared their "secret" recipes for some of the most popular dishes in wine country and their wines that pair beautifully with each one. If a trip to Temecula Valley Southern California Wine Country has to be postponed, their great wine and food can still be enjoyed from the comfort of home in celebration of California Wine Month, Temecula style. Bottles can be purchased on each of the wineries' websites.  
AVOCADO TOAST, Avensole Winery Restaurant  
Wine Pairing: Avensole's 2017 Double Crescendo
Flatbread: 
2 flatbreads of your choice (Sourdough, plain bagel, pizza dough would all be good options.) 
Butter 
Garlic powder 
Fontina cheese, shredded 
Parmesan cheese, grated 
Avocado Spread: 
2 ripe avocados, diced 
2 limes, juiced 
1/2 jalapeño, minced 
1/2 bunch fresh cilantro, leafed and minced 
Kosher salt, pinch 
Cracked pepper, to taste 
Optional Toppings: 
Pepitas (sunflower seeds, or any nut of your preference) 
Lemon zest (another citrus can also be used) 
Sesame seeds 
Thinly sliced radish 
Pomegranate juice reduction- Add one chipotle to 32 ounces of pomegranate juice, and reduce in a pan on the stove until syrup-like. Remove from stove, strain, and cool. (Cranberry juice can be substituted.) 
Preheat oven to 425 degrees. Take two premade flatbreads, and place on cookie sheet. Spread butter to cover flatbread, and lightly sprinkle garlic powder over the butter. Top with a thin layer of Fontina and Parmesan. Heat in oven until cheese is melted. Let cool slightly before adding avocado spread. 
While flatbreads are toasting in the oven, prepare the Avocado Spread. In a small bowl, mix avocado, lime juice, jalapeno, cilantro. Stir until avocado is mostly smooth with a few chunks remaining. Add a pinch of salt (don't be afraid to add more salt than you think - it balances the acid from the lime) and fresh cracked pepper to taste. 
Divide Avocado mixture and spread over the two flatbreads. Add any optional toppings as desired.  
SEAFOOD PAELLA, Bolero Restaurante 
Wine Pairing: C'est La Vie Pinot Noir Winemaker's Reserve or Bolero Garnacha Rosa 
2 cups Bomba rice 
Pinch of saffron threads 
3oz Spanish chorizo 
4 oz Spanish white onion 
1 Red bell pepper 
2 oz Extra virgin olive oil 
2 oz fresh minced garlic 
6 oz Scallops 
6 pieces of mussels   
6 oz Shrimp 
1qt. Shrimp broth 
2oz Green peas 
2oz sliced red peppers 
Fresh flat parsley for garnish 
In a paella pan with olive oil, sauté the minced onions until brown, add minced garlic, bell pepper, and tomato. Let them cook until they are incorporated. Add Spanish chorizo, stir until the fat is being rendered.  
Put the rice and saffron in a bowl and add a pinch of salt. Mix it well and incorporate it to the paella pan, stirring so the fat from the chorizo and flavors will coat the rice. After a couple of minutes, start to pour a third of the amount of hot shrimp broth around the edges of the pan and mix it gently. Let the broth cover the rice and let it cook until evaporated. 
Once the liquid is evaporated repeat the process until the rice is almost cooked and finally add the shrimp, mussels, seared scallops, sliced red bell peppers, and green peas. Let the seafood cook. After the rice is cooked cover with foil for and let it rest for approximately 8 minutes and sprinkle some chopped flat parsley and extra virgin olive oil. 
PARMESAN CHICKEN, Café Champagne at Thornton Winery  
Serves 6 
Wine Pairing:  Thornton 2017 Mourvedre
6 Boneless, skinless chicken breasts (about 4 oz each) 
Mashed potatoes: 
5 lb potatoes 
1/2 cup unsalted butter 
1 ½ cups of heavy whipping cream 
2 cloves of roasted garlic 
Salt and pepper to taste 
Bring a pot of salted water to a boil. Add potatoes and cook until tender but still firm. Drain and place into the kitchen aid mixer. And add melted butter, garlic, and heavy cream. Set the mixer on low speed and stop as soon as the potatoes come together. 
Croquette: 
24 ounces of mashed potato 
8 whipped eggs 
4 cups of all-purpose flour 
7 cups Breadcrumbs 
Allow the mashed potatoes to cool down over night so they could get really firm. Make three separate stations in this order: flour, egg wash, and breadcrumbs. Make a patty and drench in all three stations in order. Drop the croquette into a 375 degree fryer for about 5 to 10 minutes. Generously top each with provolone and parmesan cheese. Place in oven at 425 degrees for about two minutes. 
Smoked Marina Sauce: 
1 chopped yellow onions 
5 lb of can of DiNapoli fire roasted diced tomatoes 
5 lb of can of DiNapoli tomato sauce 
1 ounce of each following; dried basil, dried marjoram, dried, oregano 
2 splashes of smoking liquid 
4 cloves of fresh garlic 
Smoked salt to taste 
Black pepper to taste 
Sauté yellow onions and garlic until translucent. Add fire roasted diced tomatoes and tomato sauce, once it starts to simmer add the dried seasoning, smoking liquid, smoked salt, black pepper and leave it on low heat for about 30 minutes and gradually stir and do not allow the sauce to stick on the bottom of the pot.  
Place sauce on plate then potato croquette, and chicken, top with crispy onions*.  
*Crispy Onions: Thinly slice yellow onions, dip in each container as done previously, fry in a skillet of hot oil for about one minute.  
ROSEMARY-CRUSTED BEEF TENDERLOIN, The Restaurant at Leoness Cellars 
Serves 4-6 
Wine Pairing: Leoness Cellars 2017 Cellar Series Syrah 
Fillet 
4 lbs whole beef fillet/beef tenderloin 
2 tbsp olive oil 
3 tbsp rosemary, finely chopped 
2 tbsp sea salt 
2 tsp fresh cracked black pepper 
For the horseradish sauce: 
1 cup sour cream 
1-2 tsp horseradish prepared (add more if desired) 
1/2 lemon, juiced 
salt and pepper to taste 
Prep 15 min 
Cook Time 30 min 
Preheat oven to 425º. Heat a large cast iron skillet over high heat. Place the whole fillet on cutting board and drizzle oil over and rub well. Sprinkle chopped rosemary, salt and pepper on the cutting board, then roll the beef on the seasoning and make sure to cover the whole beef with seasoning. 
Sear the fillet golden brown on all sides then place in the oven and roast 15-20 minutes for medium rare or longer for desired doneness. Remove from the oven and cover with foil and let it rest for 10 minutes. While the beef is resting, mix together all sauce ingredients and season with salt and pepper to taste. Slice the fillet and serve with horseradish sauce. 
SUNDRIED TOMATO BREAD, The Restaurant at Ponte  
Wine Pairing: 2019 Ponte Vermentino 
Yield: 3 loaves, 1 lb each 
Dough Ingredients: 
1 packet dry yeast 
3 cups bread flour 
1 ½ cups water 
¼ cup olive oil 
2 ½ teaspoon salt 
2 ½ teaspoon sugar 
2 teaspoon dry Italian seasoning 
Additional Ingredients: 
1 small container basil pesto 
1 small container sundried tomato tapenade 
(needs minced garlic and olives in the mix) 
Grated parmesan cheese 
½ cup olive oil 
Bread mold or baking dish 
In stand up mixer, add all dough ingredients into mixing bowl. Using hook attachment, begin mixing on low speed until incorporated. Switch to medium speed. Mix for 10-15 minutes or until dough is smooth.  
As the dough mixes, look for wet or dry dough. If too wet (doesn't come off sides of the bowl) add flour a bit at a time to tighten dough until it comes off sides. If too dry (dough would tightly around the hook) add a little water to relax the dough.  
When finished, pour onto lightly floured surface and divide into thirds. Stretch the first layer of dough into a rectangle about the size of a 81/2x11 paper. Smear sundried tomato tapenade over the first layer. Lay the second layer on top of the first and stretch evenly across. Smear basil pesto evenly over the second layer. Stretch the last layer evenly over the second. Drizzle and sear olive oil and sprinkle grated parmesan cheese over the top.  
Cut stacks of dough into long strips in a horizontal direction, then cut the strips into small squares. Carefully roll into balls and coat evenly with tomato, basil and cheese mixture. Spray bread mold with vegetable oil. Divide the dough balls into three portions and fill the bread mold. Proof until dough doubles in size. Bake at 350 degrees for 15 minutes or until golden brown.  
APRICOT RIESLING BREAD PUDDING, The Vineyard Rose at South Coast Winery Resort & Spa 
Wine Pairing: Carter Estate Daybreak or South Coast Winery Sparkling Gewurztraminer 
½ pound dried apricots, sliced 
2 cups Riesling 
2 cinnamon sticks 
2 tbsp. granulated sugar 
2 oz. butter, unsalted 
Place all ingredients in a sauce pot and bring to a simmer. Simmer until almost all the liquid is reduced and apricots are reconstituted. Set aside. 
8 slices brioche, cut to one-inch cubes 
3 tbsp. butter, unsalted 
2 cup milk 
1 cup heavy cream 
1 cup granulated sugar 
5 whole eggs 
1 tsp cinnamon 
1 tsp vanilla bean paste 
Place all ingredients in a bowl along with the apricot mixture from above and let sit until bread soaks up most of the liquid and softens. Spray four-ounce portion oven-proof cups with cooking spray and fill with mixture. Bake at 325 degrees for 12 to 15 minutes. 
Chef's tip: Serve the bread pudding with vanilla gelato or ice cream. 
Find out everything happening during the month of September for California Wine Month at VisitTemeculaValley.com.
ABOUT TEMECULA VALLEY AND VISIT TEMECULA VALLEY   
Temecula Valley is prepared to welcome Southern California residents. The businesses have strict cleaning and safety protocols to ensure everyone's safety and comfort. They have met and often succeeded county and state requirements because visitors and their employees' health are top priority.   
Temecula Valley Southern California Wine Country is a year-round vacation destination, located 60 minutes from San Diego, Orange County, Palm Springs, and 90 minutes from Los Angeles.  
Temecula Valley Wine Country is widely recognized for its scenic vineyards, award-winning wines, and experiential wineries. The popular boutique destination includes the Temecula Valley Wine Country as well as historic Old Town Temecula, and Pechanga Resort Casino. It also was named as a 2019 Wine Enthusiast 10 Best Wine Travel Destination.  
Visit Temecula Valley is the region's official tourism marketing organization and resource for visitors. For visitor information and assistance, please call (888) 363-2852 or go to VisitTemeculaValley.com.