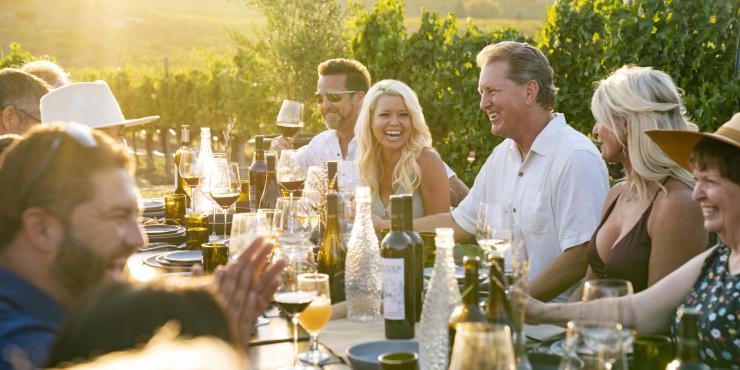 Tourism on track to full recovery with more than 3 million visitors; $1 billion in travel spending
Visit Temecula Valley announced today its tourism impact report results for 2022. New data signals a substantial rebound from pandemic losses, with travel spending in the Temecula Valley jumping to nearly $1 billion ($999.7 million) in 2022, up 46.2 percent from $684 million the year prior. The report, prepared by Dean Runyan Associates, measures economic activity associated with travel-related spending, employment, earnings, and taxes.
Temecula Valley welcomed approximately 3.2 million visitors in 2022, a 28 percent increase from 2.5 million in 2021. This includes overnight visitors from more than a 50-mile distance. Temecula Valley includes the City of Temecula and the surrounding wine district, also known as Southern California Wine Country.
"Tourism is essential to the economic stability of the Temecula Valley, and we're grateful for the innovation and dedication of the thousands of people who continue to make our region a premiere travel destination," said Scott Wilson, CEO of Visit Temecula Valley. "We expect 2023 to exceed 2022 as the recovery continues and as international travelers continue to re-enter the market." 
Travel to Temecula Valley in 2022 created 9,160 jobs, a 16.9 percent increase over 2021, and slightly above pre-pandemic levels. Direct travel-generated earnings in 2022 increased to $345.3 million, a gain of 22.2 percent compared to the previous year. State and local tax revenue due to travel in 2022 was $43 million, up 33.6 percent compared to 2021. Travel spending contributes to an annual tax savings of $156 for each residential household. 
Retail sales rose from $56 million in 2021 to $96.4 million in 2022, a 71.3 percent increase. The Arts, Entertainment and Recreation sector brought in $324.6 million, a 35.6 percent increase from the year prior. Spending on local transportation and gas increased 79.3 percent, from $66.3 million in 2021 to $119 million in 2022.
"Temecula Valley tourism is a top economic driver in the region," said Michael Feeley, Visit Temecula Valley Chairman of the Board and Executive Director of the Pechanga Development Corporation. "Spending on travel-related activities fuels the local economy, helps sustain local businesses, supports thousands of jobs, and brings in tax revenue." 
The data also reflects the significant economic impact of the Pechanga Resort Casino, one of the largest resort/casinos in the United States with 1,100 rooms, meetings and concert venues, world-class spa, and golf facilities. 
An all-season destination with a mild climate, Temecula Valley is an easy drive from most metropolitan areas in Southern Cailfornia including Los Angeles, San Diego, Orange County, and Palm Springs. Temecula is surrounded by rolling hills, beautiful vineyards, and has breathtaking mountain views, making it a top choice for millions of people who desire a nearby destination for vacations, weddings, recreational activities, special events, and corporate meetings or retreats. 
About Visit Temecula Valley 
Visit Temecula Valley (VTV) is a nonprofit 501 (c)(6) destination marketing organization dedicated to promoting tourism-related businesses including wineries, restaurants, breweries, retail and specialty boutiques, hotels, short-term rentals, and more. It is a popular Southern California destination that includes Temecula Valley Wine Country, Old Town Temecula, and Pechanga Resort Casino. In 2019, Wine Enthusiast named Temecula Valley a 10 Best Wine Travel Destination, in the world. For more information visit http://www.visittemeculavalley.com.