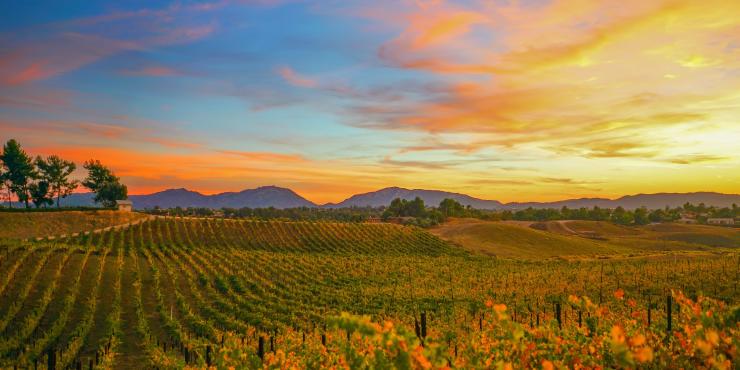 The scenic beauty in Temecula Valley Southern California Wine Country is a photographer's dream. Though there are picture-perfect scenes most everywhere in the destination, there are a dozen photogenic spots that visitors seek to include in their Instagram posts.
Sunset Skies
Temecula Valley is known for its majestic sunsets that are seen and photographed from just about anywhere. However, pink and orange skies are most often taken at Avensole Winery and Callaway Winery. Visitors are welcome to arrive early to dine at their restaurants among the vines and sip a glass of wine while relaxing and enjoying live music under the sunset.
Picturesque Scenery
For the "want to be there" beautiful setting, visitors are choosing the patio against the vines at BOTTAIA Winery, the hilltop gazebo at Rose Haven Heritage Garden, the top of the stairs at Oak Mountain Winery, and the round sofa in the pool at The Cove at Pechanga Resort Casino.
Iconic Spots
Locations that creatively identify where the photograph was taken are found at the giant wine bottle or vineyard arch at Wilson Creek Winery, the weaved basket fountain at Town Square Park and the wooden bridge on Main Street in Old Town Temecula, the MotoDoffo sign at Doffo Winery, and the neon sign at Batch Mead.
For more information about Temecula Valley, where to stay and what to do, go to VisitTemeculaValley.com.
ABOUT TEMECULA VALLEY AND VISIT TEMECULA VALLEY 
Laid back, picturesque Temecula Valley Southern California Wine Country welcomes nearly three million visitors each year. It is a year-round vacation destination, located 60 minutes from San Diego, Orange County, and Palm Springs; 90 minutes from Los Angeles.
Temecula Valley Wine Country is widely recognized for its scenic vineyards, award-winning wines, and experiential wineries. The popular boutique destination includes the Temecula Valley A.V.A. (American Viticulture Area) as well as historic Old Town Temecula, and Pechanga Resort Casino. It also was named as a 2019 Wine Enthusiast 10 Best Wine Travel Destination.
Visit Temecula Valley is the region's official tourism marketing organization and resource for visitors. The Visitors Center is located in Old Town Temecula. For visitor information and assistance, please call (888) 363-2852 or go to VisitTemeculaValley.com.