Full Article: Best Temecula Wineries That Will Have You Trip Up North (localemagazine.com)
Kandace Cornell | May 17, 2023
Southern California's Wine Country Is Full of Noteworthy Wineries
If you thought you had to go north to explore the best of California wine country—then you're in for a pleasant surprise! Take a trip to Temecula, where you can visit world-class wineries and experience the vineyard vacation vibes you'd expect from a European getaway to Tuscany or Provence—but right in your own backyard. Known for its rustic ranch region, winding country roads and majestic mountain backdrop, Temecula hosts wine lovers from near and far alike. Read on for our guide to the best places to find your perfect pour. 
If a trip to Spain isn't in the cards this year, consider a visit to Altisima Winery—Southern California's answer to Spanish wine country. Paying homage to Spanish-bred explorer Gaspar de Portola, Altisima offers a curated selection of wines from España, which can be sampled by flight daily in the sleek tasting room or from the expansive patio of Gaspar restaurant, where you'll enjoy tapas and light bites with the best mountain views this side of Andalucia. Join the Onyx wine club for access to the members lounge, complimentary tastings, special rates on purchases and insider events.
Think you may have missed your calling as a professional winemaker? Go behind the scenes and learn to create your very own blend at Bottaia Winery. Join your fellow oenophiles in the Fermentation Hall and use pro tools (see: graduated cylinders and pipettes) to transform barreled wines into three unique red blends—which you'll bottle, cork and take home to drink. You can also enjoy a five-wine flight with a curated charcuterie pairing or experience the barrel room, where you'll take a seat (and a sip) among the rustic casks and oak vats. Not to mention, there's a pool for all ages to relax in after a few glasses.
Putting a modern spin on the traditional vineyard experience, the family-run Akash Winery opened its tasting room and patio in 2019 after nearly 10 years of cultivating two distinct wine labels. Sip and sample flights while snacking on charcuterie and wood-fired pizzas at Bocconcini or chow down on Brew Boyz Tacos on the patio. DJ sets regularly spin beats at special on-site events, and you can even pair your wine with wellness when you join the Yoga + Wine club. Membership offers two monthly yoga classes with a post-stretch pour, complimentary tastings and a select bottle to try at home each month.
Get the full viticulture experience with a Cork 'n Torque vineyard tour at Doffo Winery. A glass of proprietary Paulina bubbly will welcome you aboard the Malbec Express, where you'll get an exclusive glimpse of the lifestyle and labor behind producing a wine label. Cruise through the vine leaves and winemaking facilities, learn about the variety of varietals and view the MotoDoffo vintage motorcycle collection before settling in for a private tasting selection. Join one of Doffo's four wine clubs to have special selection bottles delivered to your door.
With a boutique selection of vino—ranging from a classic collection of cabernets and chardonnays to sweet beverinos and bubbly moscatos—this 300-acre vineyard produces small batches with a focus on sustainable farming and conservative water usage. Learn to decipher subtle flavor notes and toast with a taste of your favorite vintage in the Reserve Room, enjoy an al fresco bite at the Restaurant at Ponte or make a weekend out of it by booking a suite at the Mission-style picturesque Ponte Vineyard Inn.
Take a behind-the-scenes tour of the sprawling grounds every Saturday and Sunday at Somerset Vineyard and Winery. Grab your pals and learn to sip like a sommelier in the tasting room, where you'll sample robust reds, wonderful whites and special sparkling wines. Kick back and relax in the garden with an array of cheeses and prepared salads for snacking, sway to the sounds of live music and support local entertainers every weekend. Five membership tiers offer a flexible way to get your favorites delivered through the vineyard's wine club, and you'll score other perks like free tastings and invites to special events.
Boasting the region's first and only subterranean wine cave, an exclusive underground journey awaits at Oak Mountain Winery. A guided cave tour and tasting breaks down the history of Temecula as you swirl your glass through the gorgeous grotto, culminating in a proper pairing— complete with cured meats and cheeses. Offering a unique selection of warm climate vintages to choose from, including syrahs, zinfandels, cab sauvs and Italian brunellos with an array of hybrid varietal blends, there's something to please every palate. Soak up the sips at Cave Café with burgers and sandwiches for extra nourishment, and you can also enjoy live music every Sunday.
Established in 1969, this elegant estate has the essence of a resort with manicured grounds and sprawling terraces for lounging—glass in hand. Four cellars age the proprietary label of bottles and blends, which include everything from rosés to cabernets. An on-site restaurant abuts the Cava di Vino, offering classic American fare to pair with your favorite flavors. Become a VIP member of the Adagio or Allegro Club to gain insider access to private events, deals and discounts along with complimentary tastings.
Framed by acres of rolling hills and dreamy Cypress trees reminiscent of a trip through the wine regions of Tuscany, oenology experts host guided visits at Leoness Cellars—including a walking tour of the vineyard estate, an insider's introduction to the barrel-aging facilities and a peek behind the curtain of the winemaking process. Pick your perfect tasting with a focus on wine education or an artisanal cheese pairing. Your brand ambassador will walk you through your flight, and you can also take a table in the estate's upscale restaurant for full-service fine dining to enjoy a menu of seasonal specialities.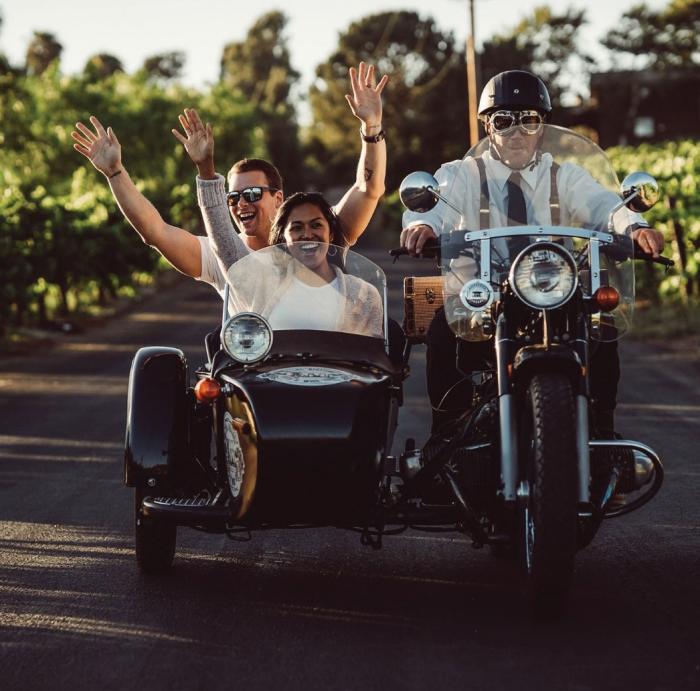 Looking to add some adventure to your next date night? Hit the road with Sidecar Wine Tours and take a fun private tour for two through wine country. Strap on some goggles and hop aboard your own private motorcycle sidecar, where your personal chauffeur will escort you and your paramour to an array of tastings around Temecula. Feel free to pop some bottles and get a little tipsy—you can lounge and linger at your leisure while leaving the navigation to your designated driver.