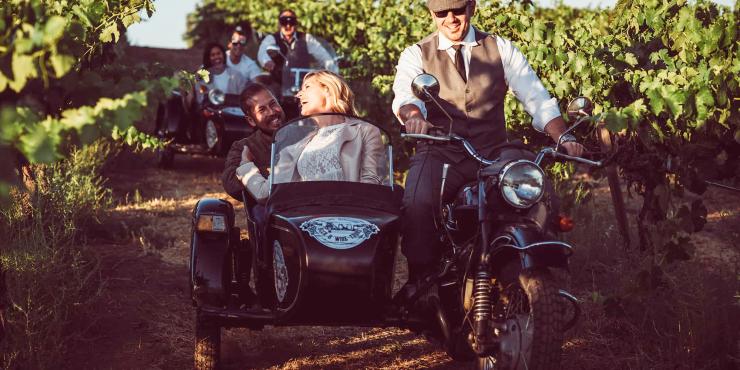 Horseback, e-bike, hot air balloon, sidecar? What's your fancy?
​
For those looking for a casual, back-to-nature trip, there is horseback riding with Wine Country Trails by Horseback. (Shutterstock / Lisa T Snow) Temecula Wine Country offers amazing views. (Shutterstock / M. Scott Photography) Temecula Valley Wine Country is located in the southwest corner of Riverside County, near the border with San Diego County. Just west of the area is Orange County. (Shutterstock / Tudoran Andrei)
The entrance to Old Town Temecula, which is just a short trip from the vineyards. (Shutterstock / Michael Vi)
TEMECULA, CA — Temecula Valley Wine Country has nearly 50 wineries and dozens of grape varietals, which bring people to ask, "What's the best way to experience the region?"
The answer depends on your sense of adventure.
Deciding where to go in the region can be overwhelming. Booking a wine tour company makes it easy for the traveler, and there is no need to worry about driving. For other visitors, however, mapping out a personal journey is part of the fun. (The Temecula Valley Winegrowers Association suggests several self-guided tours, but deciding where to go is really up to the visitor.)
If you're looking for some ideas or inspiration, four new companies are offering memorable experiences for touring and tasting in Wine Country.
First, there's So-Cal Sidecars — birthed from the idea of a new twist on date night. It started this way: The company owners enjoy visiting Wine Country, wine tasting, and the freedom of the backroads on a motorcycle, so they decided to meld the three. They modified a standard motorcycle sidecar to accommodate two passengers — and now have the world's first and only tandem sidecars. Winery-goers get a unique, fun and intimate way to take in the region, while knowledgeable drivers share information about Wine Country and its history.
Temecula Wine Country E-Bike Rentals allows visitors to explore Wine Country at their leisure with state-of-the-art electric bikes. The company is located in the heart of Wine Country. With the wineries so close together, riding to a few in one afternoon is easy and allows plenty of time to sip and relax in between. The e-bikes are designed to make the ride smooth and easy on Wine Country's paved and dirt roads. No matter the fitness level, with the pedal-assist feature everyone can zip up the hills and glide down effortlessly.
Toasted Corks philosophy is about making memories that stick for life. The business got started with a couple wanting to create and build a way to share a glass of wine, a lot of laughs, and a beautiful experience. They converted a school bus into a luxury transportation space that offers private group wine tasting tours to three wineries for five to 16 passengers. Whatever the celebration, Toasted Corks offers a way to make it memorable.
Temecula Cable Car Wine Tours provides a Wine Country tour in a historic fully restored 1914 San Francisco cable car. The vehicle is open-air, providing unobstructed views of the beautiful vineyards and rolling hills. The company also offers "haunted winery" and bar tours for an even more exciting adventure.
In addition to the four new companies mentioned above, there are many others. For those looking for a casual back-to-nature trip, there is horseback riding with Wine Country Trails by Horseback. Or, take a horse-drawn carriage or trolley through the region with Temecula Carriage Company.
For those wanting a luxury rendezvous, travel in a custom convertible Mercedes-Benz with Grapeline Wine Tours, or tour and dine in the vines with Tour del Vino.
A view of Wine Country from high above in a hot air balloon is always nice and tranquil. The region's tourism arm, Visit Temecula Valley, recommends three companies: A Grape Escape, California Dreamin', and Magical Balloon Adventures.
When you're all done in Wine Country, take at least a few hours to visit historic Old Town Temecula, which is about a 15-minute drive from the vineyards. Old Town Walking Tour lets visitors enjoy strolling through town with museum docents who play the part of a well-known Temecula character from the 1900s. Afterward, settle into any one of Old Town's magnificent restaurants.
Looking for more ideas on how to experience Temecula Wine Country? See all the tours and transportation options at VisitTemeculaValley.com. Explore Temecula Valley's online travel guide and check rates.