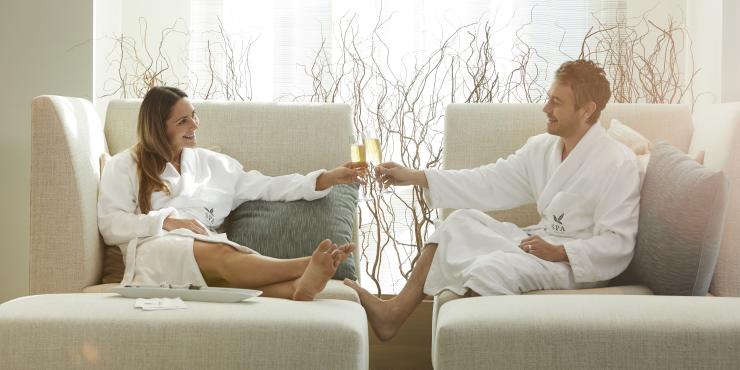 Vacationers searching for wellness travel are discovering Temecula Valley Southern California Wine Country's pure life experiences. Wellness seekers have personal expectations and varied preferences, but most importantly they want a break from routine and a place to nourish the mind, body, and soul. Visit Temecula Valley has uncovered the 10 best wellness experiences that will kick-start or maintain travelers' healthy lifestyles.
1. Indulging Spas
A wellness journey can begin with an immersive spa experience at Spa Pechanga. This 25,000 square foot spa is a sanctuary of luxury, wellness and serenity. Their Native American roots are inspired by the reverence for native botanicals and the strength of their Great Oak known as Wi'aasal. Therapies integrate the healing powers of nature.
Waves of Sound Massage is a popular way to relieve stress and energize through the use of a zero-gravity relaxation chair. This sensory experience lulls the mind into a deep state of inner peace and calm. Aromatic Alchemy is another unique service offered. This aromatherapy begins with a custom blend from 25 different essential oils and botanical extracts. A master therapist uses this dynamic blend in a full-body massage or body treatment.
In addition, there are hydrotherapy pools, steam rooms and saunas for relaxation both indoors and out. Panoramic views of Pu'eska Mountain, the sacred site of the Luiseño Indians, can be seen while enjoying the outdoors. Relaxation rooms for reading or enjoying light refreshments provide comfort and pampering. Circuit Tone, Yoga, and Spin & Strength classes are available complimentary for hotel guests and those that purchase a spa service, or they can be purchased at a walk-in rate.
GrapeSeed Spa is another recommended wellness option. Visitors stroll down the tranquility path through the vineyards to attend a private yoga class or find healing in one of their spa services that range from massage and body treatments to social spa experiences. The 17,000 square foot, three-story spa includes a heated outdoor saltwater pool, alfresco saltwater whirlpools, eucalyptus steam rooms, dry saunas, and tranquility lounges. Their Ashiatsu massage, a barefoot massage technique, is ideal for those desiring to reach deeper layers. LightStim Therapy – LED Light Therapy offers the most effective and affordable technology for achieving healthy and youthful skin. The process delivers light energy to the skin, which reduces fine lines and wrinkles. A variety of other massage, body rituals, fitness and skin care services are also available.
Each service includes a glass of pre-selected wine to be enjoyed while relaxing in a chaise lounge on the spacious veranda overlooking wine country after a day of rejuvenation. The pool area is available to all resort and spa guests. The use of the spa facilities is included with the purchase of any spa service. A Spa Day Pass (available Monday through Thursdays) provides access to the fitness facilities, spa locker room, steam room, sauna, and outdoor hot tub. GrapeSeed Spa experiences use innovative techniques, organic ingredients, and sustainable products so guests can feel good about the products interacting with their body.
2. Hiking Trials
The Santa Rosa Plateau's Ecological Reserve, located in the foothills of the Santa Ana Mountains above the Temecula Valley, offers trails for every level. While at the Santa Rosa Plateau, hikers can get their hearts pumping as they walk along the paths and trails through 9,000 acres of woodlands and prairie. All the rainfall has provided an ideal time to visit the vernal pools and it's the only place in the world to see fairy shrimp during the spring months.
Closer in-town trails can be found throughout Temecula Valley Wine Country. These trails are great for horseback riding, walking, or morning jogs with hot air balloons overhead. A little south of Santa Rosa's visitor's center is the 1.5-mile roundtrip hike to Tenaja Falls' 150-foot tiered waterfall. For those staying at Temecula Creek Inn, the resort has several walking paths that make for a beautiful leisure stroll.
3. Historical Findings
Stepping where pioneers once walked and envisioning what it was like helps center the soul. Visitors can tour historical Old Town Temecula guided by notable characters from its past. The stories and rich history are uncovered during the walking tour through historical buildings and memorable sites. Reservations can be made at the Temecula Valley Museum.
Pechanga cultural tours feature The Great Oak, which is the largest and one of the oldest naturally grown indigenous coast live oak in the western United States. The land, native plants, and the Luiseño Indians way of life are explored during the enlightening and insightful tour.
Vail Headquarters has been restored and the buildings repurposed, but its rich past can still be recognized with renovated bunkhouses and its treasured history saved inside the Little Temecula History Center. The center once thrived as the original town of Temecula and visitors can learn all about it when visiting this site.
4. Farms & Ranches
Temecula Valley is surrounded by agriculture. In addition to wine grapes, visitors are surrounded by avocado trees, citrus groves, pomegranate trees, olive trees, rows of root vegetables and berries, and so much more. Many of the wineries offer behind-the-scenes tours to learn about growing wine grapes and the process of making wine.
Temecula Olive Oil Company grows and produces their olive oils at a ranch just outside of town, and they are open for tours year-round. They are a great example of a zero-waste ranch and production facility. Temecula Lavender Company is also open for tours during their bloom season each summer. Their charming farm in wine country is nestled up to their vineyard. The tour teaches about the types of lavender, their benefits and how to extract the oil. Temecula Valley is also horse country and visitors are welcome to ride on the wine country trails or at Green Acres Ranch, a real working equestrian ranch.
5. Educational Opportunities
In addition to education tours mentioned, a variety of classes are offered to visitors. Cooking classes are popular through Temecula Olive Oil Company, Williams Sonoma at Promenade Temecula, Lorimar Loft wine tasting room, as well as other locations.
Temecula Olive Oil classes offers a chance to build unique appetizer platters and experiment with local ingredients while learning how to display the foods. The class includes hands-on demonstrations, tastings, wine or kombucha, and attendees make a pickled creation to take home. Lorimar Loft transforms food into long-lasting, gut-healthy, beautiful ingredients while learning to curd food waste. There are hands-on demonstrations that teach methods to create pickles, ferments, tonics and preserves. Guests can sample in-season pickles and ferments, and other cultured foods and beverages, and leave with an edible project made in class. Williams Sonoma offers several classes each month to choose from, including seasonal and technique classes. April features Bravo's Top Chef knife skills with tips and tricks for chopping, slicing and dicing like a pro.
AR Workshop in Old Town Temecula is a boutique DIY studio that offers hands-on classes for creating custom, charming home décor from raw materials. They have instructor-led workshops where visitors can make custom decorative signs, pillows, centerpiece boxes, tote bags, and more.
Several wineries invite visitors to explore their creativity on canvas. Paint Nite in the Barrel Room is a great way to express through art with a glass of wine at Mount Palomar Winery. A guided professional artist teaches the class in a fun way that gets the create muscles flexing. No experience is necessary, and the novice artists will be amazed what they can do. Wine, Dine & Paint class at South Coast Winery includes lunch with a glass of wine. Guests learn about mixing colors and painting techniques while creating a personal masterpiece. Sip n' Paint "Cheers" class is offered at Falkner Winery. This class encourages guest to bring snacks to enjoy while painting and wine is available for sipping.
6. Mindful Dining
Healthy menus using local ingredients are maintaining visitor's healthy lifestyle or encouraging them on their way to transformation. It's easy to find guilt-free delicious food in Downtown Old Town Temecula, Temecula Valley Wine Country and Pechanga Resort Casino. Because so many chefs in the region make everything from scratch, they cater to those with dietary restrictions. Dining experiences include a chef's table and Afternoon Tea at The Restaurant at Leoness Cellars, charcuterie wine pairings at BOTTAIA Winery, a food and wine pairings at several of the wineries. Old Town Temecula is a treasure for food explorations. Temecula Olive Oil Company offers free tastings of their oil and balsamic vinegar blends. Old Town Spice & Tea Merchants carries hundreds of fresh spices and in-house blends, as well as a large selection of teas. A Farmer's Market is open every Saturday with fresh produce and foods. There is also a Farmer's Market on Tuesdays at Vail Headquarters and Wednesdays at Promenade Temecula.
7. Live Entertainment
Shakespeare in the Vines classic theatrical company has been performing in Temecula Valley Wine Country since 2005. They passionately believe in the power of theater to change lives. They will be performing at Baily Vineyard & Winery in March then June to September.
As so many say, laughter is the best medicine, and there are many places to get a good laugh in Temecula Valley. The Comedy Club at Pechanga introduces comedy circuit's brightest stars, as well as up-and-comers. Comedy at The Merc hosts improv with PseudoRandom Noise! on the Saturday night each month. The show engages audience members to help write, direct, and even act onstage. Rocky's Comedy Live performs at Mount Palomar Winery throughout the spring season. Comedy shows can be found at several additional wineries, check VisitTemeculaValley.com for a complete list.
Temecula Valley Symphony, now in its 24 year explores music for the past to present. Works include Spitfire Prelude & Fugue from the 1942 film The First of the Few, Peter Boyer's Three Olympians, and a thrilling medley of video game themes from Halo, Civilization IV, Bounty Hunter, and Kingdom Hearts. The Experience on May 18, 2019 will be Beethoven's 5th Exposed.
Live music fills the air in Old Town Temecula, Temecula Valley Wine Country, and Pechanga Resort Casino, check VisitTemeculaValley.com event calendar under Things To Do to see a complete list of concerts and live music.
8. Peaceful Poolsides
There are some great poolsides in Temecula Valley for soaking in the sun, cooling off and just relaxing. Embassy Suites offers an oversized pool and whirlpool with an expansive patio area for sunbathing. Poolside food and beverage service is available. Pechanga Resort Casino offers a 4.5-acre pool complex with a family pool, splash pad and slide as well as adult pools and whirlpools, including a swim up bar, cabanas and dining at The Coveside Grill. South Coast Winery saltwater pool welcomes resort guests as well as walk-ins for a fee. Comfortable and spacious cabanas are available for rent and it includes a bottle of South Coast sparkling wine. The Pool at BOTTAIA Winery offers an oasis of relaxation, wine, cocktails and food surrounded by vineyards in Temecula Valley Wine Country. Visitors have their choice of renting two pool chaise lounges with a cabine for changing, showering and storing items; or a chaise lounge with drinking water, a locker and use of public showers. Guests will receive a southern California tan and a day of fun relaxation at whichever poolside experience they choose.
9. Meditation Spots
Several quiet pockets of tranquility, ideal for reflection and meditation, are waiting to be discovered. Sunrise moments are best spent watching hot air balloons over wine country from a wine country inn or resort room patio. Inn at Churon Winery, Inn at Europa Village, Carter Estate, and South Coast Winery all offer the perfect morning views. Rose Haven Heritage Garden immediately south of Old Town Temecula is a beautiful setting for quiet time and meandering afternoon walks. The Rooftop Garden at Pechanga provides ideal viewing for stunning sunsets, as well as hilltop wineries like Callaway, Mount Palomar, Miramonte, Lumiere and Monte de Oro.
10. Home Away from Home
In addition to Temecula Valley Wine Country Temecula Creek Inn, Ramada Inn, Hotel Temecula, and Embassy Suites offer peaceful settings for refueling and rejuvenating the mind and spirit.
For more information about wellness travel while in Temecula Valley Southern California Wine Country, see VisitTemeculaValley.com.
About Visit Temecula Valley

Laid back, picturesque Temecula Valley Southern California Wine Country welcomes nearly three million visitors each year. It is a year-round vacation destination, located 60 minutes from San Diego, Orange County, and Palm Springs; 90 minutes from Los Angeles.
Temecula Valley Wine Country is widely recognized for its scenic vineyards, award-winning wines, and experiential wineries. The popular boutique destination includes the Temecula Valley A.V.A. (American Viticulture Area) as well as historic Old Town Temecula, and Pechanga Resort Casino. It also was named as a 2019 Wine Enthusiast 10 Best Wine Travel Destination.
Visit Temecula Valley is the region's official tourism marketing organization and resource for visitors. The Visitors Center is located in Old Town Temecula. For visitor information and assistance, please call (888) 363-2852 or go to VisitTemeculaValley.com.