Your Southern California Wine Country Romantic Getaway
---
Temecula Valley Southern California beckons lovers with romantic hilltops, vibrant colors and breathtaking sunsets. It's the ideal setting to create beautiful memories with the one you love. Known for wedding proposals, destination weddings, and anniversary celebrations, Temecula Valley is a lovers' paradise.
There's so many romantic ways to spend Valentine's with a loved one in Temecula Valley Southern California Wine Country. Whether floating above the vineyards, riding through the vines on horseback or enjoying food and wine in a romantic setting, Temecula Valley has everything to make a stay special for Valentine couples.


Month of Romance Bucket List Ideas
---

#1 Hot Air Balloon Ride
Couples can take their love to the literal heights while riding in a hot air balloon overlooking the rolling hills of the valley below. Hot air-ballooning is one of the most facinating and unique attractions in Temecula.

#2 Rekindle Your Romance
Relax together on a horse and carriage ride and listen to the gentle clip-clop of hooves while you view beautiful gardens, lush vineyards, and local winery properties. Plans can be made to stop at their wine tasting rooms if that's what you desire.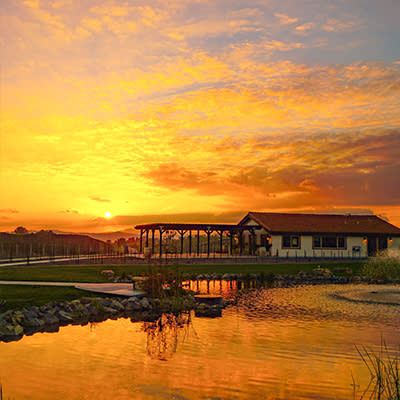 #3 Enjoy a Sunset Together 
As the California sunsets behind Temecula Valley each evening, the hills of wine country come alive with shimmers of light reflecting the yellows, oranges, purples, and pinks of the sun's last moments.

#4 Take A Romantic Stroll
Explore the beauty of Temecula Valley Southern California Wine Country. Beautiful spring flowers begin blooming in late February. You will find this Wisteria Lane at South Coast Winery Resort & Spa in April. It's always a surprise! 

valentine's day specials
---


E.A.T. Marketplace
An at home Valentine Dinner Cooking class, for everyone that is searching for an engaging, unique experience. Dinner kits include all main ingredients with a few supplies you will have at home or need to shop (see list). Purchase allows access to watch our professionally produced class allowing you to follow along at your own pace! Full dinner package, priced for two, with recipe and featuring award winning Chef Leah and special guest star!
Ordering info: Orders due 10, February (no exceptions) | Pick up 13, February 2-4pm. ALL sales are final, no refunds or exchange of any kind for any reasons.
Filet Mignon, Peppercorn Sauce, Asparagus, Crispy Baked Scalloped Potatoes *gf
Chocolate Lava Cakes (already made)
Includes 1 Main, 2 sides & Dessert $85
Meal Kit ingredients included for 2- grass-fed filet, beef stock for sauce, asparagus, potatoes already sliced. *please read recipe in advance for any items you may need to shop
-OR-
Decadent Wild Mushroom Pasta & Asparagus Salad, Spiked Mustard Vin *Vegan/ Vegetarian
Chocolate Vegan Bundt Cakes with Raspberry Coulee (already made)
Included 1 Main, Salad and Dessert $85
Meal Kit ingredients included for 2- Pasta, locally grown mushrooms, vegan cream, asparagus w/salad greens
*please read recipe in advance for any items you may need to shop

Order Online Here

Grape Escape Balloon Adventure
Valentine Shared Flight - Romantic Getaway!
Friday, February 12th - Monday, February 15th, 2021
$199-$299 per person
Book Here

This Tour Includes:
Sunrise flight (Meeting at 6:30 am)
3-hour adventure (approximate)
60-75 minute SHARED scenic flight (8-12 passengers)
Chilled champagne, orange juice, mimosas, sparkling cider, and bottled water
Souvenir certificate of flight
Discounts on wine tasting at Europa Village Winery
20% discount off "La Scappatella" private label champagne
Complimentary "Happy Valentine's Day Banner" perfect for photos
One complimentary bottle of "La Scappatella" private label champagne or non-alcoholic sparkling cider per couple
 
The perfect romantic getaway, a hot air balloon ride over the beautiful Temecula Valley wine country in Southern California. Your tour begins as the sun rises over the mountains. Imagine floating with your loved one as you soar over vineyards and marvel at the breathtaking landscape below you. Each flight is unique and sights include vineyards, wineries, lakes, citrus groves, and estate homes from your unparalleled view in the air. Your three hour shared adventure meets and concludes at Europa Village winery in the heart of the Temecula wine country.
 
Temecula Carriage Company
Wilson Creek Winery
"Wine-a-Gram" – Send a custom labeled bottle to your special loved one. Add your own photo, sentiment and note.
 
Valentines Package
Special valentines labeled Cinsault (Rated 91 by Wine Enthusiast) and
12 Chocolate covered strawberries or 12 macaroon package treats.
Pre-order for pickup. $75
Valentines Sparkling Bouquet Duo
Rose, Coconut
20% off for members – 10% retail with flat $10 shipping
Valentines' Almond-tini pack
Almond, Decadencia
Includes a recipe card for Almond Tini
20% off for members – 10% retail with flat $10 shipping

Shop for all Valentine's Day Sweet Treats Here
Cougar Winery
Lunch for 2 with a View
Grab your Sweetheart and escape to the vineyards this Valentine's Day. Heart-themed Lunch for Two with a *View. Your heart & belly will be full! Includes: Wineclub $50 Non-wineclub $55 Day of $65 A Heart Shaped pizza Caesar salad 2 glasses of wine or beer 2 heart shaped triple chocolate Ghirardelli brownies 1 long-stem Red Rose (first 50 reservations) * Chairs and View assuming open for outdoor dining Pre-pay before February 14th and you may reserve 2 Adirondack Chairs (for 90 minutes please) overlooking our vineyard. Space is LIMITED and on a first-pay first-reserve basis. Reserve your seats TODAY! 
Learn more about Sangio's Deli Here. 

Bel Vino Winery

Batch Mead
We will be offering a special raspberry chocolate mead bottle - $20/bottle
And a Valentines Day special of our raspberry chocolate mead, strawberry shortcake mead, two snifters and a box of chocolate for $29. Learn more at https://www.batchmead.com/

Galway Spirits
"His" and "Hers" custom Valentine's Day gift baskets. Includes choice of spirits, handmade products, chocolates, and more. Place your order by Wednesday, February 10, 2021, to ensure your basket is ready for pickup. https://www.galwayspirits.com/custom-baskets

Grazing Theory Lavish Charcuterie
$95 - Our heart shaped charcuterie board is red, white & pink: Filled with salami and coppa roses, Cows (Double Cream French Brie), Aged Sheep (12 month Aged Manchego) & Aged Goat's milk (Midnight Moon) cheeses, fresh fruits, chocolates, heart shaped crackers AND a choice of French bubbles to celebrate! Order Online Here. 

The Vineyard Rose at South Coast Winery Resort & Spa
Fine Wine for Valentines and Elegant Three-Course Dinner at The Vineyard Rose Restaurant
Saturday, February 13 and Sunday, February 14 from 5:30 p.m.-last seating at 8 p.m.
The Vineyard Rose Restaurant at Temecula's South Coast Vineyard presents its special three-course Valentine's Menu, paired with award-winning wines, on Saturday and Sunday of Valentine's weekend. Romantic dining will take place on the outdoor heated verandas and first choice is either Lobster Bisque with Chantilly cream paired with Carter Estate Bland de Blanc or Duo of Hearts Salad composed of artichoke hearts, hearts of palm, romaine, grape tomato, garlic crouton dust and citrus vinaigrette paired with South Coast Winery Sauvignon Blanc. Course Two offers Petit 5oz Filet Mignon with potato rosette, asparagus, heirloom carrots, morels, cippolini and demi-glace to be enjoyed with Wild Horse Peak Syrah; Seared Day Boat Scallops accompanied by saffron risotto, Spanish chorizo, English peas, parmesan crisp and pea tendrils served with South Coast Winery Viognier; Veal Scallopini with bitter green salad, grilled lemon and gremolata pairs with 'Santa Lucia Highlands' Pinot Noir; or Chanterelle Mushroom Pappardelle, roasted garlic, shaved parmesan and basil matched with Wild Horse Peak Sangiovese. The lovely dessert presentation is Strawberry Shortcake Parfait with vanilla whipped cream, lemon curd, strawberry, graham cracker soil and mint and to end the repast South Coast 'Day Break' Muscat.
$150 per couple plus tax and gratuity. Add a wine pairing for $24.50 per person. Dinner requires reservations at https://www.southcoastwinery.com/dining or call 1-866-249-6041.
(On Friday, February 12 regular dinner menu is available and customary brunch menu is available on Saturday, February 13 and Sunday, February 14.)
Should the environment remain under Regional Stay at Home guidelines from the State and County, this menu will be offered for Takeout only. To reserve order, please call us at 855.232.1557 or email at scw2go@wineresort.com. Pickup available curbside and in front of The Vineyard Rose Restaurant.
 

Temecula Creek Inn
Cozy up with your sweetheart at Temecula Creek Inn this Valentine's Day with our 'Room for Dessert' Package. Your romantic stay includes:
A Wine and Dessert Trio (A bottle of limited edition Peltzer Prosecco, 3 chef-crafted chocolate desserts that will perfectly pair with your bubbly)
Gourmet breakfast-in-bed for two
A complimentary late check-out of 1pm
To really impress your sweetie, add-on a Romance Concierge complete with pre-check-in room decor and activity coordination, for an additional fee. Rates for this package start at $269 and it is available for stays from Thursday, 2/11 through Monday, 2/15. Book now on TemeculaCreekInn.com
 
The New Inn

The Entire Month of February Reservations | 951-795-1000

SWEET ESCAPE $250
Bottle of Thornton Winery Champagne OR Akash Winery White or Red Wine
Picnic Set Up
Charcuterie Board for Two
Salad and/or Sandwich
Dessert Fondue
All Food from Boards & Baskets

BE MINE | $150
Bottle of Thornton Winery Champagne
OR
Akash Winery Cabernet Sauvignon
Dessert Fondue from Boards & Baskets
Rose Petals on Bed & in Bathtub

TRUE LOVE | $350
Bottle of Thornton Winery Champagne
OR
Akash Winery White or Red Wine
Private 3-Course Dinner for Two
Rose Petals on Bed & in Bathtub
CUPIDS TOUCH | $375
Bottle of Thornton Winery Champagne
OR
Akash Winery White or Red Wine
Dessert Fondue from Boards & Baskets
Couples Massage
Rose Petals on Bed & in Bathtub

Specials are only valid in the month of February 2021 You must be a guest at The New Inn to book a package Akash white & red wine options must be $39 or less of value for packages Menu for private dinner, salads & sandwiches will be emailed to you once booked Please let us know if you have any dietary and/or allergies at booking Rose petals will be white, red or pink. Rose petals not available in Villa 1, Endless Love bathtub.
Learn more at https://www.thenewinn.com/
Temecula Hiltop

For the month of February we are offering a free bottle of De Portola Estate wine and box of chocolates. Book Your Future Getaway

Akash Winery
Valentine's Day is just around the corner and we have the best DIY, social distance, wonderfully decadent pack for you! We have teamed up with the fabulous folk over at
Pretty Paints (our favs) for these two fabulous kits:
Succulent Kit
1 x DIY succulent kit for two (thanks to Pretty Paints)
2 x hot chocolate bombs (thanks to Pretty Paints)
1 x box of chocolate (8 pieces) (thanks to Venecacao C.A.)
1 x bottle of wine
1 x charcuterie board for two (thanks to Naughty Pig Butcher Shop & Encased Meats)
$125 + tax
Paint Kit
2 x paint kits + Virtual Class
2 x hot chocolate bombs
1 x box of chocolate (8 pieces)
1 x bottle of wine
1 x charcuterie board for two
$135 + tax
Both kits are for you to enjoy in your own time, your own pace, and your own place!
+ Kits will be available for pick up, Sunday, February 14th between 12pm and 3pm
+ Wine selection: Dreamville Collection, Rosé, Riesling, or Sauvignon Blanc
+ Kits are for enjoyment at home
Ticket purchase: https://www.akashwinery.com/home